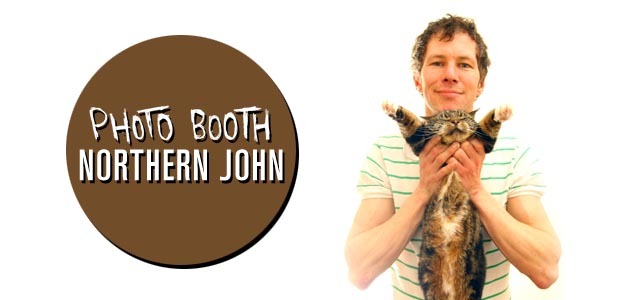 Name: John Scott de Prieelle or NJ
Age: 37
Hometown: Sunny Southport. The city that never wakes.
Websites: Facebook, Pike Anglers forum, eBay, Youtube, Vimeo.
Bike: Wethepeople Warrior 21.3 toppy. With brake mounts ready for me to try my hand at trails this summer. I'll see you in the emergency room!
Shout outs: Just the people I ride with and keep me motivated to try stuff still. Will and Andy Jackson, The Southport riders esp Ryan Alcock for being persistant in motivating me to ride through winter. The Hogg, Chris at CSG and Harry and Klaus at WTP for giving a pensioner a bike. And my fishing buddies Snaggles, Blal, butch and the Pirate.
Why did you become a photographer?
The very first day I rode a BMX with the intention of doing stunts I borrowed a 35mm compact camera and took shots of things we tried. I had no knowledge of camera's but for 3 years took pic's on a borrowed compact  just because I felt the need to record things that were important to me . Things like time,location, looking young and spotty and friends that were around in each era. In 1995 I went to Uni and bough my first SLR camera from a second hand shop for 50 buff. I guess thats when I learnt a tiny bit and became a photographer.Although even now I still consider myself a slow learner and havn't got everything right yet.
Rough estimated number of photos taken in a lifetime?
Under my bed I have 4 massive plastic containers with 1000's of actual prints in. Everything from early BMX shots to holidays and general dicking about. Combine that with a mac full of digital files and an external hard drive rammed with them and its well over 10,000. How many of them are any good is a different matter though.
Your inspiration?
My inspiration for every photo is the fact that each time you press that button you are recording a little snippet of history. To the rest of the world it won't mean a thing but for me and the people on the other side of the lens it will eventually become really important to us when we are no longer doing things on these little bikes and our lives become less eventful.
Photography's ups and downs?
Up's definately have to be travelling to strange locations and shooting pictures of your friends doing rad things where we are not meant to be. Or even just the time spent off the bikes sitting around eating and drinking tea. Always better than sat in front of a TV screen. And getting that moment when the lighting, timing and composition just right after scratching your head trying to get it right.
Downs are bad weather ruining things when you might have travelled a long way to get a shot. Security guards kicking you off before youve managed to take the shot. Getting equipment stolen is an absolute low point of mine and hopefully never to be repeated. Oh and people getting hurt doing the infamous(one more shot).