FBM Open House! That sounds like a good old time. Ramps, rails, BMX riding and a frame building demo… How cool is that?
There's also going to be an FBM History Display of some kind, Steve Crandall will be there practising various kinds of hooliganism, the FBM crew will be shredding, all good things!
For any of our American friends in the area of Ithaca NY, or anyone who's travelling that way, mark your calendars for Saturday 21st July. Full details below.
---
"We are hosting an open house at FBM, with ramps, rails, riding and a frame building demo on Saturday July 21st, at our Headquarters in Ithaca Ny, Followed by a group street ride on Sunday the 22nd in Syracuse NY hosted By FBM Welder John Corts, and the Leeper Bros." –Crandall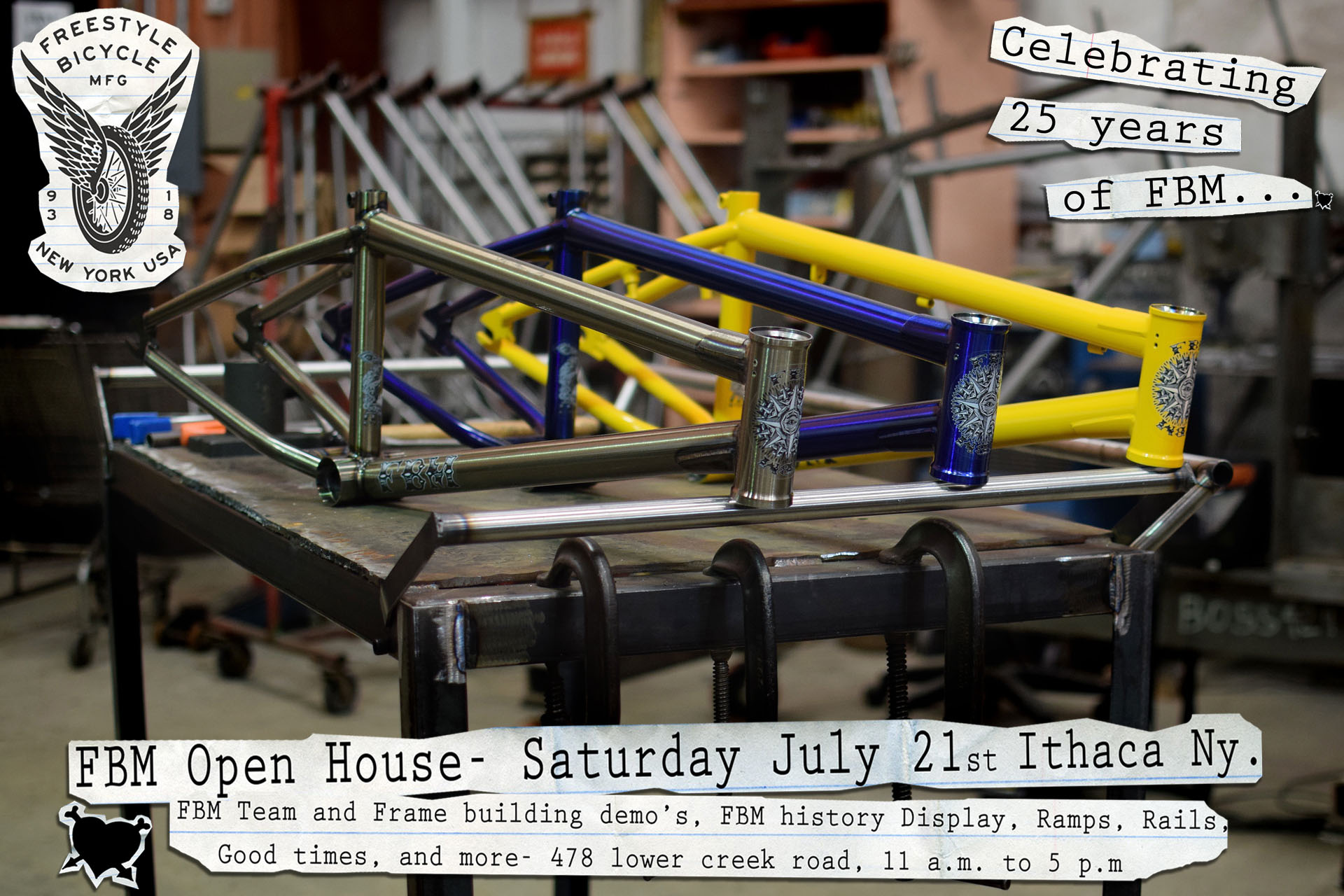 ---
FBM OPEN HOUSE info:
Wanna meet the FBM Crew, and check out some behind the scenes Freestyle Bicycle Manufacturing?
Mark your calendars, Saturday July 21st 2018. we will once again open our doors to everyone for an afternoon, of Fun and Bicycle Mayhem (we will be doing a demonstration on how bike frames are built as well as an FBM team demo!), art, new gear, and a history of FBM display!
11.a.m. til about 5 p.m.
Find us at 478 Lower Creek Rd, Ithaca, NY 14850
In addition we will be hosting the Flyout World Championships Friday July 20th at the Ithaca Skatepark, and this years PREMIERE EVENT, a street ride on Sunday July 22nd in Syracuse NY hosted by FBM's head welder, Johnny Corts and the world famous LEEPER Bros!
For Lodging please check out our friends at the Grayhaven Motel – Use the Discount code – FBMRULEZ for 15% off a room, less than a mile from Buttermilk falls, and just a few miles from the Skatepark and FBM…
Check out the Videos Below!