Our 2009 highlight series is coming to an end and what better way to finish it off than with the editor of our magazine. Steve has gone far and wide to deliver us 12 content packed issues in 2009 – he must have a highlight or two from the past year.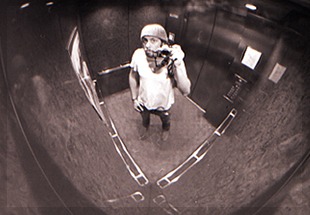 Steve Bancroft
—Ride UK BMX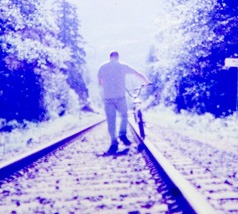 Dave Cotton.
1 – Rider
A person or rider you think has stood out, [someone who you had good times with and needs a shout out]
—Rider: Dave Cotton
Dave Cotton personifies all that I love about BMX. He's as rough and raw and as real as it gets. Unsponsored and seldom employed, his wheels are a little buckled and his tshirts a little faded. His 'don't give a fuck' attitude has been honed through years of punk rock music and living the BMX life. The first time I saw him ride was in 1995 at Sidley Woods and he impressed the hell out of me then and everytime I saw him ride in 2009… he impressed the hell out of me then too. Cotton is the Springsteen of bike riding, a working class hero with strong ethics… a solid unwavering rock in the volatile sea of BMX. He doesn't ride for awards or recognition and doesn't concern himself with fashions or so much as even acknowledge passing fads… motivated only by his thirst for a goodtime and a sweet buzz, he simply gets on with having a fun and roasts higher than ever with a big toothless smile on his face. Dave Cotton has helped-out with the mag numerous times in 2009 and needs a shout out for keeping it real.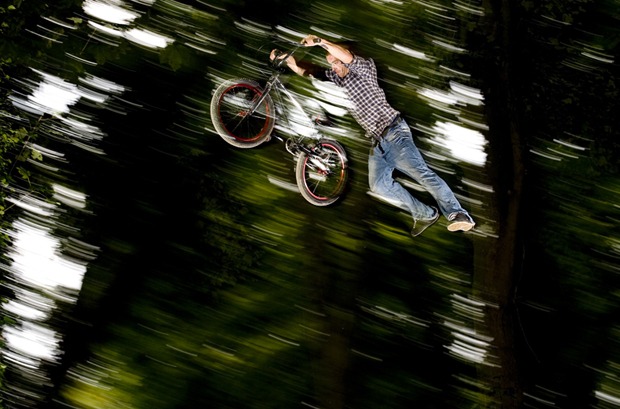 Loose Superman at Bar End whilst putting another test bike through it's paces (a job he doesn't mind as the bikes are always way better than his own).
2 – Photo
Your favourite photo, [a photo you might have taken or been in]
—Photo: Me Crash.
Being the editor of a monthly publication is a fairly time consuming vocation. A few years back, when I was the assistant editor, I spent the majority of my time galavanting around the world, riding bikes, shooting photos, sleeping where the petrol ran out and generally having a goodtime living the BMX life. But when I took on the role of editor, all that changed. My job became far more demanding, I wasn't able to travel nearly as much, and now I spend the majority of my time in front of this computer. But last June the opportunity arose for me to go on a two week trip to Europe. I put some plans in place, pulled a few strings, got organized and accepted an invitation to go on the Vans Let It Ride Tour. I was real excited, I was really looking forward to a couple of weeks in the sunshine away from my computer, just shooting photos and riding bikes. On the second day of the trip I landed on my face at Peynier Trails and had to fly home. I like this photo – it makes me laugh. It makes me laugh at how weird it felt to be concussed in France with no idea where I was, who I was with or how I got there. It makes me laugh when i think back to everyone starring at me as I walked deliriously around the airport dripping blood on the forms as I tried to buy a plane ticket home. When I got back to England and this computer, I looked in the mirror at my mashed up face and said to myself "Nice one you prick, you really fucked that one up didn't you!" – and that makes me laugh too.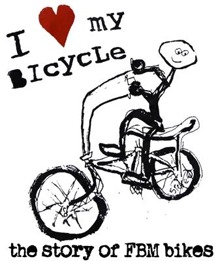 3 – Web Edit / DVD
Your favourite video/DVD, [web edit or a video you have worked on]
—DVD: I Love My Bicycle: The Story Of FBM Bikes.
I've always liked FBM as when I first started riding they did a great job of showing me what BMX had to offer. In 1996 I entered a dirt jam at Slades Farm, I tried a few tricks and crashed a lot and was awarded a £20 voucher for my efforts. The voucher was redeemable at our local BMX shop, Hotwheels and I distinctly remember going in there the following weekend and exchanging my prize for a copy of FBM's 'Ring Of Fire' on VHS. The arrival of that video sparked some kind of revolution amongst our group of friends. We were at the most impressionable of ages and after playing that video on loop for the whole summer we turned into a bunch of annacistic houdlums, it acted as a green light and made it perfectly acceptable to get drunk everynight, listen to punk music full tilt, set fire to everything, ride our bikes and generally have the time of our lives. Ever since then I've loved everything that FBM have done and this DVD sums it all up. Featuring footage spanning the last 15 years and including interviews with the most influential pioneers of BMX, I Love My Bicycle traces back the history of one of the most creative and legitimate companies in the game and leaves you with the great feeling that you really can do whatever you put your mind too.
4 – Event / Time and place
Highlight event such as a competition/jam, or even an random event that occurred while you while you were out on your bike with friends?
—Event: Ride To Glory.
Organizing BMXers is hard, things seldom go to plan and it can be a bit of a nightmare at times – but against all the odds, Ride To Glory 2009 went down without a hitch. It took a lot of hard work and was pretty stressful, but after a few months of meetings, emails, phone calls and negotiations we finally got everyone together and hit the road. I was stressed-out for the whole week, and it was a test of my mental strength trying to keep everything on track as well as shoot photos for Team Profile. But the actual trip was only the start of it: after the eggs were thrown and the vans were unpacked, there were hours and hours of footage to be edited and thousands of photos to be sifted through. But by some kind of small miracle we pulled it off, it all came together and Ride To Glory proved to be our best selling issue of 2009.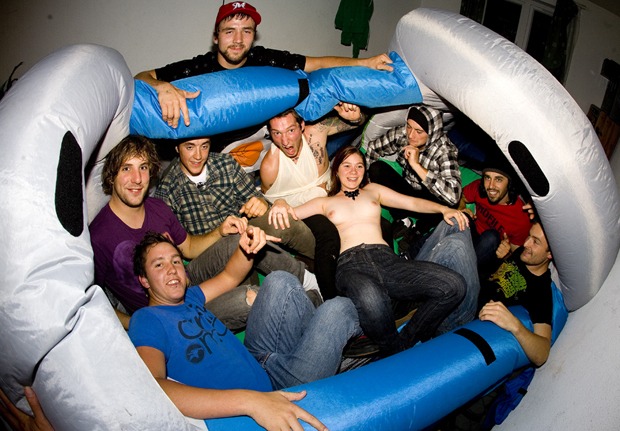 Team Profile, a small flat in Plymouth, a bouncy castle, a ropyey topless girl… another typical day on RTG.
P.S; Plans for Ride To Glory 2010 are already underway… the next one's gonna be off the hook.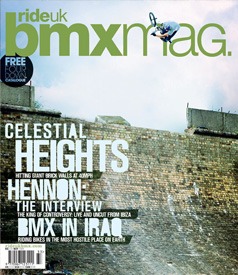 Ride UK BMX Mag: Issue 133
5 – Ride UK BMX
Your highlight from Ride UK, could be an article you've been in or just read, a front cover or even one of the videos featured on our site?
—Ride UK BMX Mag: Issue 133
As the editor of Ride, November's issue is the best magazine I've worked on. From the obscene front cover story to the savage realities of life in Iraq, from the crazy world of Ben Hennon to the grace of the Oakley Trails Tour – everything about this issue is great. The quality of journalism, the diversity of the content and the strength of the subjects involved all combined to make this, in my eyes, the most well balanced mag of 2009. Issue 133 is a celebration of the shear awesomeness and diversity of BMX and I'm proud to put my name to it and I'm proud of everyone who made it happen. Here's to 2010 – It's gonna be a challenge, but I'm pretty sure we can better 133…
All photos by Steve Bancroft
Also check out the other articles from 2009 highlight series below.