2009 is starting to come to an end, I thought it was about time to round it up. I've gone around asking various people 5 simple questions that highlight their 2009. Today we are starting with one of our own Ian Gunner and S&M, Relentless and DC rider Lima.
Here we have Gunner's 2009 Highlights;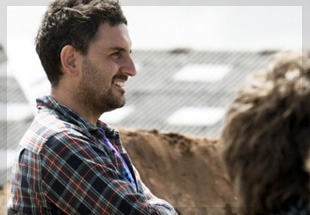 Ian Gunner
—Ride UK BMX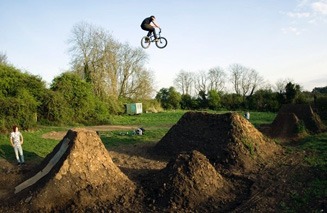 Bob jumping in his yard
1 – Rider
A person or rider you think has stood out, [someone who you had good times with and needs a shout out]
Bob Manchester – after watching him ride over the past few years, his progression within 2009 [both in tricks, style and maturity] has been huge. Not content with building some of the biggest jumps in the country, hosting a wicked Jam [and killing it], Bob also went on to win a few big Dirt contests, travelled to various locations and hooked himself up with a few new sponsors. Go ride with Bob, he is cool, he is funny and he kills it!!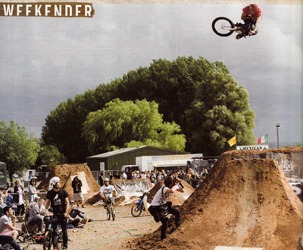 Matty B – 360 table at Nass 2009
2 – Photo
Your favourite photo, [a photo you might have taken or been in]
Matt Burton – Table 3 @ NASS. Its not very often that someone comes along and does a certain trick with the style and height of the OG innovators. At both Bobs Jam and NASS I witnessed Matty B ride, and it was a treat. I remember being at the top of the roll in at NASS [sun was out for a brief few hours] with both Scott Edgworth and Martin Murray, and there was complete uproar when Matty hit that first set, spinning, flat! The picture almost doesn't do it justice as he does these too good! An inductee to the table 3 club if ever there was one!
3 – Web Edit / DVD
Your favourite video/DVD, [web edit or a video you have worked on]
Shola – This DVD is pure BMX! Its raw, its street, its trails, its chewing tobacco, its a crew and its backflips off of tiny kickers. Darin Reads section is treats, and I have watched it a million times [slight exaggeration!]. A vid that makes you want to go ride.
4 – Event / Time and place
Highlight event such as a competition/jam, or even an random event that occurred while you while you were out on your bike with friends?
Murray Jam – The coming together of many friends, strangers, riders and non riders, the amazing private trails being made available, the money being raised, the products and support provided by many many brands, the riding that went down, the media attention, the lack of egos, the one message…..all for the same one cause, Stephen Murray.
5 – Ride UK BMX
Your highlight from Ride UK, could be and article you been in or just read, a front cover or even one of the videos featured on our site?
Stephen Murray Interview – Issue 129. A must read! Stephen speaks the harsh truth and reality. If there is only one interview you read ever, please let this be the one. Its deep, sad, funny, crazy, politically incorrect, real and above all makes your realise how lucky you are, to cherish life..and BMX. Stay Strong!