Chris has been around for a long time and a majority of you will know who he is and what he does. But for those who don't, you've already met him, you just don't know it. Every time you read Ride UK magazine, he is the one that puts the articles on the pages that you read every month. Check out what Chris's highlights are for 2009.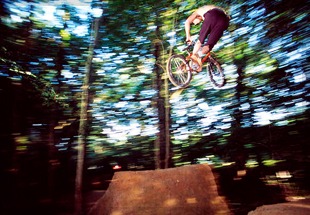 Chris Gordon
—Ride UK BMX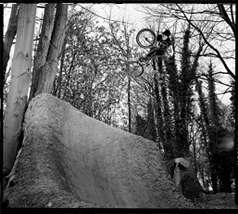 Robbo photo: Beddows
1 – Rider
A person or rider you think has stood out, [someone who you had good times with and needs a shout out]
—Apart from the folks I ride with usually the rider I will remember most from this year is probably Mutiny's Robbo. I've known him well enough for a nod and a handshake for years now but I rode with him properly a couple times this year at Villij and Epsom and apart from being daft good on his bike he is a notably sound lad with a good head on his shoulders. He also uses the phrase "shit hot" which is always a Bonus.
I hope saying that doesn't weird him out.
2 – Photo
Your favourite photo, [a photo you might have taken or been in]
—II'm afraid I cant use a camera to save my life and am far too stiff and bow legged for anyone to take pics of me so I would have to say this photo from the most recent disposable life stands out to me, it seems to sum up the struggle to ride we have in these crappy English winter months. Riders packed into a small car, having to wrap up warm due to a combination of it being so damn cold and the heating not working properly on route to a spot that you are praying has dried out over the one and a half days it hasn't actually rained… this is England.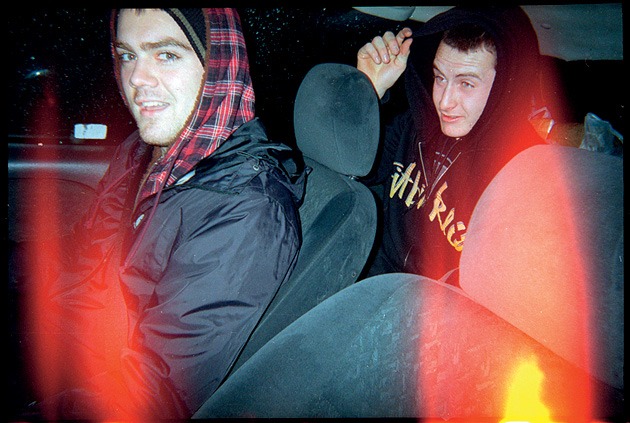 Chris's favourite photo.
3 – Web Edit / DVD
Your favourite video/DVD, [web edit or a video you have worked on]
—By far the standout video of this year for me has to be Mutiny's Lets Get Mystical, I don't think I can fault it. The Art Direction is impeccable, the editing feels like it has a narrative rather than just a collection of good riding clips put together in a difficulty based order. The English section is probably my favourite one of the DVD, the Glide cam at Villij makes me feel a bit funny, in a good way, and who would of thought The Horrors actually had a decent song to boot….
Dave Kings web edits deserve a mention too for their high quality and atmospheric filming and editing.
4 – Event / Time and place
Highlight event such as a competition/jam, or even an random event that occurred while you while you were out on your bike with friends?
—My Bike themed highlight of the year was probably the trip I went on with Wednesday regulars to Barcelona. It's not often enough I get to escape London so 5 or so days in the sun with a few good friends and my bike was a rare treat. Although you don't see much of them there are actually a few good skateparks around Barcelona and of course the beer is cheap and the sea warm and clear. We saturated the Wednesday Blog for about a week with pics from the trip and i'm still working on a DVD from it which we filmed entirely on Super 8.
I also learnt that you can not in fact wear the same pair of slip on vans for a week non stop without socks including swims in the sea….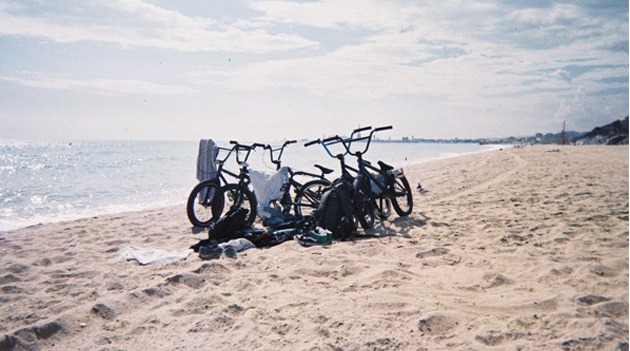 photo: Robert Loeber (sticks-and-stones-magazine.co.uk)
5 – Ride UK BMX
Your highlight from Ride UK, could be an article you've been in or just read, a front cover or even one of the videos featured on our site?
—Not sure if its right to call it a highlight, more of a stand out, but the Stephan Murray interview was, I feel, the most notable and damn well moving articles this year if not ever. I'm from the same riding generation as Stephen and I remember him at an old Ipswich dirt jumping contest after his first trip to america doing massive table 3's and flip attempts… How he has gone through what he has gone through since his accident and kept positive I don't know… An example to us all, as we sit moaning about house work bills and punctures.