Following on with our 2009 highlights; today we have Fit Bike Co rider Owain Clegg.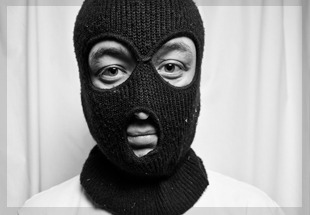 Owain Clegg
—Rider
Fit Bike Co, Orchid Footwear, The Shadow Conspiracy, Carhartt, Roundabout, Don Joy
1 – Rider
A person or rider you think has stood out, [someone who you had good times with and needs a shout out]
—Robin Fenlon – We don't hang out very often any more, but our 1200 mile slog to Elgin and back reinstated Robin as one of my favorite people to hang out with, although he has taken a step back from his BMX involvement I hope this will only fuel his desire to ride more often as I for one crave the creativity and giggles he cant help but muster up.
2 – Photo
Your favourite photo, [a photo you might have taken or been in]
—I honestly cant think, I know I always have mugshots that are flattering, oh maybe this opposite flattie H Man shot on Ride To Glory it felt good to get out of a trick rut and shoot something I usually dont, he did it more than justice it aint no Stauffer but you can only try, oh and Beddows Shot a one foot nose wheelie at the Tunnel Jam that I was phyched on (more phyched than Beddows was with his flash if I remember rightly)
3 – Web Edit / DVD
Your favourite video/DVD, [web edit or a video you have worked on]
—It would have to be the Carhartt short I did with Rich and Fez (Forne) at the Boneyard, it was great to have the creative freedom and more importantly the backing of Carhartt to make something unique and timeless to look back on, I know it was arty and only had a small ammount of riding but for me it involved somewhere that is close to my heart and in completion gave me my own little keepsake to look back on when my times up.
4 – Event / Time and place
Highlight event such as a competition/jam, or even an random event that occurred while you while you were out on your bike with friends? 
—Fit Greece 09 – Although I spent almost that whole trip on the subs bench, there were so many stand out moments outside the riding although the train jouney from Athens to Thesaloniki will always bring a smile to my face, watching Cleggy trying to get some shut eye while people brushed past with boxes of laundry powder and 8ft long carpets was priceless.
5 – Ride UK BMX
Your highlight from Ride UK, could be and article you been in or just read, a front cover or even one of the videos featured on our site?
—Man it has to be Bas cover/article/video anyone that knows me knows I am into anything off the beaten track so to combine this with one of the most naturally gifted riders in the world and it was bound to be golden. It has got to be one of the gnarliest things I have ever seen and the video Edd did came across perfectly in reflecting the mindset/seriousness of the thing, anyone that dont get this needs to do BMX a favour and jump off a skatelite cliff.