2009 is starting to come to an end, I thought it was about time to round it up. I've gone around asking various people 5 simple questions that highlight their 2009. Today we are starting with one of our own Ian Gunner and S&M, Relentless and DC rider Lima.
FIrstly we will start with Lima, here it goes;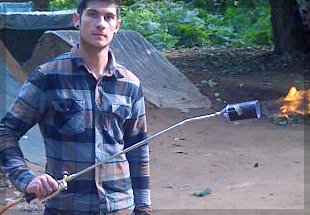 Liam "Lima" Eltham
—Rider
Profile Racing, S&M, Relentless Energy,
DC shoes and Fox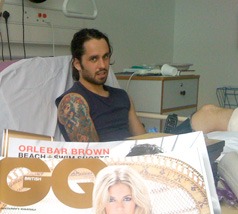 Martyn Tambling
1 – Rider
A person or rider you think has stood out, [someone who you had good times with and needs a shout out]
—Martyn Tambling. I went on three trips with Martyn this year, DC trip to Czech, Profile Ride 2 Glory and the Oakley trails trip. Martyn rode well the whole time on these trips and was always having a good time. Except one mishap at my trails. 
2 – Photo
Your favourite photo, [a photo you might have taken or been in]
—Most of my favourite photos aren't much to do with riding. But then I flicked through and found this one of Mike "hucker" Clarke. I don't think many people could do a three like that over that jump.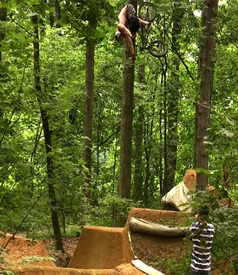 Lima's Fav. photo
3 – Web Edit / DVD
Your favourite video/DVD, [web edit or a video you have worked on]
—Easily the Fox Andaluica series. I'm pretty sure Joe Rich put them together and they just have a real good feel to them, plus the riding is pretty amazing. (Link t video) This episode is my favourite out of all of them. 
But this video of Pipe crashing at our trails is definitely up there. Plus a couple of days before it was made he told me he had only crashed 3 twists all year…… Daz commentary is top notch to ( Link to video)
4 – Event / Time and place
Highlight event such as a competition/jam, or even an random event that occurred while you while you were out on your bike with friends? 
—Got to be the Peyneir jam in September. I've been trying to go for the last few years as I love it down there but things kept getting in the way. Stayed in Max's pool house with Scott Edgworth and Hennon. Swimming every morning then hit up the trails. Plus the French kept giving us beer.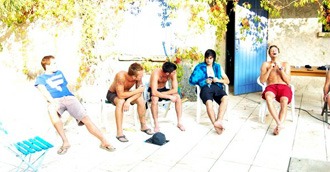 Lima & friends by Max's pool
5 – Ride UK BMX
Your highlight from Ride UK, could be and article you been in or just read, a front cover or even one of the videos featured on our site?
—Got to be Bas. The cover and the video feature was so good.