Interview by Robin Fenlon with Scott Ditchburn and Jack Donnelly [DUB BMX] Home page image by Luke Peeters.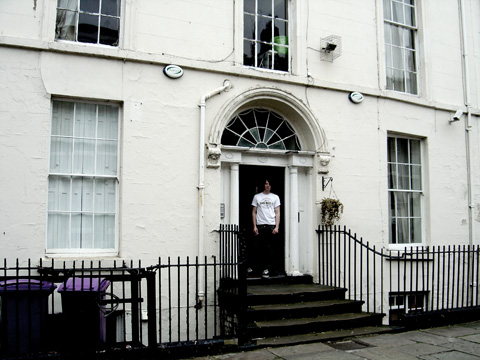 Scott and Jack's current living arrangements in Liverpool
Scott Ditchburn burst onto the UK street scene with his unique style of riding and his care free attitude. Scott is from Flint in North Wales, a town with a massive social problem of violence, robbery and drugs. Scott's known for his tech street riding and has an ability to learn tricks quickly. His positive attitude is that if you can do something, you should do it every time you ride, is one of the reasons he is so consistent.
A few weeks ago we had an article online which featured the latest edit from one of Scott's sponsors, DUB BMX. The trailer was full of good riding, fun partying but also several hardcore drug references. This is what seemed to stick out in peoples minds. So, to find out a bit more about Scott, DUB BMX and why they're so crazy, I went to see them early one Monday morning at their new home in Liverpool. This is how thing's went.
Ride – Did Owain Clegg get you started in BMX?
Scott: No, Mark Conway did! He's the guy with the truck, the M9 BMX truck, loads of tattoos. He's the raddest guy ever, he does UFC fighting. He can do anything he wants to, he's good at everything. When he started skating he was amazing at skating. When he was rollerblading he could have been the best in England. That was before we started BMXing… I used to rollerblade.

You used to rollerblade?! [Laughter]
Scott: Well, I was too tall to rollerblade and my knees were wrecked. After that everyone started mountain biking but mine broke every time I got on it. Mark had a BMX so I got a BMX and it went from there. The first park that I started going to all the time was The Breakers Yard in Mold.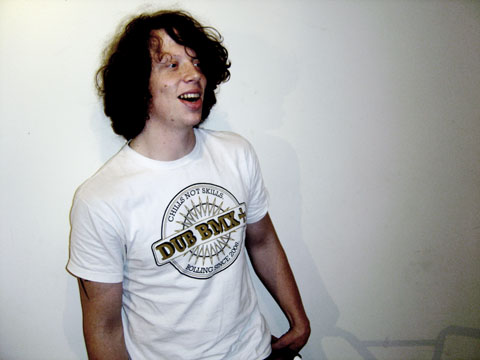 Scott Ditchburn in a DUB Rizla T
Is Mold where Owain's cover doing the black rail was shot? Because you had a photo in Ride doing that as well…
Scott: Well, my mate took that on his phone! It was dodgy as f*ck when I did it that time. I had to do it three times. The first time the camera wasn't there. The second time someone filmed over it, I mean, you've seen it, it's not a rail you want to do twice! It's massive and horribly steep. If you stand a hundred feet away from it, the set of stairs looks like a wall.
Jack: Have you seen the one opposite it? It's even longer…
Scott: You should get [Brian] Kachinsky to go and do that rail.

You've moved around alot recently, when did you leave your hometown of Flint?
Scott: Yeah, I left Flint and went and stayed in Hastings for ages. I wasn't staying living there, just went down to hang out before one of the trips that I went on. I just went down there for a few weeks beforehand and then moved to Chester for a bit. Actually, no, I went from Flint to Chester and then to Hastings for a while. Then Cardiff. No, I went to Manchester. That's bad, I can't even remember.
Jack – We were in Manchester for about five or six months. The house got fucked over completely…
Did you live together?
Jack – Yeah, with Dewi and our other mate who doesn't ride from back home who went mad. He had to move home.
Do you know alot of people who've gone mad?
Scott: I know a fair few.
Jack: I know a few but not guys we really ride with. I know a lad who ended up in a coma, his immune system must have been fucked as he ended up catching hypothermia. He was in a coma for a month or six weeks. When he woke up he thought he had a bird and a kid because of all the dreams he'd been having! Normally you have a dream for a few seconds and then you wake up, well he'd been having these dreams for like a month and then woke up and thought it was all true. He got back on it after a month though. He is mad, he drank a glow stick once to see if his piss would glow!
Scott: We always go on about it man, people from round our way, North Wales. There's no-one else like people from North Wales is there? For madness.
Jack: Everybody from Mold, where we used to hang around when we were young is getting on it at the weekend.
Scott: Like getting proper f*cked up. And just being, well, mad. The maddest things happen. I've seen some proper fucking nuts stuff.
Jack: This one lad from Mold. He was putting LSD onto [paper] tabs and spilled some on his hand. It absorbs into your skin. No-one saw him for eight days then he turned up at home banging the windows, still completely off it. He was never the same again.
Scott: Yeah, it was f*cking mad like. Seriously, North Wales is madder than anywhere else!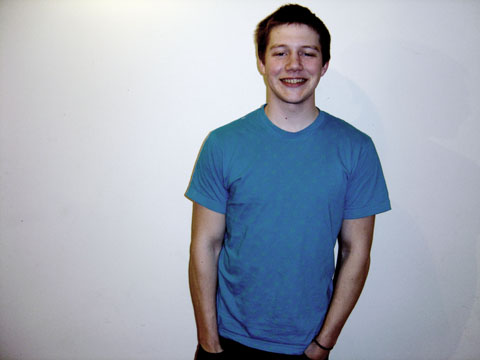 DUB Jack…
Does any of that worry you?
Scott: No, not at all, it just means you've seen everything. We had a party here and you could see some of the students getting a bit uncomfortable because there was about forty heads in here ramming on music, throwing round pills to each other.
Jack: We've calmed down alot since we lived in Manchester.
Scott: Yeah, definitely.
Do you ever see Harry Main?
Jack: I haven't even met him. He's got his name stitched onto his bag though, that's how I knew it was him. It's not like we decided not to, we just don't see him really.
Scott: We never really see him, well not out riding street. At the park sometimes…
That's weird you don't see each other but live so close...
Scott: Who's the one that (Dan) Lacey hates?
Jack: Tony Watkinson
Scott: That's the one.
Do you ever hang out with him?
Scott: No, do I f*ck. He gave Lacey shit at the Simpel Session and Lacey basically said, 'Let's fucking have it out then'. Tony shit himself and ran to Catfish [his team manager]. Well something along those lines, mad little story.
Jack: He ran to Catfish and Catfish told Lacey that if he hit Tony then he'd be banned from the Simpel Session for life. [Laughter]
Scott: Does Harry Main get f*cked like? Have you ever spoke to him enough to find out?
I've hung out with him, I don't think so. He's pretty focused, you know? He's going to be a super-pro.
Jack: He's the next Dave Mirra isn't he!. He is f*cking ridiculous like. Well he's got Mike Spinners spot on Mirraco hasn't he? And Mike Spinner is a super-pro so I guess he's already made it. Doesn't he ride for Ecko or something?

Have you seen the advert? It must have cost a fortune...
Jack: That's because of the company involved, if they make an advert, that's how they do it. If I did an advert it would be my mate with an SLR. I guess Nike and Levi's must be the same. They've just pissed over everyone really haven't they? Both of them have made two of the sickest videos ever and they've put them on the internet for free. Where the f*ck does that leave everyone else? You could spend a year making a video, put loads of effort in and it wont be as good as the Nike video and then you try and sell it for a tenner?
Scott: Yeah but that's because what you expect from Nike isn't it? They're a multi-million dollar company, if you make something nearly as good as the Nike video and you don't even make a wage, what does that say about Nike?