For Friday's installment of the legends week we have European BMX blogger Bart De Jong. Bart has been around BMX his entire life and has seen hundreds of trends come and go. Personally FAT BMX was inspirational to me growing up as the UK did such a crap job of covering BMX online. The Come Up and Vital might be the talk of town at the moment but FAT BMX and Bart have been and will be here for life. Barts lifelong commitment to BMX and his dedication to covering it online is second to none and for that reason I'm proud to have his opinion included. Here are Bart's top five legends…
——————————————————————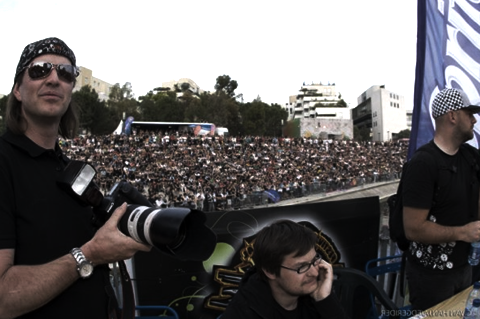 Bart judging at the FISE competition…
All this time I could think of writing something for RIDE UK I thought they wanted something on my heroes. But in fact I don't really have any heroes. I respect people for who they are, what they do and what they have done, but bringing that down to a list of five would be impossible. I was already late in the reply so when I checked Robin Fenlon's mail it said Legends, not Heroes. For me this didn't change much in my top 5 list. I have mad respect for all these guys, starting off with:
Vic Murphy.
In the time before the internet I communicted with Vic via the post. I had done that for a while and then I was on my first trip to the USA. 1990 it was. Vic had started DirtBros and rode Mission Trails and Street on a daily basis. He had style and was damn good. Shortly after I arrived on Montezuma road I got a call from Vic asking if I wanted to go ride street. Sure! Man, I was still putting my ride together when Vic, Kaarlo Wik and Pete Augustin showed up. I rushed getting that Haro Master together and it was off in the streets. I had a hard time keeping up with their speed and taking everything in. The curbs were much higher, they had asphalt roads and concrete sidewalks instead of the bricks and tiles back home. Ever since that first ride I've been a fan of Vic Murphy. His tables over at Mission Trails were the best. He can probably do those better than pretty much anyone. Vic pioneered in riding dirt and street. Flanel and army shorts back then. Flanel and army shorts today. Legend.
Bob Haro.
What would freestyle be without the influence of Bob Haro? He took it from the BMX track to the skateparks. He set up the first freestyle shows and took it on the road. He inspired so many of us to quit racing and start doing tricks. No more trainer telling you to pedal faster but you and your friends progressing at your own rate learning new tricks on every session. Bob started the first rider owned BMX freestyle company with Haro bikes. He knew what looked good and cared about style. It is good to see Bob Haro around the freestyle scene these days. Such an inspiration. Thanks Bob.
Harold "McGoo" McGruther.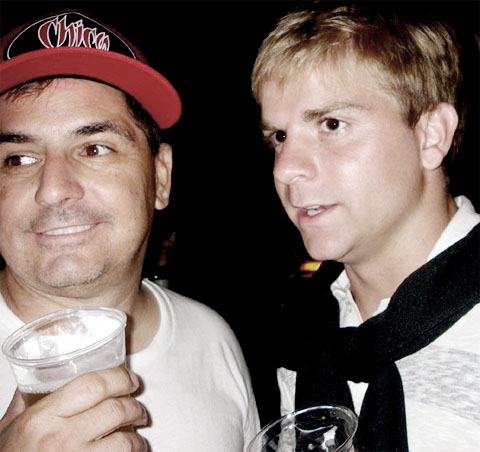 Mcgoo and Brian Kachinsky. Photo by Bart.
I don't think anyone has such a strong knowledge and memory as Mcgoo. He's got an answer on your questions and that doesn't stop at BMX. He's been involved in the BMX industry since the mid-'70-s and remembers Harry Leary/Dizz Hicks/Greg Hill stories like they happened yesterday. It's entertaining to hang out with McGoo and I'm stoked I had the opportunity to hang out with him a lot. He has taught me so many things about the industry, where he was just talking about it and not trying to be the teacher. McGoo is straight forward, honest and says what he thinks. I like that. I'm proud to be able to say that he's one of my best friends.
Mat Hoffman.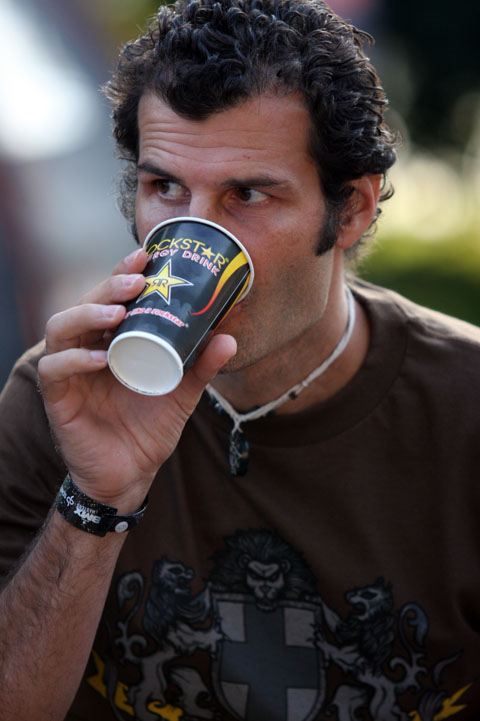 Mat Hoffman, ultimate BMX legend. Wearing a Stay Strong T-Shirt… Photo by Bart.
If there is one legend in BMX (freestyle) than it's Mat Hoffman. The man who has pushed the limit more than anybody and paid the prize for it too. Like Jay Miron (another legend) he came over to Europe on a regular basis and pushed the scene over here. He was on it when it came down to videos too in the early VHS days. He decided to put comps together when BMX freestyle was nearly dead. Started his own bike company because he was sick of breaking bikes. The school of hardknocks is what he used in all cases. Sometimes it worked out, other times it was a disaster but that's Mat. Try and learn, and not forgetting where you're coming from. More than most he's got two feet on the ground that is if he's not basejumping, parasailing or trying to learn how to fly a helicopter. Respect.
Stephen Murray.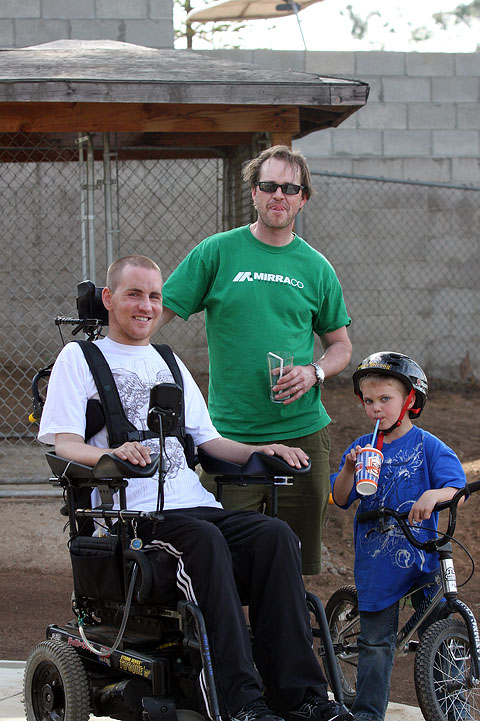 Stephen, Bart and Stephen's son…
What can I say about Stephen Murray? He's probably the strongest guy out there. On a recent visit it was just like you're talking to Stephen Murray from before the crash. He's dedicated to make things happen. He uses that same mentallity to win Gold medals and it will help him win mobility. I was seriously happy about the visit and left his place relieved. People care about him, he's got his kids around riding BMX, he's got his own clothing company and the dedication he has on his therapy can only help in the future. Stephen is part of the BMX community and it's good to see the BMX community and his family and friends are behind him. Stay Strong Stephen.