Today's update is by Hoffman Bikes rider and Vans UK Team Manager Jon Taylor. Jon's been a professional rider for well over ten years, he's put his time in and escorted more US pro's round the UK than probably any other rider. Jon works for Seventies Distribution in the sales department while also managing the Vans UK team. In between all that, he still manages to cram in a ton of riding too. So here are Jon's top 5 legendary riders…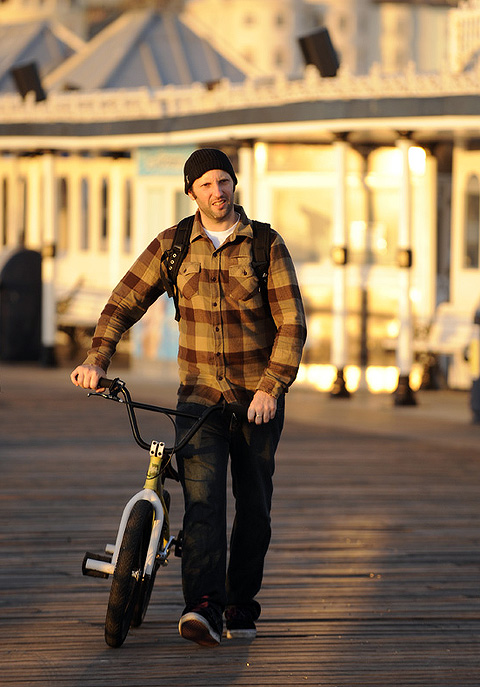 Jon Taylor crusing up the pier in Brighton. Photo by H-Man.
————————————————————————

Craig Campbell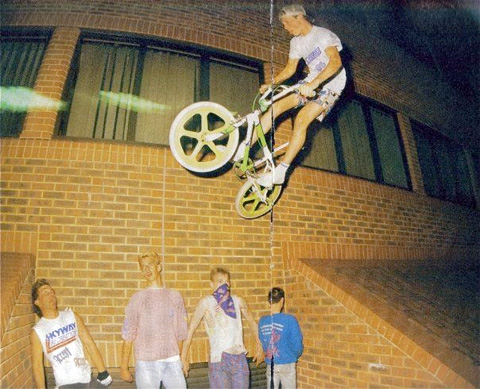 Craig Cambell, probably before you were born! Photo courtesy of Fat BMX
He was the first person for me who had a style I was into. He was doing lip tricks when hardly anyone else was and he made it look so easy. I remember seeing an article on him riding street around London in Rad magazine and at this point I had never been to London, it made me want to go there so badly.  Its worth remembering that at this point there was no internet and the only way you could see what any of these guys was doing was in the magazines. I remember getting one of my fist USA magazines, I think it was Free-styling and it had a sequence of Craig doing the first ever 540 wallride, it was nuts. Because Craig was from the UK, seeing him in what was at the time, a big US magazine it really inspired me and made me feel that riders from the UK could hold there own with the big US riders.
Mat Hoffman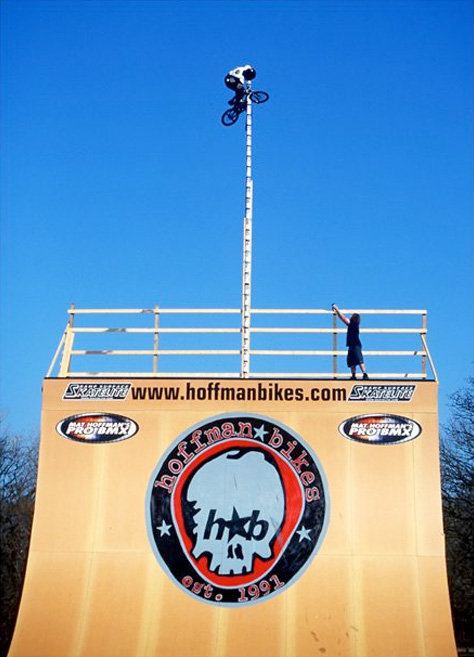 The worlds highest air on the mega ramp. Photo courtesy of Hoffman Bikes.
There is so many story's I could tell you about Mat but the best one for me is this;  I was out in America for a BS Contest (which were Matt's contests that he put on, as at the time there was nothing else contest wise going on) and we where all riding Mats indoor ramp. The stuff that was going down was mental. There was John Parker, Jay Miron, Dave Mirra and Mat all going nuts. Then Matt said lets go and ride the big ramp, which we all know now as the 'mega ramp' but back then it was just this huge, massive quarter pipe that Mat had built and no one else was crazy enough to ride! We all went out side and I remember thinking, 'this is nuts, your on your own with this one mate!' so Mat just sessions that ramp with just a hand full of people there like it was a normal ten foot quarter. No TV crews, no MTV sponsorship, just him and his friends riding for the hell of it! What a legend.
Taj Mihelich & Joe Rich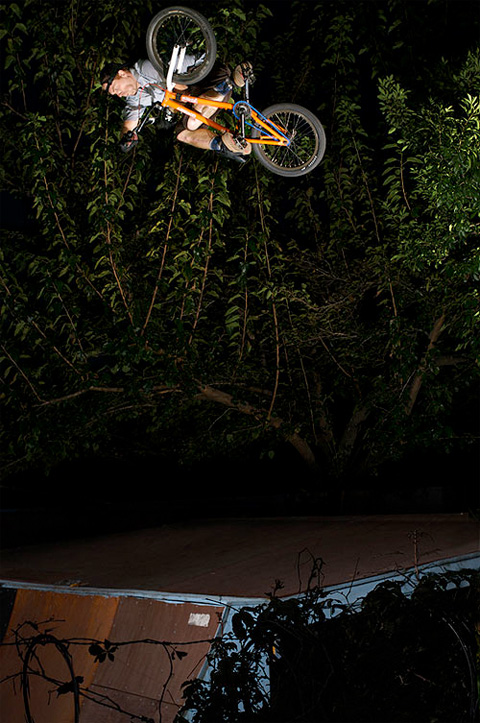 Taj style… Photo courtesy of Etnies BMX
For me these two are true legends. Anyone who can change the whole style of riding like these two guys did is truly legendary.  I remember watching Road Fools 1 for the first time and thinking 'that's one of the best trips i have ever seen'.  Joe's part especially made me just want to go out and ride street all the time. I also remember going to Germany for The Worlds and seeing Taj with what seemed like a tiny sprocket; it was a 36 tooth, which was mental because at the time the smallest sprocket you could get was a 43! It seemed like within a couple of months everyone was running this kind of set-up everywhere! That 'trend' is the norm today, it's like Taj totally revolutionized this look.
Seth Kimbrough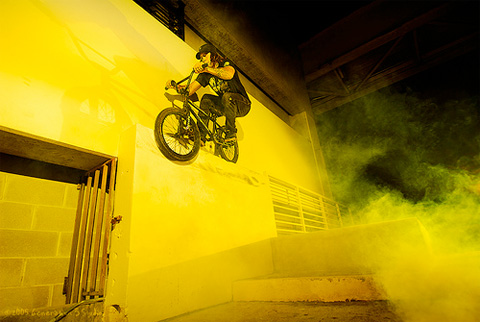 Seth shooting an advert for parts sponsor Shadow Conspiracy.
For me he is so inspiring. He is one of the best riders I have ever ridden with. He can ride anything; ramps, street, and dirt and looks so stylish riding all three.  He is one of those people that whatever they do, they do it really well. Like when Seth had his metal band Mortal Treason, he was so into it and looked like a proper rock star! That band was real successful too, appearing on the top listings on Head Bangers Ball!!  Which is just mad to think that one person can be so multi talented, both at riding and outside of it too. Whenever you are on a trip with Seth he will be the last rider riding every day. A real grafter.