Not sure how many of you guys use RSS feed readers… I do, as do a fair few industry fellows I know. Why do we do it? Well, there are hundreds of BMX websites out there that get updated every day. It would be too difficult to remember to check each one.
So I use Newsfire. I imported all the feeds from BMXfeed.com and now every time someone updates their blog, I know about it. It's not just the big ones either. The little rider blogs also come up. Steven Hamilton's is one I find very interesting. Steven is a pretty out there character and so his updates are always pretty random. The way we're not that random, he is, posting old and new photos, quotes, stories and now short videos. This is one of the photos he posted yesterday, obviously from an old Federal trip somewhere. There are some names in there!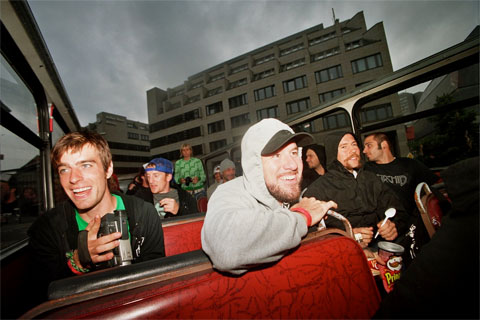 Grotbags, Sandy Carson, John Dye, Stu Johnson, Peter Adam, Corey Martinez and Kye Forte?