Today's list of legends is by thecomeupbmx.com's Adam Grandmaison. Adam set up his BMX blog three years ago and it's now the most talked about BMX site on the planet. He's often referred to as being an entrepreneur as his websites so popular, but the key reason for this is his passion for BMX. To put yourself in front of the BMX world and be honest with your opinion is a bold thing to do but he does it daily and is respected for it. Here are Adam's top 5 legends…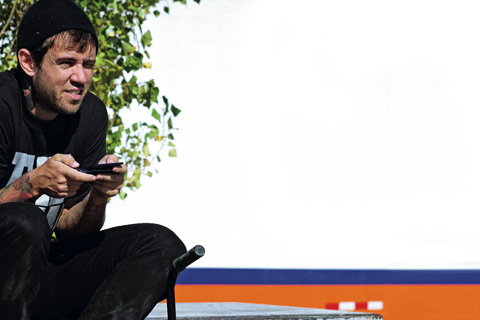 Adam Grandmaison. Photo by Keith Romanowski
——————————————————————–
Ralph Sinisi
I was trying to think of what aspect of Ralph to write about, but when I went to watch his Props bio on Youtube a comment on the video summed it up for me. The comment: "ralph sinisi is the reason why street riding is the shit now." Ralph just made street look like so much fun whether he was bump jumping off a turtle or grinding a 20 stair rail. Ralph's passion for street as a whole, not just riding the same old spot but searching out new spots and just being out on your bike with your friends has always been an inspiration to me. Somehow his clips always conveyed that even when it wasn't implicitly stated.
Ratboy
Ratboy was so far ahead of his time in BMX it wasn't even funny. He took the bunnyhop barspin (which his cohort The Gonz had pushed pretty far) and took it to a whole new level, doing it into and out of pretty much everything. He possessed an almost flatland-like mentality towards riding his favorite spot, "the wedge" and crafted an incomprehensible number of tricks and ridiculously technical combo's on it. Towards the end of his time in the spotlight he more or less crafted his final opus in the form of a Shine section where he did 50  mind-boggling tricks in 24 hours.
Lou Rajsich
Lou's bike set up was drastically different than what was in fashion at the time (4 piece Castillo bars, brakes, 4 pegs, actually I'm not sure this set up was every really en vogue) but his riding was so powerful, his style of dress was so unique and his style was so nonchalant that it all just clicked. He tried tricks that made absolutely no sense (180 to rollercoaster rail???) and made himself a legend by pulling others (the first opposite backwards rail). Then he disappeared, which in a way just solidified him as a legend.
George Dossantos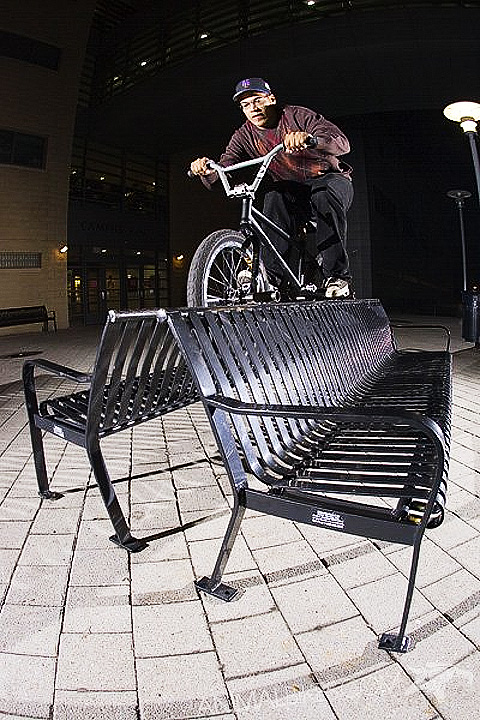 George D, rollercoaster between two benches. Photo courtesy of Animal Bikes
You can blame it on the goofy footedness if you want, but George single handedly progressed handrail tricks lightyears beyond what anyone else had done before him. I remember being 15 watching DQYDJ and wondering why none of the other BMX videos I'd seen had feeble 180s down rails… it took a while for me to realize it was because George was the only one doing it and would remain so for many years after that video came out.
Ian Schwartz
Ian is a living legend in my mind. He came up with so many tricks in his Props bio that are staples now, took pegless grinding further than pretty much anyone. He also had amazing video parts in A Day Late & A Dollar Short and the System video and still seemingly can't put out anything less than awesome, as his Gone Fishin' web video was also incredible. Or maybe I just wanted to put someone with no pegs on the list, who knows.
LINKS: Animal Bikes, The Come Up BMX