Stereo
Exploded
Stereo have come through with another awesome looking frame, and this time we have the Exploded. Fully heat treated 4130, custom CNC laser cut dropouts with bomb logo and custom seat-stay bridge too, again with the bomb logo. This frame has ovalized chainstays and tapered seat stays, with a built in seat clamp as standard along with removal brake lugs and a mid BB. This thing comes in a bunch of great colours, but ours is clearly the daddy in Raw. It's also available in Matt Trans Black and regular Matt Black. Clean, tidy, job done.
Specs
Top Tube: 20.9", 21.2" 
Chain Stay Length: 13.75"
Angles: 71 degree seatube, 75 degree head angle
Bottom Bracket: 11.8"
Weight: 4.8 lbs
Colours: Matt Black,
Matt Trans Black, Raw
RRP: £299.99


S&M 
Randy Brown 2
The first S&M Randy Brown signature frame was a treat.
American made S&M frames have pretty much been the
pinnacle of BMX since the dawn of time. Randy stays true to the first frame
and only applied subtle changes for the RB2, and here's what we got; capped
and tapered stays, thicker BB shell, and some new colour ways. We're left with the 4Q baked tube set, custom RB bottom gusset, curved seat and chain stay bridges, tapered seat and chain stays, with enough clearance to fit the tyre of a Ford Mondeo, with an integrated headset and seat clamp and Randy's own personal graphics. Light, strong and built to last the American way.
Specs
Top Tube: 20.5", 20.75", 21" 
Chain Stay Length: 13.55"
Angles: 71 degree seatube,
75 degree head angle
Bottom Bracket: 11.8"
Weight: 4.42 lbs
Colours: Black, Green, Brown
RRP: £399.99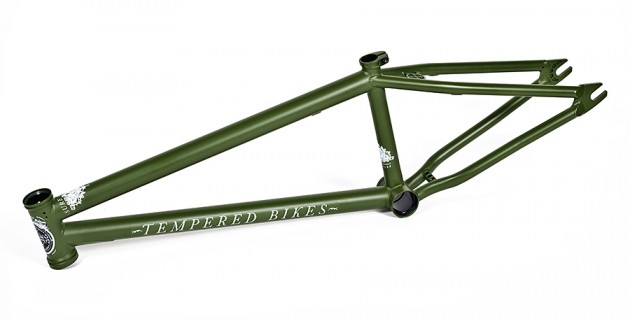 Tempered
Surefire
Tempered is an awesome new brand coming into the UK via the Scoop House. Here we have the Surefire frame, and on closer inspection this thing looks dope. It's the Jerry Vandervalk signature frame and it's full 4130, with removable brakes, CNC machined heat treated dropouts with a stamped logo, externally machined double butted seat tube, internally machined double butted tubing on the top and down tubes with a built in Tempered seat clamp. The Matt Khaki we had in here looked slick, but it's also available in Matt Black. Real nice set up from these guys, hope to see more in the future.
Specs
Top Tube: 20.75", 21", 21.5" 
Chain Stay Length: 13.6"
Angles: 71 degree seatube,
75 degree head angle
Bottom Bracket: 11.5"
Weight: TBC
Colours: Matt Black, Matt Khaki
RRP: £289.99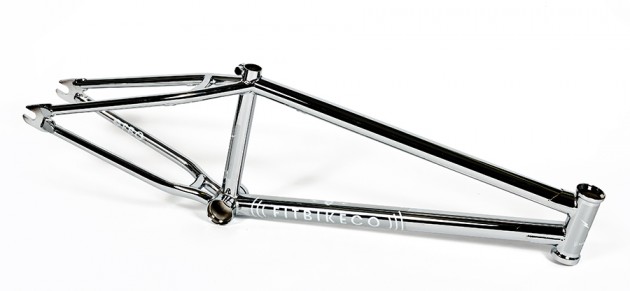 Fit
Wi-Fi
There's no two ways about it, the Fit WI-FI frame has
been a success. Value for money has been the key for this frame. Usually they retail at £249.99 however we have in our hands the chrome version, this beast is £269.99, a touch more, but look how rad it looks. All the usual WI-FI quality here, straight gauge top and down tubes, internally butted seat tube, double bend chain stays, curved stay bridges and a round stay cap for cleaner peg fit (this is a treat), and 2.3" tyre clearance even when the back wheel is ran slammed. 14mm 4Q baked dropouts and available in pretty much every size possible means
this is amazing value, from one of the best brands out there.
Specs
Top Tube: 20.25", 20.5",
20.75", 21", 21.25"
Chain Stay Length: 13.10" – 13.75"
Angles: 71 degree seatube, 75.5 degree head angle
Bottom Bracket: 11.6"
Weight: 4.8 lbs
Colours: Chrome
RRP: £269.99