Dave Sowerby is known for filming big hitting Youtube videos, designing top notch skateparks and being BSD's personal filmer. He's definitely been in the lime light recently after BSD dropped the 'Any Which Way' DVD. He also filmed BSD's Ride To Glory section recently too – which no doubt will be a banger! Markus Wilke did a little Catch Up interview with him on Freedom and has transcribed it into English for us. Here it is… Enjoy!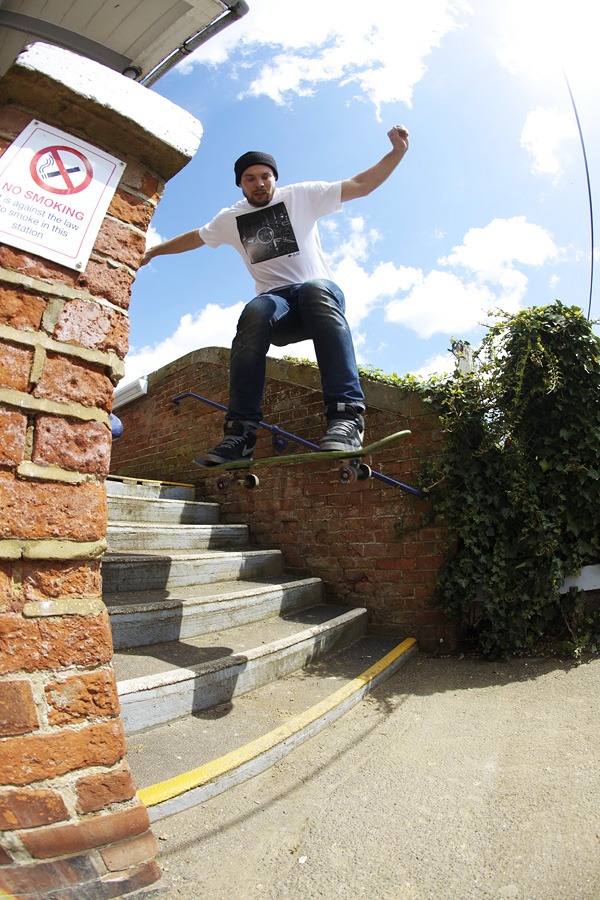 Dave Sowerby with an 8 stair ollie on this years Ride To Glory.
Name, age, location
Dave Sowerby, 35, Glasgow Scotland.
The younger generation knows you as a videographer, but back in the days you were also a sponsored pro rider. How did you get into BMX and where did it take you?
I started riding late on when I was 17 when I got restless with skateboarding and wanted to try something different. BMX was a smaller sport back in the mid nineties and there were not a lot of parks so me and my friends dug our own trails and thats mostly what I rode for years. I was picked up to ride for Proper bikes back when the company were starting to grow and that was a fun time when I got to ride with the team on trips like Props Megatour and the first Ride to Glory and also make a contribution to their videos, website design and lots of other stuff. I've also been involved with BSD ever since Grant Smith decided to make it more than a spare time side project and that sort of brings things up to the present where I work for BSD filming and doing all sorts of design work.
Do you still get to ride much these days?
Up until a couple of years ago I was riding more than ever but then I hurt my back which slowed me down a bit. My involvement with BMX has been more with filming, design, building parks and helping with BSD over the last couple of years and riding more occasionally. I have just moved to Glasgow and there are more riders around my own age who ride regularly here so I'm looking forward to the chance to ride with those guys more now.
What/who is BSD?
BSD is a bike brand based out of Glasgow Scotland and ran by Grant Smith. The BSD name has been around forever from back in the day when Grant used to make scene videos, print shirts and then started CNCing sprockets out of Glasgow. It was around 2005 that Grant started to expand into making bars, hubguards, forks and then eventually frames and over the last couple of years its grown so much to where it is now.
How did you get into filming?
After riding for a year or so I was motivated to buy my own video camera as I loved watching videos like Hoffman's 'Head First' and Eddie Roman's 'Ride On' before going out riding and I wanted to try and emulate those videos and capture my local scene in the same way. I'd take my camera everywhere and pick a few clips up during most sessions then edit the stuff together. My first few edits were pretty awful. Learning to edit back then involved plugging your camera into a VHS recorder and manually recording each clip onto another tape in the order you wanted them. You would need to rewind and fastforward through all your tapes findingeach clip as you needed it then once the edit was assembled record a music track over that. It took so long to do! This was before computer video editing and it was a slow process to master but one thats made me appreciate the advances in video and computer technology and how accessible and comparativelyinexpensive filming and editing is to people now.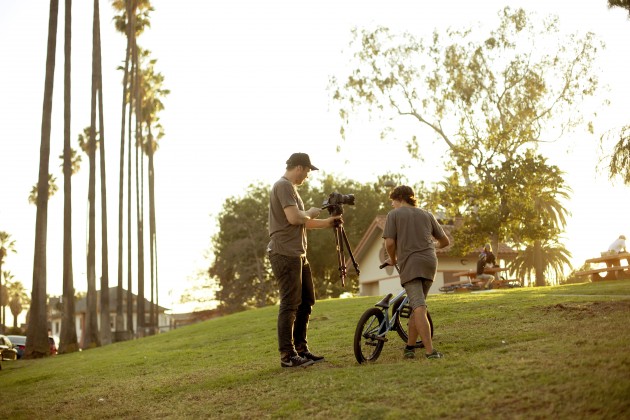 What or who influences your video work?
It can be anything really. Good movies, music videos, other filmers work, all the random stuff on Vimeo or the personality of the rider I am filming with.
Why did you feel the need to produce a DVD instead of putting out, say, a web edit series?
Although the internet is definitely now the best way to get a video in front of the biggest audience there is still a legitimacy about holding something in your hand that tangibly shows the efforts of the filming work. I have a copy of the DVD framed and hanging in my bathroom at home, I guess that says it all really.
'Any Which Way' might be one of the best videos in recent years. I've heard a couple of people complain, though, that it showcases ramp riders out of their element, e.g. riding street. How do you feel about this?
Thanks, thats a huge compliment! As for the complaints, they are interesting! I can only assume they refer to Kriss Kyle who for those who like to categorise riders would be the only one in the DVD people would call a ramp rider. For us and the UK team in particular the trips we made over the winter were the chance to escape the bad weather and get to ride outdoors in the sun together and that inevitably leads to street riding. We spend most of the winter in indoor parks in the UK after all so its nice to get outside when you can and we were seeking a change from that! I've never really understood the need to label a rider as a certain type. When Ilearned to ride I rode everything, trails, park and street and I think the best riders today still do. Even the likes of Garrett Reynolds and Dennis Ennerson who you might call some of the best current street riders are amazing park riders and I think their street riding benefits as a result. I still feel one of the defining street edits for me is Ruben's part in Grounded. It changed what street riding could be but around the same time Ruben had been competing in dirt contests and inventing new ramp tricks. I think his adaptability and individual take on what might be possible on a bike is what made that section what it is, not what type of rider Ruben was perceived to be. Street riding is about creativity, maybe more so than any other type of riding and its the chance for a rider to show how they can interpret spots that were not specifically design to ride. While I'm not comparing Kriss to Ruben for one second, Kriss is one of the most creative riders I know and its fascinating to see how he takes his creativity to the street. If other people feel threatened by someone who they feel is riding out of their element despite that fact that they are filming inventive, fresh and individual street riding then that's their issue to deal with. Its a back-handed compliment to Kriss in a way I guess.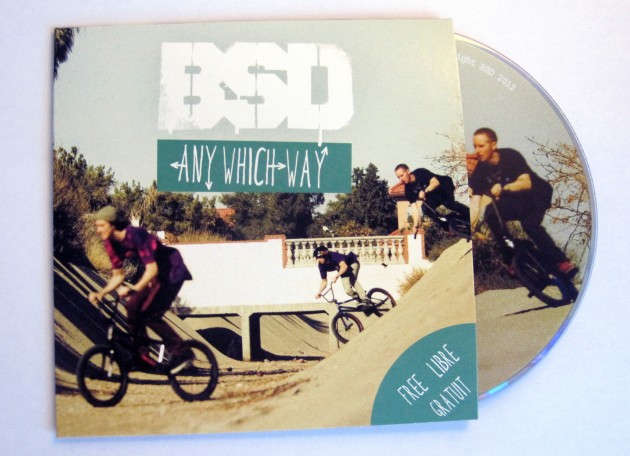 How long did it take to finish?
We filmed over 6 months and I squeezed the editing into a frantic two weeks after getting home from the Barcelona trip to meet the DVD duplication deadline. Those two weeks are a blur! Haha.
How did the name come about?
I guess I wanted a name that sort of summed up hitting the road with no other destination in mind than to discover new places and spots and let that process take us where it may.
What were the best and worst experiences while travelling for the video?
The relaxed times with the team filming in the winter Arizona sunshine were so good and are memories I will treasure. My allergic reaction to a cat and everyone smoking in a small flat we were staying in in Barcelona I'd rather forget! Haha.
What equipment did you use?
The cameras I film with are a Canon 5D mkII, Canon 60D, Panasonic HMC151 and Sony HX7V.
How did you pick the music?
I wanted tracks that to some extent fitted the places and countries we visited but that hopefully also work together as a body of songs. Most importantly I picked tracks that motivated me to edit to them.
Any plans for a sequel?
It's not so much a sequel to AWW but I have starting filming closer to home with the BSD team on a summer project. Maybe we will do another roadtrip mix section DVD in the future, who knows, it sure is a lot of fun to work on and thats what its all about after all.
Thanks?
Mainly thanks to Grant at BSD for making the commitment to seeing the filming of the DVD through. It must be a scary experience watching the bills for flights andaccommodation build up!! Thanks to team for giving me such amazing stuff to film, thanks to all the riders who rode with us, showed us around and let as crash while we were filming and thanks to BSD's distros who helped make the DVD free. Finally, cheers for asking the questions Markus! I really appreciate it.