On Tour With Fit UK in Athens Greece! 11 -18th FEB: Part One
The Crew: 
Cleggy, Ben Lewis, Marv, Benson, Alex Kennedy, Owain Clegg, Bengo, Banners (Trip photographer) Dean Hearne (Trip Dad)
11th Feb…
So after waking up at 2.45am to get to the airport in time, dropping the car off nearby and then checking a fine selection of Swatch branded timepieces in Gatwick, we finally arrived in Athens, fresh off our Easyjet flight late this morning. To be fair I haven't been able to get a fully accurate opinion of this place yet, but on first impressions it seems pretty lawless to me. You can smoke anywhere you like, no helmets required on motorcycles,  they don't know about traffic lights yet, every male here looks like they've committed a serious felony, and the police don't seem to care at all about us bombing around the city on bikes. Already we've had Alex Kennedy come whirlwinding off his bike in the middle of a busy road due to a wayward manual, Cleggy was the victim of mistaken identity, flying through a plasterboard wall that he assumed was brick, and Owain Clegg has blown his 'good knee' out. After a catching up on sleep tonight, things are looking promising for the coming week though. Lots of good stuff to film at, Weather is sweet, more soon…
Don't forget to check the official daily 4Down trip blog right here as well!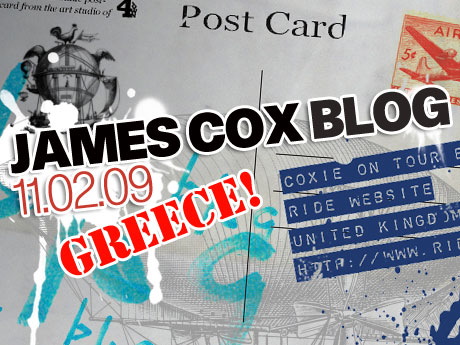 Open Gallery
4 Images