7.00 am
I'm writing this blog entry from our new location in Greece, and to be honest I couldn't tell you where the hell I am, except that we're six hours north of Athens, where we'll be spending the remainder of the trip. We took the night train here at midnight and arrived at seven this morning. The train was quite an experience, it reminded me of when you see footage of refugees escaping a warzone to safer regions, it was definitely one of the most stressful journeys I've ever been on, getting pushed and pulled around by swarms of people whilst trying to manhandle a bike bag, suitcase and camera equipment – I basically can't describe how much it sucked…But we're here now in a plush new hotel with all the mod cons, and a fresh city waiting to be ridden. Over the last few days in Athens we rode some really great spots, dodged groups of smackheads shooting up, got chased by packs of stray dogs, met our fair share of complete maniacs, got collared twice by groups of nosey coppers wanting to know what the hell we were doing hacking round Athens on tiny bikes, and had a mega booze blowout for Benson's birthday. Bengo took a headshot on a downwhip gone wrong and ended up in hospital, returning a few hours later in some form of medical doo-rag, then the following day he fell in a pond. That guy is due some good luck anytime soon. We went to visit the Acropolis on the final day in Athens and Cleggy managed to dig up some 'ancient pottery', and took the time to explain his discovery to the camera as a tribute to his favourite show, Time Team.  In Athens, the spot we probably frequented the most was the Olympic stadium and surrounding areas. For anyone planning on visiting Athens with a bike, I'd strongly suggest you check that place out, it's peppered with pretty much everything you could ever want to ride, and the security have no problem with people getting stuck in and riding it.
So anyway, right now, I'm sat here in the hotel lobby writing this update and capturing yesterday's footage whilst everyone else catches up on some much needed sleep after the train ride from hell. Once the crew is awake, we'll be exploring this new city, so check back soon to read how we got on! More soon…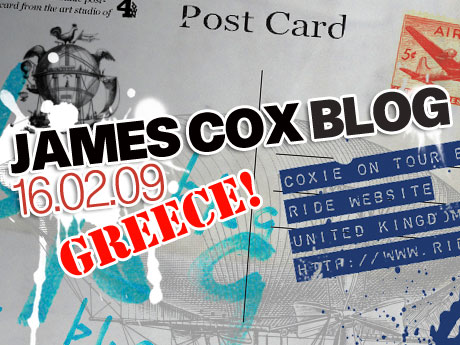 Open Gallery
9 Images
9.45pm
So today was generally a success! This city (which i still don't know the name of) is really good to ride, and has some really great locals who are showing us around. We started the day at some kind of street metropolis full of rails, steps and blocks. The guys were queuing up to get stuff done, and even I managed to get a quick ten minute session in. Then a session at a kinked rail took up the rest of the daylight before a quick slice of pizza and a coffee, followed by a really fun session at a private 'ghetto' ramp warehouse. To be honest I was expecting way worse than what they had there, the ramps were pretty much pristine, they had full lighting and a sound system. I've paid to get in worse places in the UK…I revived a few tricks from the 1990's before filming the crew doing some tricks that were actually good. Benny L and Marv took care of the jumpbox and Alex was in his element, tearing the place apart until the session finished. Now we're all sat in our plush new hotel, living the dream and sipping red wine. There's whispers of an early start tomorrow so we may be looking at a very productive last full day, fingers crossed. Right, I'm off to film some interviews for the 4Down video update, be sure to check that bad boy out! Over and out.