Wow! This is something a bit different… I can't imagine what this would feel like to ride. Probably pretty difficult! Never mind the surface being slippery, the reflections would be a real nightmare too.
Courage Adams and Paul Thölen handled it though – highlights for me were Courage's rollercoaster tooth, the nozza up into that tight tranny section to bars, and Paul's alley oop three to fakie on the step up.
Nice concept from Red Bull here.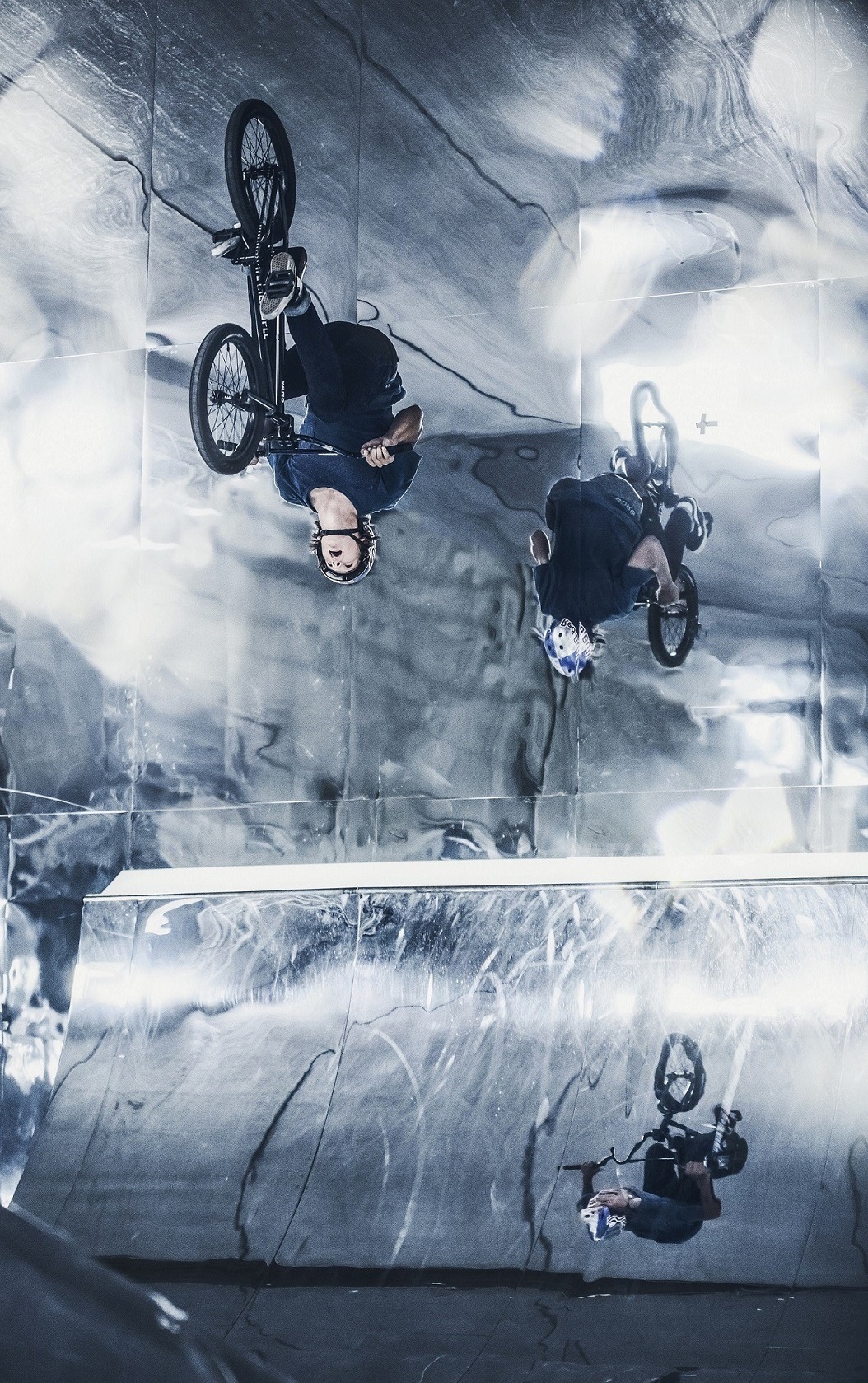 ---
More info:
BMX LIMITS RAISED TO ANOTHER LEVEL IN A BIKEPARK COVERED IN MIRRORS
Courage Adams and Paul Thölen's best skills reflected in Mirror Park 
Imagine a very sick bikepark. A tailor-made park including all the sections you need to rise BMX limits to another level. Now imagine the same park fully covered in mirrors. Finally, imagine two of the best riders of the moment nailing tricks you might have never seen.  
Hard to believe? Also hard to turn it into reality. But it's not a mirage, it's absolutely true. It has happened somewhere near Pamplona in Spain and twelve months have been needed to make this possible.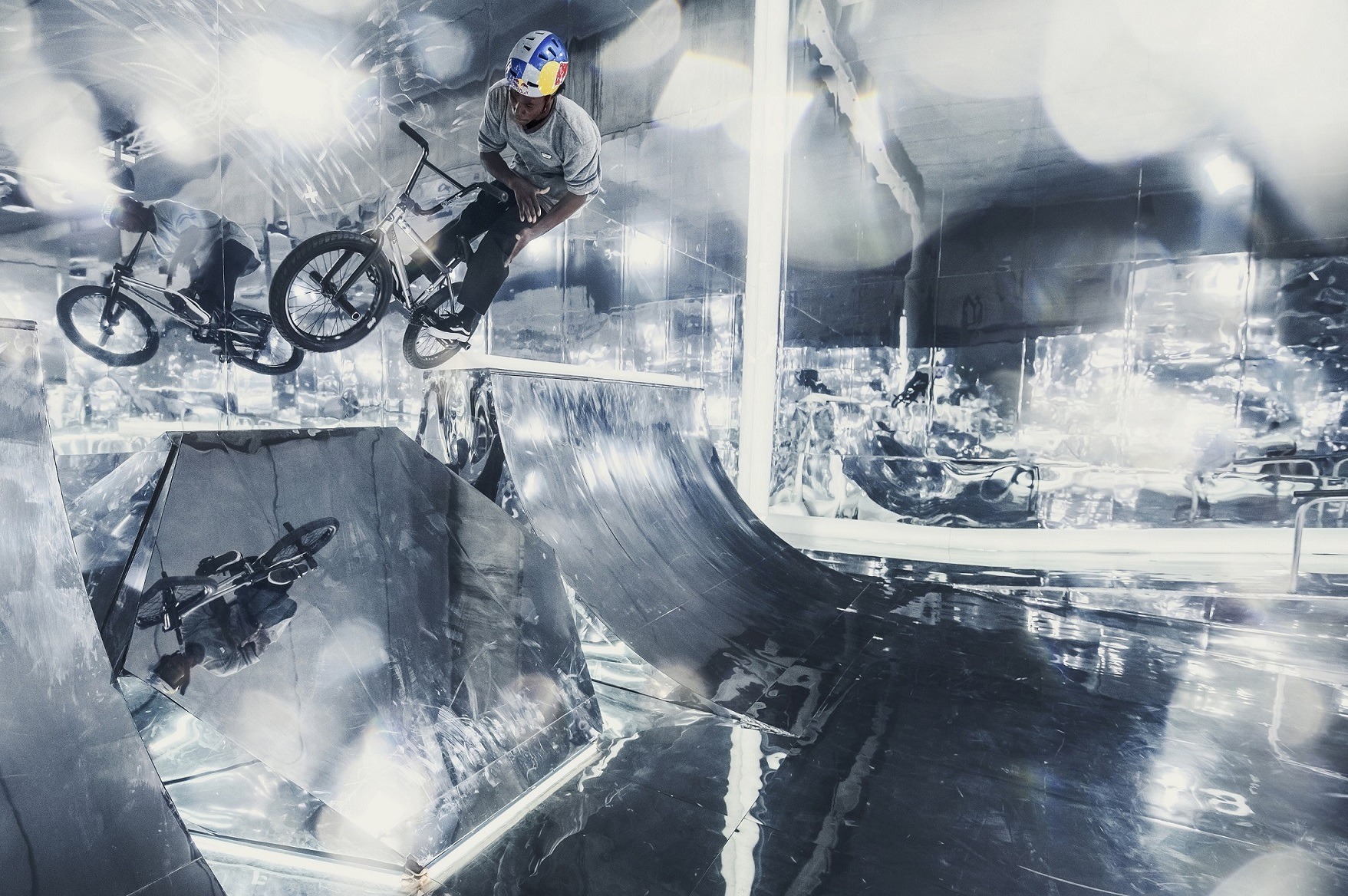 One year throughout which, amongst other things, the Spanish rider with Nigerian origins, Courage Adams (22), has been one of the main responsibles of the thorough design of its sections. However, riding alone in thisunique bikepark made no sense and it was a huge challenge. Besides, the first feeling he had once he saw the finished park was "it looks like a spacecraft. That place looked nothing similar to how it was before," he pointed out. 
The decisive moment had come. Courage invited German rider Paul Thölen (19), who came from his hometown Viersen exclusively for the occasion. "As soon as I saw the Mirror Park I thought it was surreal and that I wouldn't be able to perform a single trick", he confesses.  
The trouble you have to face when riding on such a slippery surface and facing your own reflections is extreme. Everything is complex and confusing. Stimulus are multiplied times one thousand and your surrounding becomes imprecise and uncertain, to the extent of getting dizzy and having to stop several times until you get back on track.
Both riders put all the meat on the spit giving the best they could and showing that it's a scenario that not everybody can dominate, but what started with a cautious riding kept growing as soon as the hours went by. The technique and complexity of the tricks in such an unusual set up turned what happen throughout those two days in pure magic.
Adams managed to create unlikely lines playing with manuals, nose manuals, double peg, crank arm, barspins… In order to process all what this young rider is capable of doing in one single line you need to write down each one of the tricks in a notebook so that you can then do a final addition without mistakes.
Thölen on his side performed several transfer tricks, highlighting his Fakie-Alley Oop 360, which was unbelievable to watch. The amplitude and flow the German brought to the Mirror Park were a pleasure for the eye.
Courage has defined Mirror Park as "a different and very positive experience. A real challenge who has enabled me to see my limits and evolve a lot, improve my self-control, my actions in the street and keep being motivated. I've learned that there are no limits in BMX, just the ones you create."
On the other hand, Paul said he "had taken the project with great motivation because riding in a place like this can only happen once in a lifetime. The real difficulty was to isolate my mind from my own reflections on the ramps because it was hard to calculate the distances. It has not been easy to ride Mirror Park, but in the end it was a lot of fun," he concluded.