Manual Martin aka Malibu Martin aka Martin Grainger is a man who wears several hats.  Seventies' full time busyman, he can be found shooting photos and videos for various brands, contributing all sorts of skills to Ride UK, plus lending a hand to Seventies projects as and when, running a lot of the Backyard Jam work behind the scenes, filming jams and shooting photos at sessions wherever they may be…  Martin gets it done.
He also definitely knows how to handle a bicycle (he's not called Manual Martin for nothing, you know) and can often be seen nailing a precise manual line at any given skatepark before anyone else…  And then celebrating with a Malibu and coke.
---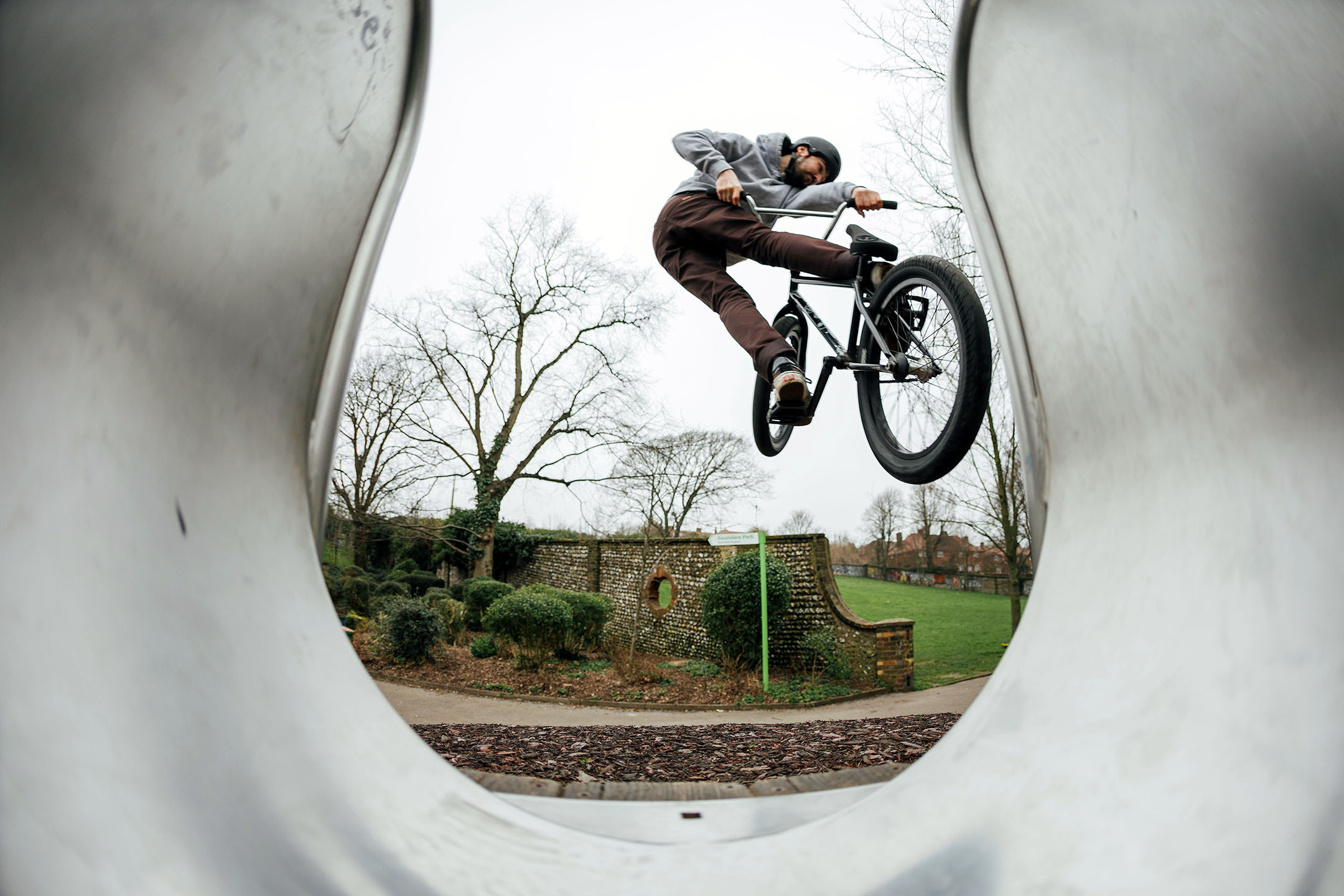 ---
– Tell us about this build. How long have you had it like this, and what's it like to ride?
I built the frame up at the end of April, but due to Corona I've not been able to get out on it much yet.  Everything else is maybe a year or two old now, at a guess.  It's all fairly normal I'd say, pegless, nothing fancy, occasionally we'll go to the trails and I'll chuck a brake on.  I've always preferred longer top tube frames.
– Where has this bike taken you so far?
…to the living room and back…and then to the beach to take some photos haha. Hopefully that changes sooner rather then later once this virus clears up.
– One standout move or session on this bike? Who was with you?
The cat watched me build it if that counts?  Ask me again in a year and I might have a more interesting answer for you, haha.
---
---
– Which riders inspire you the most?
Pegless guys doing their own thing: Rich Forne, Garrett Reeves, Eddie Cleveland… You get the idea.
– Favourite part or favourite thing on the bike?
Mmm stoked on the new frame, Aggie designed some new dropouts that look amazing and have built in chain tensioners, so easy to line the wheel up, the pedals have a bigger platform which makes them super comfortable, also the stem is just perfect.
---
---
– Best sticker?
Seventies, haha.
– Anything really old on there?
Nah not really, I realised the forks were kinda old so I've already chucked some other forks on for the time being.
– What's getting changed next?
I always play about with the bars/forks at the start until it feels dialled in.
---