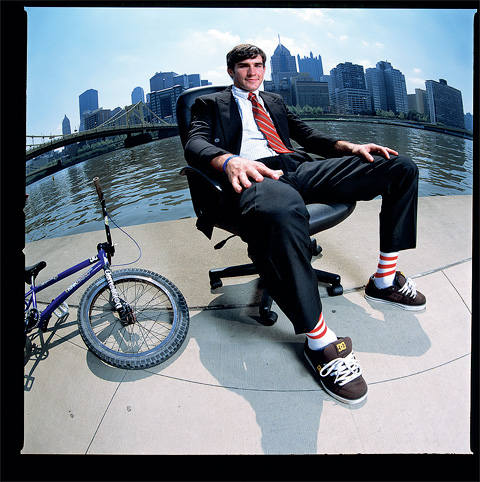 Photos Rob Dolecki, interview Kris Bennett, intro and iChat interview Ryan Barrett

Do you know how much pressure it is to write about one of your closest friends? "He's an awesome guy" just isn't going to cut it. I mean, you can't settle for anything less than perfection. I feel a huge responsibility to showcase who Chris really is. Not only his obvious talent on a bike, but also his character outside of BMX. I have known him for half of my life, so I feel accredited to paint this picture for you.
To describe Chris in a few paragraphs is unfair; there is more depth to him than these words can go into. I will abbreviate his life into three sections: on the bike, off the bike, and what Chris is about.
On the bike…
I'm not going to spend too much time describing his riding abilities. His killer combination of style and tendency to go big have kept us all captivated for over ten years. He rewrote the book on consistency at dirt contests during his rise to BMX fame. He dominated the DK Dirt Circuit series in the late nineties with way overclicked 360 turndowns and suicide double trucks. His 'daily reg' (a term given to him in the early days of riding the 401 trails pertaining to his trick list that he would do every time he rode) still lives on today in a more relaxed style.
Off the bike…
Chris is a fairly regimented person. I've known him for so long I can guess his grocery list! He likes to eat healthily. Usually starts his day with a few bowls of cereal or, if he is feeling crazy, scrambled eggs with turkey bacon. He loves movies; at the cinema or his extensive DVD collection. With his love for movies also comes his love for quoting movies. He will recite any line from any movie at the appropriate time to make it seem as if it was his own thought. Only the film-savvy will pick up on these subtle lines. He does not like cheese. He keeps his house and his truck clean. He is very punctual. He is a big supporter of the Penguins NHL hockey team. He even named his dog Crosby after their star player.
What Chris is about…
One thing that I respect most about Chris is that he keeps it real. He has stayed true to himself since the day I met him over 15 years ago. No pressure from friends or popular trends have swayed Chris from his path. Not many people can say that. Chris is a stand up guy. I hope these anecdotes have clued you in to who Chris is – more than just a bike rider.
RIDE: Although you can obviously excel at all areas of riding, you came up primarily as a trail rider. What are your thoughts on the state of riding today and the fact that large percentage of kids only ride street and couldn't care less about trails?
CHRIS: It doesn't really bother me, it's BMX, ya know? Kids have the freedom to do whatever they want. Ride what you want to ride, but don't hate on something just because you're not into it.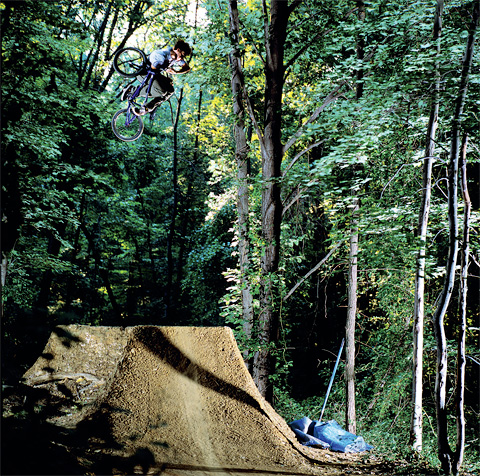 How is it that you came to be so fluent in all disciplines of riding? Was that a conscious decision or something that just kind of happened?
Probably a little bit of both. Everyone has their own opinion of what makes a good rider. I've always thought that the best riders are the ones that can ride anything in front of them, that's the type of rider that I've always looked up to and the type of rider that I've always wanted to be. Brian Foster… Need I say more?
What would you say are a few important milestones throughout your BMX career that have helped make you the rider and role model you've become today?
One; meeting Steve Buddendeck – I probably owe at least 50% of my pro career to Steve. Two; I moved to Erie, PA from Raleigh, NC the day after my 19th birthday. Myself, [Kris] Bennett, and [Mike] Szczesny got a place only one mile from the trails, it was the first time I'd lived with BMXers and lived the BMX life, we rode sooo much. I think the summer of 2001 in Erie was when I progressed the most as a rider. Three; sponsor changes – this may seem like a lame sponsor plug, but getting on Kink bicycles and Demolition was a big breath of fresh air for me when things seemed to be getting so stale.

Do you ever find it harder to relate with your fans as you get a little older and take on different responsibilities?
Not necessarily, I still feel relatively young and I like to think that I'm as stoked on BMX as any young up and comer.
What is it about the Pittsburgh scene that has kept you here for so long?
For those who don't know, Pittsburgh was recently voted as the most 'livable' city in America. It's a very beautiful place and everything I need is here. I've got close friends, A good girl, and tons of spots to ride. Pittsburgh has a ton of character and is a diamond in the rough as far as BMX scenes go.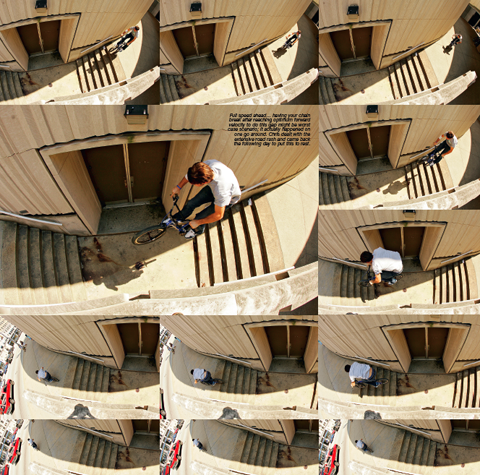 For a number of years, contests seemed to be a big part of your riding. As of late, however, you've expressed some dislike for the current contest formats, even stating that the removal of dirt from the X-Games really didn't affect you at all. Would it be safe to say the contests are much less a priority of yours than they used to be?
Yeah, you could say that. As far as the X Games go, it was starting to get embarrassing towards the end, I felt as if we were just doing demos at a motocross event. When it comes to contests, I always try my hardest, but I don't get bummed if I don't do as well. You can say that I'm not as competitive anymore if you want to, but I go to just about every contest and I see the way they rule people's lives and it's very uninspiring. I hate to say it, but there's a handful riders that wouldn't exist if it weren't for the Dew Tour contests.

So much shit-talking goes on nowadays with blog-sites and message boards being so popular. Do you think the kids are way more critical now than they used to be, or do you think they've always been this way and only recently had a way to make their 'opinions' known?
I think the kids have always been critical. I remember being a kid and being critical of the pros that were in the spotlight too. Truth is, I don't pay too much attention to what's said on the internet.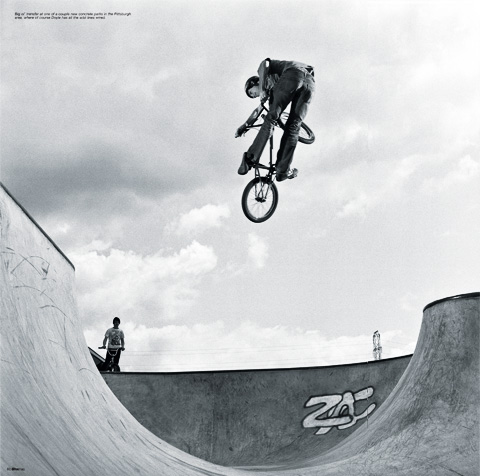 There seems to be a never-ending stream of young BMX talent. So many kids who are supposedly 'the next big thing'. Being around for so long, you've seen a lot of these guys come and go. What do you think it is that makes some riders fade away as quickly as they come, and what do you think it takes to stick around for the long haul?
I know this sounds cheesy, but you gotta be true to yourself. Too many riders compromise their riding to try to fit in to what's hot for the moment, whether it's contests, videos, magazines, etcetera… What works for one rider isn't gonna work for everybody. If you're gonna try to 'make it' in BMX, you should do it on your own terms, don't compromise for anybody.
Keeping on the subject of the younger guys, what are your thoughts on all these hungry young kids who seem to pull everything they try and never get hurt? Would you say these riders discourage you, motivate you, or neither?
It motivates me for sure! As a kid I had my fair share of BMX heroes that I looked up to – and still do. And, now as a guy that's getting older, I fully look to many of the younger riders coming up. Damn, look at Dennis Enerson and Chase Hawk for example. I'm five years older than Chase and ten years older than Dennis and I seriously aspire to be as good as those guys some day. I know when the limelight starts to shift it can bum the older dudes out… it's a pride thing, you just have to accept it.
What valuable bits of information have you picked up over the years that you can pass down to someone who is just coming into the scene – is there anything that seemed so important back in the day that you now realize was no big deal, or vice versa?
No, not really. The best advice I can give is to stay humble. BMXers love to talk shit and will look for reasons not to like you. That sucks to say, but it's the truth. Don't give 'em a reason, watch what you say and be aware of your actions on and off your bike.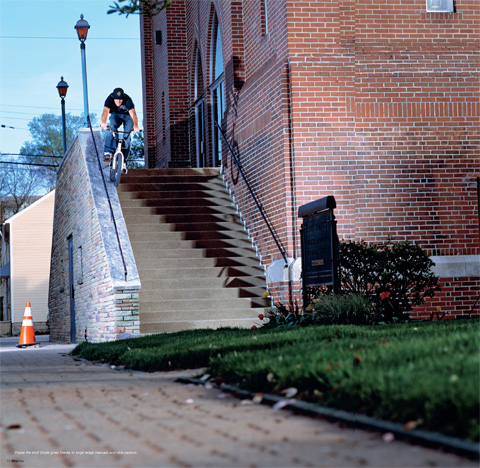 You seem to be one of the few riders out there accepted by both the mainstream side of the sport and among the 'hardcores'. How do you think it is you've pulled this off?
Believe it or not, most of the guys we consider to be the 'hardcores' used to ride the contests as well. I used to see guys like Van Homan and Josh Stricker every weekend at dirt comps everywhere. I guess the biggest difference is that I've stuck around a bit longer in the contest scene. I don't give myself a big pat on the back for being accepted by both the mainstream and hardcores, it's just something that comes with time.
ICHAT CALL WITH RYAN BARRETT AND CHRIS DOYLE
Ryan: Phone's ringin' dude [for video iChat]
Chris: I know, it's saying that there's an error or something.
Try to call me…
Insufficient bandwidth to maintain the conference. I'll try
calling you.
Good idea
We'll have to do this for real – meaning only [text] iChat.
It must have something to do with Jon's connection.
Word…
What did you do last night?
I had the best sushi I've ever eaten.
Aahhh sushi? Is that the name of the place?
Nah, it was Takashi
Wed night is Jon's spot at Aahhh Sushi
Word, that's tonight. maybe we'll hit it.
Tights
How do you like to start your day?
With a good breakfast… Eggs, toast, turkey bacon… you know my style. Cereal's always good too though.
then what?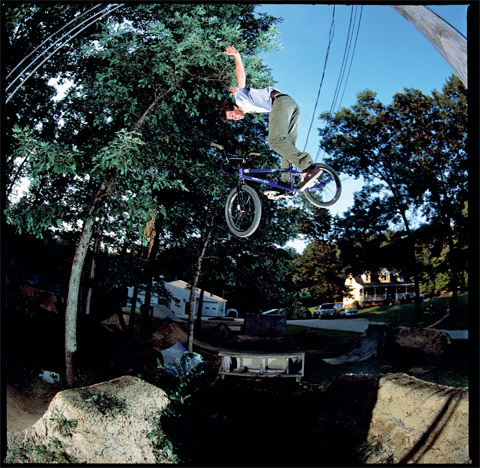 10:20 AM
Take Crosby for a walk. Crosby's my dog. They just opened a new concrete park two miles from my house so I like to do some early sessions there as well.
Is this all before 10am?
Sometimes. It depends on the day before but overall I prefer to get up early.
Pittsburgh BMX is steadily growing; more places to ride, more kids riding, and the Square One shop to support the scene. How do you feel about the Steel City's current state?
I'm pretty stoked on it man. We got two new parks last year and they just broke ground on another one, dudes are still digging at the trails, and there's a lot of good kids coming up. And, like you said, the Square One shop has been awesome! It's already a big part of the scene and it hasn't even been there an entire year yet.

Who do you ride with?
10:30 AM
There's a lot, and I hate to leave people out but… Mark Potoczny, Yeagle, Glen Johnson, Nick Detour, Andrew Little, Todd Walk, and K Bennett on occasion.
What was the best thing you did this summer?
Rebel Jam.
Did the airlines charge you for excessive baggage with all those trophies you brought home?
Haha, no they just broke 'em to get them to fit.
Serious?
Serious, all but two were broken and there was glass everywhere in my duffle bag.
What are your plans for the fall / winter?
Rest. I think after all of the contests and such are done and I get my Props interview done I might just lay low for a month or so… This summer has been rough on the body. However, I do have plans to go to Australia this coming February.
Holiday or bike related?
Bike related. I'm filming for an up and coming Will Stroud project called Quattro. Me and the D-child are probably gonna do some holiday stuff this winter as well. Also, we've got some hockey games to go to. (D-child = Denise, his girlfriend)
This might be your first interview after you started riding for Kink. how are things going?
Really good. They've really been good to me so far and I have no complaints.
Do you get along with everyone?
There aren't a ton of people that work there, but yeah, I get along with all of them and the team rules as well!
What exactly do they rule?
Funny.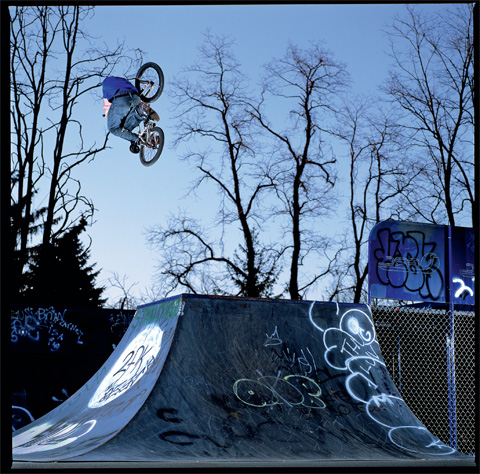 Can't forget about Demolition. I know you wish you had the idea for the stop animation video they did. Sooo good!
Yeah, that was a good idea for sure. That commercial was pretty good, huh?
Speaking of good ideas, who's idea was it to yell the National Anthem while the school choir sang it?
10:55 AM
That was all me. That was one of the only times that I got in trouble in school. I was suspended for three days… harsh!
You didn't get suspended for hitting the retarded kid in the face?
(Chris lol's all over the place) There's a lot of ins and outs to that story and it's not as bad as it sounds. The dude was mildly challenged and threw a basketball at my face from point blank range. And, for the record. I slapped him in the face, Charlie Murphy (Rick James) style.
So, I guess karma paid you a visit when your sister repeatedly pummelled your head?
Yeah sure, I guess. Hahaha.
Tell me more about your childhood. Where did you grow up?
I was born in Greenville, PA, a small town in western Pennsylvania, but I did the bulk of growing up in Cary, North Carolina.
Describe your family growing up.
I have an older brother (Brian) and an older sister (Katie). My mom was a single parent, raising us on a teacher's salary… My mom was a very hard worker, but money was tight sometimes. Nevertheless, we were always happy and we always had everything we needed. Brian and Katie were wild and rebellious and I was always the quiet one.
Tell me a fond memory from your early days.
When my mom was teaching she would clean doctors' offices in the evenings to help make ends meet. Instead of hiring a sitter to watch us (the kids) she would bring us to help her clean the offices and pay us an hourly wage, I was probably nine or ten at the time. I learned at a very young age the value of a dollar.
It seems like you've inherited your mom's hard work ethics.
I remember her telling me when I was a little kid that, 'in life you can have ANYTHING you want as long as you're willing to work for it.' I think she also wanted us to know that nothing comes free and everything has its price.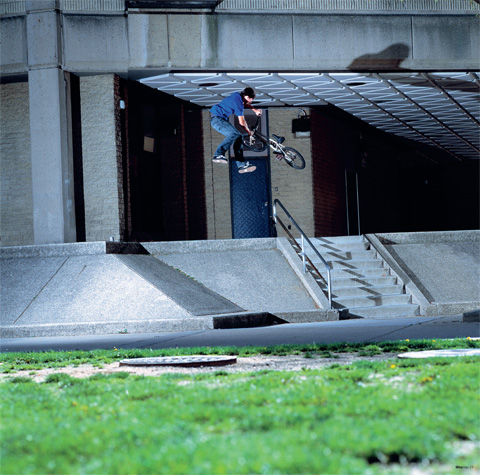 11:25 AM
What's something good in BMX right now?
Brian Yeagle.
Explain.
Well, as anybody will tell you, Brian's riding is unexplainable. He's not concerned with the latest trends, or stressed about contests, and not worried about filming video parts or shooting photos. However, whenever he's on his bike he goes 100%… As fast and as high as possible at all times. It's just refreshing to ride with someone that rides like that… just because he can.
Tell me something good going on outside of BMX – something that you're into.
I'm on the new Square One dodgeball team and it's awesome! We played our first game last week, but we lost… bummer. It's still fun though. Also, there's an indoor soccer complex around me that has Walk on Wednesdays where you can join a walk-on soccer team for the evening and play soccer. I think I'm gonna do that as well this winter.
Explain the 'daily reg'.
It used to be a couple of tricks that I would do on a daily basis, but I don't really do it any more. Well, I do the tricks, but I'm not strict on it any more. I just throw 'em out when I'm feeling it.
What's going on with Duo?
Van's grip is just coming out right now and we're still working out the bugs with our first tyre… I know that we should have a tyre by now, but it's just been a hassle trying to come up with something that works. Better to have no tyre than a shitty tyre that nobody likes. Know what I'm sayin'?
Agreed. Do you have more of a role than just riding for them?
Yeah, I'm one-third owner.
What are you doing today?
I'm in town for the Dew Tour and I have to sign up and then there's practice tonight at 7. Hopefully, I can meet up with some dudes and get a good dinner as well.
Good luck tonight. I guess I'll see you at Interbike?
Oh, you're going? Good times lie ahead my friend.
Indeed!
Oh, and thanks for wishing me good luck for practice.
Haha! I guess you're not looking to win practice.
I've done it before and I'll do it again! Haha… Just playin'
OK, as they say in IM – "ttyl"…
Later…