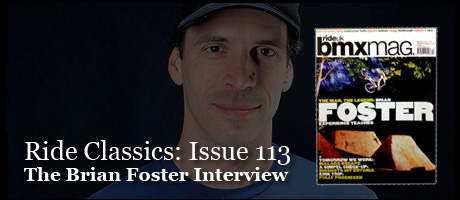 Continued…
You're not a retail kind of person, huh?
I don't think so. I feel like a friendly person, but I don't know, I would be like, "Buy whatever you want."
How do you feel about being one of the older guys out there who is still a legitimate pro rider?
I kind of embrace the old thing. There's no fighting it. Birthdays come. [Laughter] In another year I'm going to be even older than that. So I'm kind of into it. I feel more and more out of touch as I get older. It just makes me feel weird, because when I was racing, I didn't feel old, but then all these kids started clipping in, and running carbon fibre forks and doing all this weird stuff, and I'm like "I'm not really into that." And now the majority of riding doesn't involve trails and bowls, and that's what I'm into. The cool thing right now is no brakes, seat to the floor, wide bars – I don't have a problem with it, but I'd just rather go ride a bowl.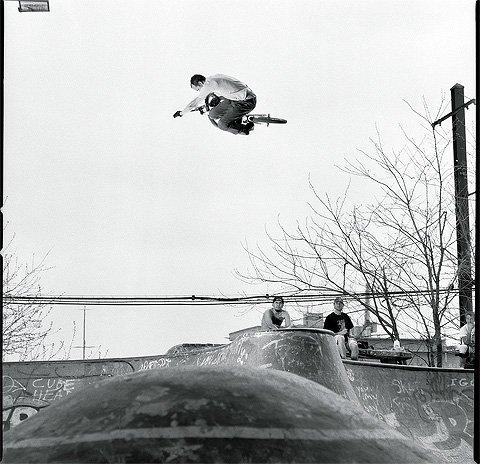 I WAS SKEPTICAL TO SHOOT PHOTOS AT FDR IN THE MIDDLE OF THE DAY, ESPECIALLY WITH A COUPLE OF SKATERS THERE. AFTER ASKING EVERYONE THERE IF IT WAS COOL TO SHOOT SOMETHING AND GETTING NOTHING BUT POSITIVE REACTIONS, ROB BEGAN TO SET UP HIS FLASHES – THIS TAKES A WHILE. IN THE MEANTIME, A SKATER SHOWED UP AND I COULD TELL THAT HE WASN'T TOO PSYCHED. AS WE WERE SHOOTING, HE STOOD IN THE BACKGROUND. IN A NORMAL SITUATION I MIGHT ASK HIM TO MOVE, BUT C'MON, WE WERE AT FDR IN THE AFTERNOON WITH TRIPODS SET UP IN THE FLAT BOTTOM OF BOWLS. I'M NOT ABOUT TO ASK THE OLD SCHOOLER WITH TATS BLAZIN' TO MOVE BECAUSE HE IS IN MY SHOT.
But if a young kid who's just getting into it sees what you're doing, plus the influence you had on other people who ride that way now…
The one good thing about being old is meeting someone when they're fourteen, and then seeing them ten years later when they rip. They're riding the way that you think riding should be done. You're like, "All right, good job." I met Chase Hawk when he was ten and I got to witness the progression. [Laughter] It's good and bad. It's so street right now, am I wrong?
No, it's the way trails were in '97.
This could be an official announcement, I don't really ride street any more, ever. [Laughter]
So you're just sticking to what you like.
Oh, definitely, without a doubt.
Is that part of the reason why you're not running pegs anymore?
I think I put pegs on and started riding a lot of street when I stopped racing and was like, "Oh, shit, I gotta do something or I'm going to have to get a job." [Laughter] I was trying to ride what everyone else was riding. I decided early in my filming for Fit-Life to put a part together doing stuff that I liked and not what I thought people wanted to see. There were a couple of years where I was confused about where I fit in bike riding. Now I do my thing and I hope people appreciate it. Pegs still don't make any sense to me. Weird metal sticks hanging off the side of a bicycle. I don't get it. When I go banging up on a ledge and it makes all that racket, and grinding down a rail, and going down stairs… it's just not smooth to me. Street to me is curved walls, a wallride, a good tranny spot, pretty much a skatepark. Everyone's riding ledges, stairs and rails.

So you're not into that?
I don't know if I'm not into it, I can't do it. [Laughter]
I've seen you do some wild moves on rails and whatever, so it's not a lack of ability.
I'm definitely not pedalling at a set of stairs and landing flat. I don't know if it's an old thing. It's just not fluid. Stairs are for walking down, and rails are for holding on to while you're doing it. [Laughter] That's the grumpy old bitter guy talking.
It's not something you look down upon, though?
I have full respect for it. When I watch videos I don't fastforward through street parts. I'm totally into it; I'm just not into doing it. I think it's like a brakeless street kid watching Bestwick ride. He's hitting 13 feet on the vert ramp, it's enjoyable to watch, but it's not something you plan on doing. I feel like bike riding is going in so many directions. I'm concrete / trail guy; there's free-coaster no-peg guy, then there's four-peg all-brakes, then there's no-chain no-seat…
Do you see bike riding ever going full circle?
I feel like trails made a bit of a comeback from the early nineties run. I don't know what full circle is – I don't see kids putting their brakes back on. The one thing that bums me out is when they take them off and they're real sketchy – just put them back on and ride death-grip. I don't know why, maybe I should take my brakes off, but the best manuallers in the world have no brakes. I could see if I took my brakes off, I would just loop out going real fast. I'm not trying to learn how to work a free-coaster. I think this late in the game for me riding, I'm not trying to change, I'm just trying to maintain. If I'm going to learn anything in the next year, it's going to be to go a foot higher. I don't even know what to try to learn. [Laughter] The good thing is, none of the kids today grew up racing, so they don't really ride that fast. That's what keeps me relevant, the things that I can do, all the younger kids can't do because they didn't grow up going fast.
Like Mike [Aitken] and Chase [Hawk]…
They are the last generation. Mikey raced, Chase raced, even Scotty [Cranmer] raced, but I think that's it. Anyone under eighteen probably never raced. This might be rude to say, but sometimes when I watch videos and I see a kid sprinting as fast as he can for something, my jaw hits the floor at how bad they pedal. I guess if you never raced, why would you just sprint down the street? [Laughter] I can appreciate the chopping wood in videos. [Laughter]
DEREK ADAMS: Do you appreciate the days you have left on your bike?
Oh, yeah. This is going to be the old guy interview, which is fine. [Laughter] I'm definitely a trail hermit in the summer; I don't do anything else. When it gets cold I ride concrete. If I'm going to ride for a couple hours, I'm driving to the concrete park, ride, and drive home; I'm not going to just ride around. If I get a good injury, like blow out a knee or something, that's going to be bad. I don't have a year to just chill, and another year to start getting better again. If I was like twenty-two, I think I'd be firing it a little bit, and not worrying about breaking an arm and taking three months off, then taking another three months to get my shit back in order. I'm definitely not trying to fall anymore. I'm riding my favourite things to ride, and if I get hurt doing that, I can accept that to the end. If I got hurt 360ing down six stairs, I'd be so pissed. [Laughter] I'm riding what I like, and hoping it stays relevant. When I was ten, a 35-year-old dude was old as shit and had a 13-year-old kid. The 35 and over cruiser [racing class] was an old, old man and his bars would shake when he pedalled. [Laughter] At the P.O.W. house, Eric Millman was 26 and we called him grandpa. Twenty-six! Imagine calling Doyle grandpa?! [Laughter]
What's your take on travelling for you these days?
I can still sleep on the floor and stuff, but I can't do it for two weeks. I'm pretty much five days and out. If I ride all day every day, after four or five days, I'm kind of sore. I hope that's normal. Like on a Road Fools, I'm hurting at the end of those things. I have to pace myself, and skip a session here and there. If I go on a road trip now with Dakota, Mikey and Chase, they're going to run me into the ground. We'll have a real good session somewhere, and they'll be like, "Where are we going now?" I'm like, "Bed!" [Laughter] That might be another reason that I'm not into all those different forms of riding right now. A good session to me is three or four hours. I ain't got all day to ride. I'll be shot if I ride ten hours. Old dudes always complain about their body hurting and stuff.
How's your body doing?
I don't know; it feels pretty good.
Do you think it has something to do with how much you ride?
Oh, without a doubt. Most of the guys I raced with were in real good shape – I don't want to call them fat, but they put on some weight. [Laughter] Riding a skatepark is pretty much like going to the gym for three or four hours. You're not lifting weights, but you're breathing hard and holding on. I think people that don't ride and are 35 complain about their body being sore because they don't use it enough, it's not in good shape. If I ride three or four hours hard, I'm pretty sore the next day, but if I ride for twenty minutes, the soreness goes away. As long as you keep riding and not wreck yourself. The only thing I noticed is if you say turn your ankle it used to take three days before it feels good, now it takes a week and half. Stuff lingers a little bit more.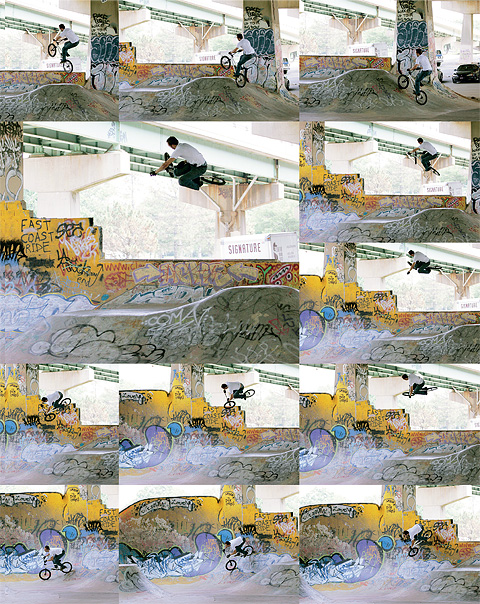 THERE IS A RULE THAT I LIVE BY WHICH STATES, "YOU'RE NOT ALLOWED TO PEDAL WHILE RIDING CONCRETE." OCCASIONALLY, THIS RULE MUST BE BROKEN. TAKING TRAIL KNOWLEDGE TO THE CEMENT. FDR.
When you're sore and you would normally take a few days off, is that policy out the window when the end of trail season is nearing?
The end of trail season is you just go, all day every day, because you never know. It could be mid October, and that could be your last session. Which was pretty awesome this year, because I had about six sessions that I treated like my last session of the year. I was trying stuff that I wanted to do all year, and trying to go higher than I ever had, kind of riding hard. And then we'd get another good day. I'd do the same thing: "This is the last day, gotta get it in, this is the last day." The last month of trail season I was pretty psyched on. I did some stuff I was pretty happy about. Now it's done.
What's some of the stuff that you don't want to talk about in this interview that you've talked about ten times over?
Painting bikes at Cyclecraft; everybody wants a P.O.W. house story; racing days – I raced for like fifteen years solid, and most of it's kind of a blur. There was a time when it was like airport, race, hotel room, home for three days, airport, race, hotel room…
Did you enjoy that time?
I complained a little bit when it was happening. How could you complain about it? Someone gives you a plane ticket – back then they gave you food money, you go to the hotel front desk and give your name and they gave you a key. [Laughter] There's nothing to complain about. I'd almost be into doing it a little bit now. But once it's week after week after week… when you're travellin' and just livin'; it's not that bad, but occasionally you just want to sit down on the couch and not go anywhere. I went to the airport once and the check-in lady said, "Where are you headed today?" I was like, "I don't know, what does the ticket say?" She looked at me and said "Wichita?" I'm like,
"Sounds good." [Laughter]
With a weird location like that, must have been an ABA race, huh?
Exactly. [Laughter] Racing's different. I just… I don't even want to talk about it. [Laughter]
Is it because it's the past, and you don't care about it?
No, I think I just don't want to say anything bad about it, because it supported me so well. If I were to watch a race now, I'm boggled by the fact that that is what I did pretty much every day. I'd get home from a race, I would go to the trails, and then go to the track. The next day I would go to a parking lot and sprint up and down the parking lot, and sometimes puke. Now I'm just like, "What the f—k, that's what I did?" It doesn't make any sense to me. The puking in the parking lot part's not fun. The actual racing itself is fun, but that's 30 seconds, and then you sit around for like four hours, then you get another 30 seconds of glory. I would just rather go ride trails for a couple hours. But when you leave the trails, you don't go to the payout window. [Laughter] It's weird. Racing didn't change in fifteen years; it's the same thing. Talking about racing – it's been told. Starting gate, finish line, that's it. [Laughter]
What was some of your first coverage?
I got a couple of pictures in magazines, but it wasn't like blowing up. It like was a little quarter page black and white saying I won a race or something. I didn't jump onto the scene; I kind of got into the shallow end.

Was that because you were still amateur?
This has changed these days, because you can make a video and put it online and people can see that you're legit, but back in the day, if you lived on the East Coast, you needed to be something extra special for anyone ever to even know your name.