Ruben Alcantara – we all know he's had a full career of pushing boundaries in BMX.  The spanish legend.  Insane video parts, new tricks, incredible style, outside the box thinking, the wildest wallrides ever done, magazine covers, skatepark design, endless respect from everyone in BMX…  We know all of this.
What we didn't know until recently is that Ruben had been busy cooking up a new concept in BMX riding.  A bike with full suspension, for riding mountain bike parks with the comfort and freedom of a BMX.  He and the friends involved came up with the apt name 'Fingers Crossed', released a teaser (below), promised more video content soon, and the BMX community reacted – mostly with very positive words.
We had to find out more, so here we are.  Read on.
---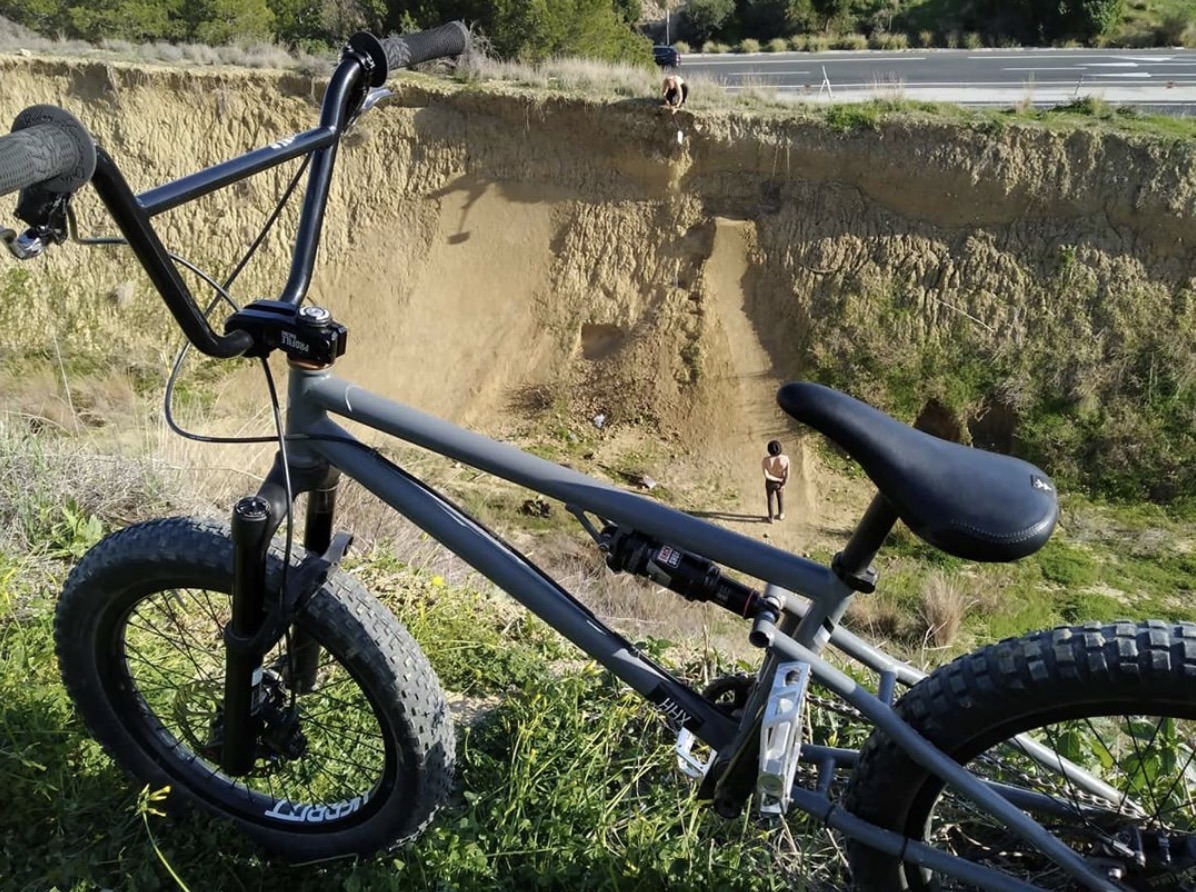 THE STORY
---
– How long has this project been going?
It really started when we were filming for Etnies Grounded… 13 years ago.  I went to Whistler, Canada with a crew, we hired bikes and rode the mountain bike trails there.  It was so much fun to ride those lines, but all the time I was thinking like, I wish I had my BMX.  With the mountain bikes the wheels felt so big, it didn't feel like freedom for me.  When I came back to Malaga I started to make a bike, just by myself very homemade.  It worked pretty well but the parts were kinda sketchy as I didn't know anything about forks or suspension.  One of my friends told me I shouldn't be riding it, jumping with the set up was dangerous!  So I left it to one side for a while.  I was so into normal BMX, I just carried on with that.
Lately, in the last year, I started riding mountain bikes a bit more because we have a trail here close to Malaga.  It looks like BMX trails but much more down hill.  Then I thought about the BMX concept again, like this bike here would be amazing!  I really got the feeling again after 13 years.  I could build it properly with better suspension, as now I have more of an idea, figure out a way to make a better fork…  And I was so surprised how well it worked.  I have two mountain bikes, one is a slopestyle bike, really nice one, and also an enduro bike, and the BMX worked better than both of them.  On those trails.  I was really surprised, like, holy shit this is crazy!
"Everyone was there with big DH bikes, all the gear, covered in mud, full face helmets, we showed up with our BMX bikes and jeans"
So I made another frame, it's pretty funny, you can see it a little bit in the video.  It's an old GT race frame, bolted on top of a T1 frame.  Keeping the US BB, I made the join with a bearing on top, so the way the suspension works the chain always stays tight, it's really quiet.
After that we did a complete one thanks to my friend Ari Cruz.  He has this really cool community garage, where people can go to fix their bikes and all that.  He's very good at doing welding, it turned out amazing.  Almost from scratch, but we kept the headtube from an old frame.  All the mounts are special, a lot of things we had to figure out, it was so much fun to work on it.
---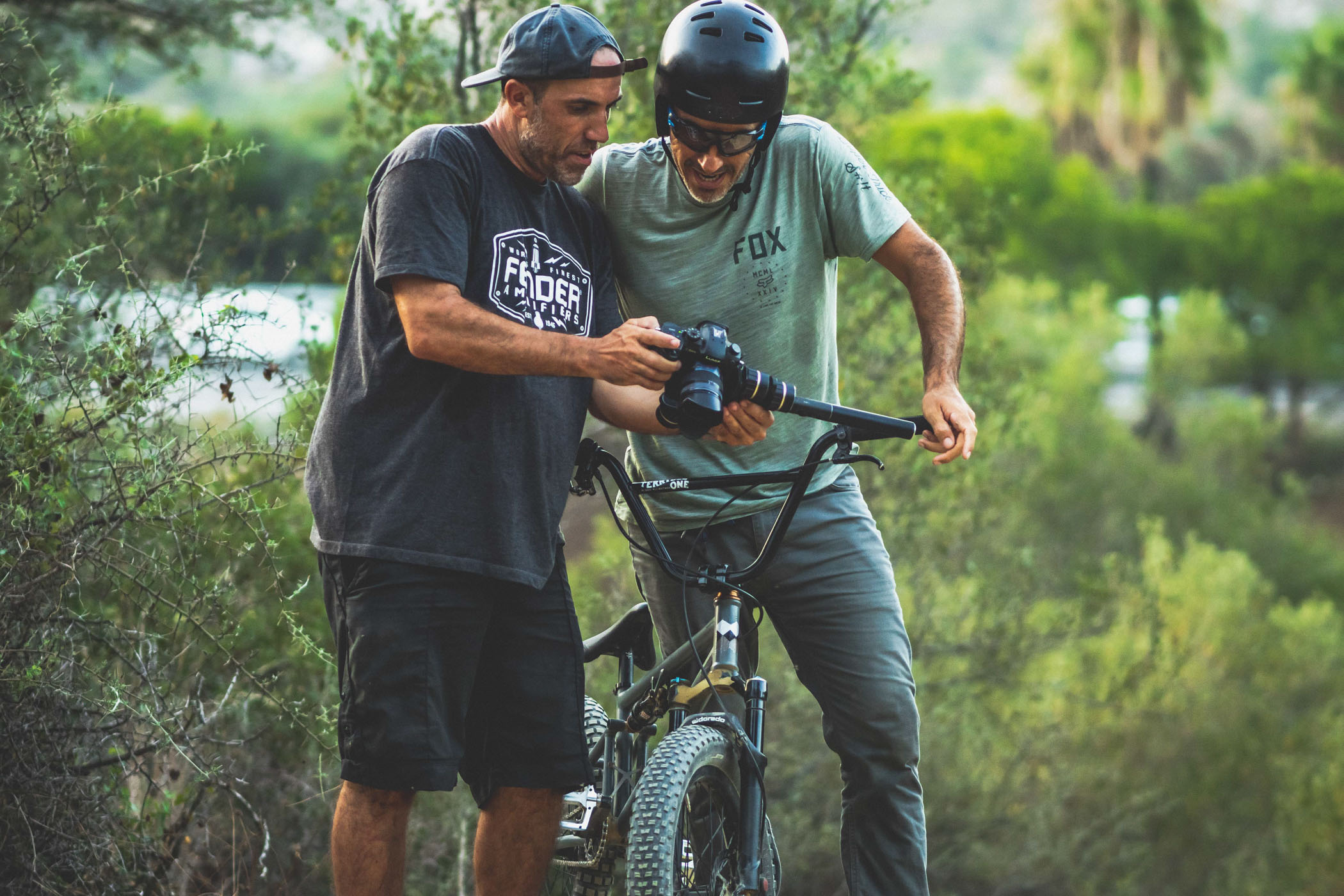 ---
– Tell us about the videos that will be coming out.
My other friend here, Salva Moreno, he makes mountain bike videos, really good filmer, he came with the idea that we should make a documentary about the project.  Quickly we found we had enough footage to do a few episodes, just to explain everything really well.  He's on a trip now but in a couple of weeks we're going to finish it, edit it, put it out.  The first video will be in about three weeks I hope.
The first episode will be about the bike, how it works, how we developed it, things like that.  Second episode, more about Garrett…  I started talking with him, I showed him pictures and he loved them so much, I helped him to figure out how to make one.  So he made his in the states, then he flew to Malaga to test it.  That will be the second episode.
The bikes were working really well, so when Garrett was here in Malaga we decided to fly to the UK to ride Revolution Bike Park in Wales.  It was really funny, we went there and it was really muddy and rainy…  Everyone was there with big DH bikes, all the gear, covered in mud, full face helmets, we showed up with our BMX bikes and jeans…  People were like what the fuck…  Some of them were kinda laughing at us, but then we started to ride this line that's really good, and people were freaking out.
I would say our bikes worked even better than the mountain bikes.  Because the tracks are so smooth and because we have not so much suspension, it keeps a lot of speed, and the jumps look bigger as the bikes are smaller!  We had a LOT of fun.
---