A dark and disturbing vision of society.  A dystopia. Rich Forne's rioting, violence-filled dystopia.  That's what FTS is…  But it's also a BMX film.  And it stands for Fuck This Shit.
Rich Forne paints this picture of a distorted social situation through some dramatic footage, with images of protests and police cut together very successfully.  Riot police, CCTV, gas masks, it's a bleak vision of the future.  All the more scary because it could be possible.  The fact this narrative was created from existing scenes makes it feel even closer to home – is humanity that fucked?  The way the whole idea comes together as a theme gives context to the riding sections, like what the riders are doing is part of the cause.  They're fighting the fight.  It suggests to me an idea that the riders have equal rights and power to police.  It's an uprising.  Like, fuck this shit, let's police ourselves.
From the opening scene with Lacey and Bruno in panic as the 'FTS riots' reach a climax worldwide, you know the next 50 minutes are going to make interesting viewing.  We watch Vice News playing out dark stories, and it's Lacey and Bruno who decide to step up and say let's go.  These two are the ones to represent Federal.  They're ready to fight, ready to do battle, a fitting metaphor for the conflicts of street riding.  
It's probably the most intense BMX video intro I've ever seen.  If you thought the trailer (above) was dramatic, hold tight.  Packed with crashes, it's pretty much pure violence.  Building to a crescendo as the wailing voice and dramatic chords of the soundtrack climax, the riders go to war in the streets.  Street riots and street riding, hand in hand. 
"Street riots and street riding, hand in hand"
The drama of the intro blends seamlessly as the song mellows out into Bruno's section.  Three songs strong. Every imaginable 180, 360, half cab, full cab, regular, opposite…  Bruno is an absolute machine. The second song sounds more easy going but it shows more of the struggle with injury and security – FTS.  Pure technical rail riding and an amazing use of spots.  
Bruno kicks into his third song with a renewed sense of drive.  Heavy clips come thick and fast, with smart use of pegs at some cool set ups – in Valencia, with ledges both sides, a tight line that ends in a solid ice hard 180, then we see a nicely chosen ledge manual to a rail for a smith 180.  Quickly we see a host of two-bang setups that work really well.  And worthy of mention is the 180 to fakie ice to 360, an unexpected blinder!  
It's not all peg work though, there's a wonderful spin move at the legendary Brooklyn Banks, and it's always rad to see Bruno going big with wallrides.  Some of these are serious.  Nollie wallride over a rail was a particular highlight.
The scale of the filming process is impressive, seen in the variety of spots shown in Bruno's part.  And the wacky people interacted with (some absolute scenes in here, like in the 'Lost It' edits).  That scale makes it work extremely well as an opener, you can see from the start how much time and effort was taken to produce this video.
A recurring image in the B-roll is the FTS tape.  Not just a gimmick, it seems the FTS tape was used while filming to make a boundary between the fighters / riders and the public / police.
---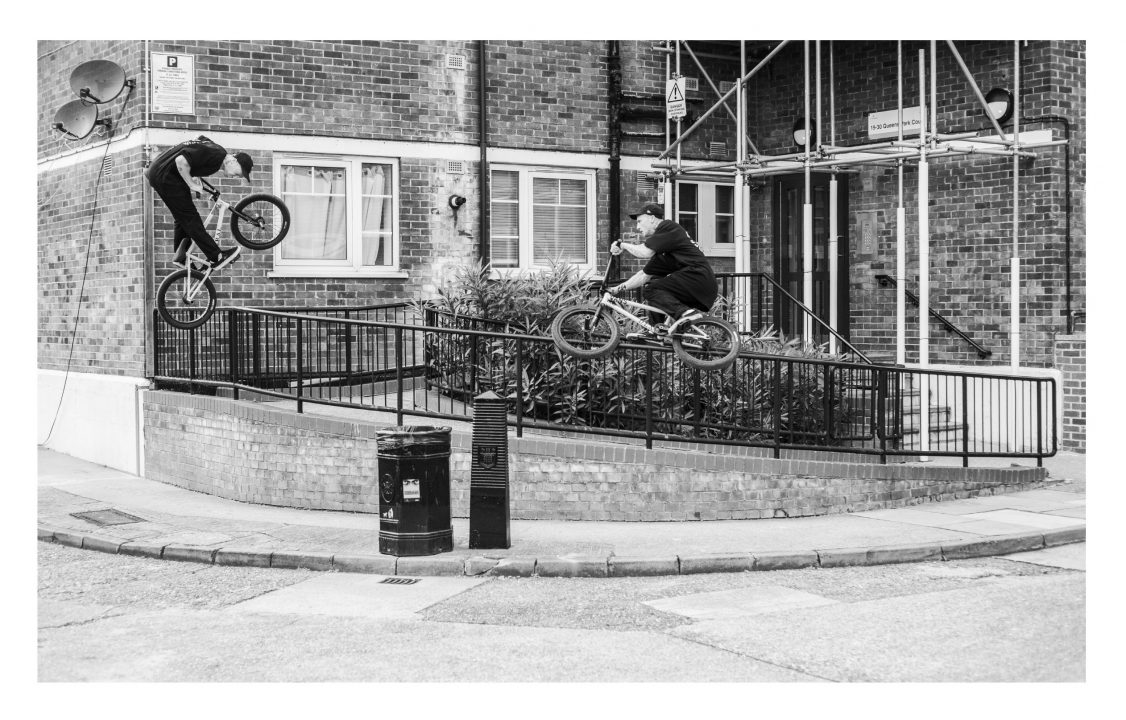 ---
Ryan Eles appears.  His intro, a wonderful, classic song to accompany heavy slams.  I have to confess not knowing much about Ryan Eles until now, but he delivers a solid section.  After Bruno's triple song part with different music styles, this straight up hip-hop led section works a treat.  There's even a flat rail clip that's so good, it deserves to be on a DVD. 'Eel Boy' has the tooth-crank combo absolutely in the bag, seen in a few interesting variations.  The crank to ice on a small kinked rail was great, crank to pegs hard on a serious double kinker was amazing.  The banger seems well deserved, as does the ring pull on his victory beer. 
"The riders are part of the cause. They're fighting the fight."
Enter Smelko, enter more violence.  Dude even has a gun in one clip.  Looks like he broke himself off but still delivers a rad section – and I loved the tune for this one.  Looped jazz sample hip hop vibe. Smelko has been killing it for ages, a very capable rider.  Ice bonk 360 on the cast iron obstacle leapt out, then the steps manual combo – fakie manual fakie pegs…  What a spot!  Smelko keeps going and we see some heavy rail clips on strange setups and a crazy mix of regular and opposite side grinds.  As I said, a very capable bike rider!
---