Words by Robin Pearson
Photos by Robin Pearson and Ben Pearson (credited)
---
Concrete skateparks are quite literally appearing everywhere these days. I try to keep close tabs on UK skatepark news by following all the major design companies and checking when new parks are ready, but I'm still surprised at the rate of park openings. The thing is, for every ten new skateparks, only one or two might actually be worth travelling to. It seems like every town of a certain size now has a concrete skatepark but it's likely to only reach a certain standard, with low rails and mellow banks and bowl depths maxing out at around five (or even four) feet in an attempt to be more accessible to younger users.
The argument I've been hearing a lot recently is that skateparks are getting friendlier. Sure, that sounds like a good thing, but in reality it's the major cause of overcrowding woes. Seeing young kids rolling aimlessly around the flat bottoms of bowls on scooters, rocker minis, balance bikes, toy tractors (believe me, I've seen it) and any other unsuitable contraption you can imagine has unfortunately become commonplace in the UK skatepark scene. I'm all for educating the younger users on skatepark etiquette to try and improve the situation but I draw the line at instructing toddlers. You'd think the parents would listen but I have to say that often they're not interested… That's an argument for another day.
"I'm all for educating the younger users but I draw the line
at instructing toddlers."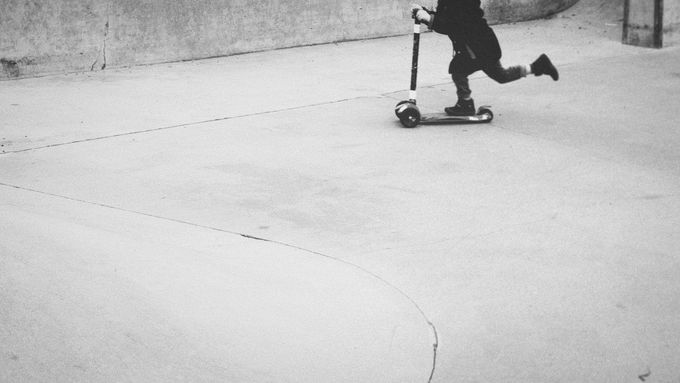 Before this shift towards the friendlier skatepark environment, imagine showing up on a rocker bike and dropping in ahead of a core skater or BMX rider. You would be booed, laughed at or even chased out of the park, no doubt. Have we become too lenient? I think we have. I think we should proactively try and stop skateparks becoming any closer to being playgrounds – because annoyingly that's how many people treat them. Some council websites even list their expensive local concrete skatepark facility, designed by legitimate users to be a good place to ride, as a 'Children's Skatepark.' It's infuriating.
Speaking of playgrounds, a lot of this ball ache could be avoided if skateparks weren't built alongside them.
Obviously it's a known problem, which is now being dealt with pretty well by some skatepark design firms, who provide small 'beginner sections' alongside the larger, more credible skatepark features that the main users want to ride. These are usually very low, mellow, rounded transitions with no intimidating steep quarters to drop in from, so the kids can learn (on their unsuitable equipment). Yes, this is a good way to separate the real riders from the flailing babies but it's probably not a long-term option.
Bonus issue: A lot of parks these days have 'open bowls', which basically invite kids to roll right into the middle of them from the flat. This is a problem.
"Yes, I'm talking about excluding certain age groups from skateparks…"
With beginner sections I question the longevity: what happens when in, say, six months time, the kids who actually want to use the skatepark start to get the hang of riding ramps and grow out of those miniature transitions? They will look for bigger ramps, more legitimate skateparks. At the rate young riders learn, this process won't take long at all. They could almost bypass the small ramps altogether. Suddenly the lifespan of the beginner section seems so short as to be quite useless. Those beginner areas then become exclusively for the clueless toddlers that shouldn't be in skateparks in the first place. How on earth has this become the normal thing in extreme sports facilities?
Yes, I'm talking about excluding certain age groups from skateparks. It would certainly be a hell of a lot safer for everyone involved if there weren't babies rampaging around on an unpredictable route through the skatepark. Wouldn't it be better if those beginner sections were bigger and scarier? Yes, it would be more intimidating to the first-time skatepark-goer but they would soon learn – and be better off for it. It's how we learnt. Plus, the facility would then have better longevity, surely a fundamental quality to a structure built out of concrete?
---