Words and photos: Dunk
Riders: Scott Summerhayes and Rob Harris
---
Manufacturer Website: Sundaybikes.com
Distro: imgdistribution.co.uk
Instagram: @sundaybikes
Thanks: Crucial BMX Shop
Sunday never miss a beat with their complete range. The 2016 AM comes in four different colours: Phosphate Raw, Trans Gold, Black, and Raw, and the whole line comes stock with aftermarket parts from Sunday and Odyssey. For example, the Springfield brake comes standard on the 2016 models. This simple design allows for easy assembly and reliable daily use and Odyssey's innovative one piece Quik Slic Kable allows for fast and easy assembly due to its integrated cable hanger design. You'll also find things like the popular 'Freeze' top loading stem, the Sunday Cloud Tripod seat and some chunky Odyssey 2.4" Chase Hawk tyres.
For those who don't know, here's a bit of backstory on the brand.
"The Sunday Bikes story began in 2005 with rail legend Jim Cielencki at the helm and a product line consisting of Triumph bars and Morning forks. Both products utilized high end manufacturing and 41-Thermal® heat-treating, the first brand aside from Odyssey (who had already proven its credentials) to do so. As with all other 41-Thermal® products, Sunday were able to offer the best warranty in the business, a lifetime being exactly what it "says on the tin".
The following year Sunday introduced their first frame. As you'd expect from a frame conceived with input from UK design guru George French along with Chris Cotsonas, this frame came with functional features way ahead of their time; namely the hollow drop outs and post weld machining of the bottom bracket (to ensure a perfect fit). Of course, this was also backed with a lifetime warranty.
In 2007 Sunday Bikes introduced the first Wave frames featuring a "waved" downtube to dramatically increase the dent resistance of your frame. The following  year saw the introduction of the built-in chain tensioners, the same type of chain tensioners seen on many of today's most popular frames. These were introduced with the Ian Schwartz signature frame."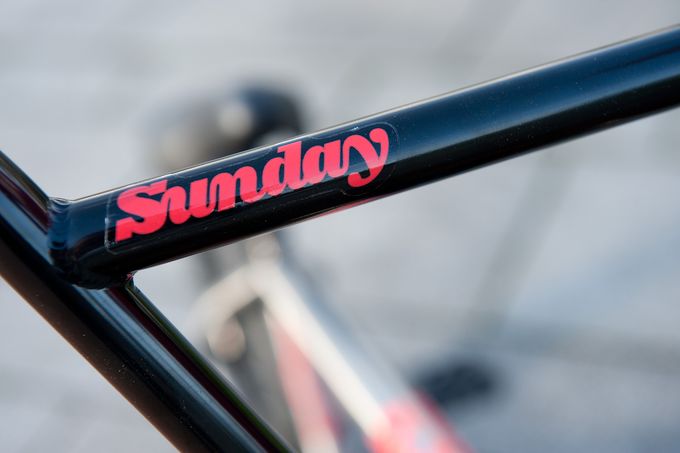 "Sunday began its story with a definite slant towards street riding and the initial team consisted of Ian Schwartz, Cielencki himself, Mike Hoder, Jake Seeley, Alex Magallan, Eric Lichtenberger, Vinnie Sammon, Kurt Rasmusson, Karl Poynter, Eli Platt and UK legends Joe Cox and Mike Taylor. Some guy named Aaron Ross joined the team in January 2008 and not long after came his first Funday frame. In 2009 Gary Young joined Sunday, the same year came the first full length DVD project. Also, we can't forget Garrett Reeves! Aaron, Gary and Jake are still on board to this day along with shredders such as Mark Burnett, Erik Elstran, Chris Childs and some talented up and coming AMs. 
Whilst continuing to innovate and refine their frames, bars, and forks, in 2010 Sunday introduced their first line of complete bikes. Starting with only four models which were (much like today) loaded with aftermarket Odyssey parts. Following the success of this first line of bikes the range increased to fourteen models in 2011. By 2015 Sunday was offering twenty three models including 16", 18", and 24". Sunday also has a wide range of aftermarket parts including their super popular Freeze stem, sprockets, signature grips, seats, tyres, and the Cyclone freecoaster."
---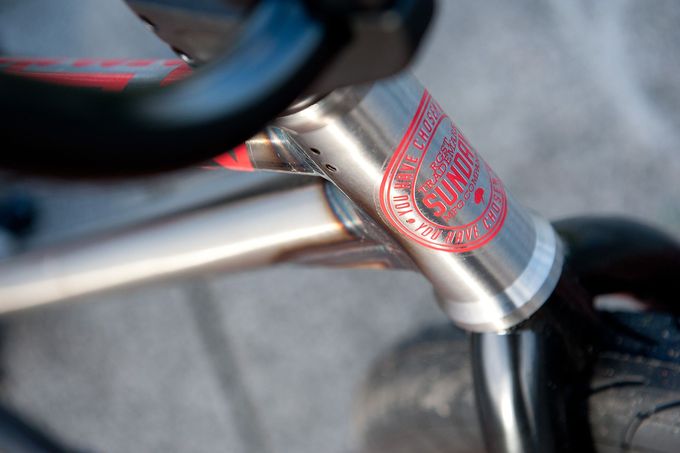 The bike looks great in the raw version we tested. The ride is tall and wide, and with a 20.85 top tube and 75 deg head tube angle, it's responsive too. With all the quality aftermarket parts you really won't be looking to upgrade any standard 'complete bike' parts anytime soon, simply because it feels like there aren't any, just jump on and you're good to go. It's another great bike from Sunday!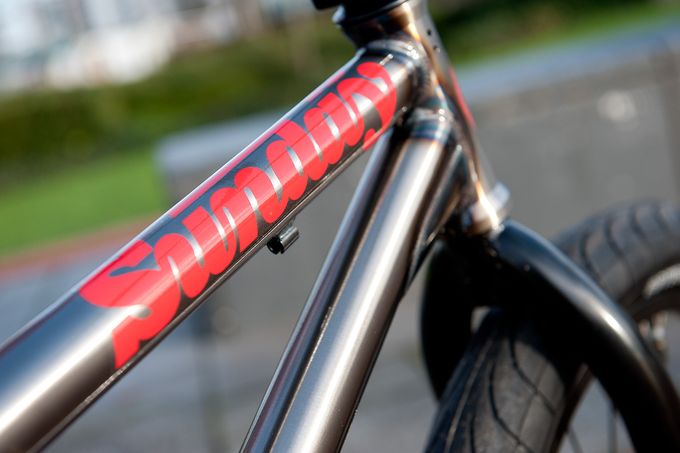 We asked Mike Gonzales a few questions about the bike, here's what he had to say:
Tell us about the AM lines – there's the AM Plus and the AM – so what are the key differences? 
"Spec is very similar, except the Am Plus uses a Freecoaster, where the AM uses Cassette.  Both use fully sealed front and rear hubs."
The four colourways are looking great this year. Aside form aesthetics, what can the rider expect from the AM? 
"You will get a Tripod seat/post, Odyssey Twisted PCs, and Sunday Lightning rims."