If you havnt heard of Stereo, Stereo Bikes are a new company hailing from Germany, and are owned and run by and experienced crew of BMX guys. They have already picked up Tian Moses in the UK, as well as various other riders worldwide.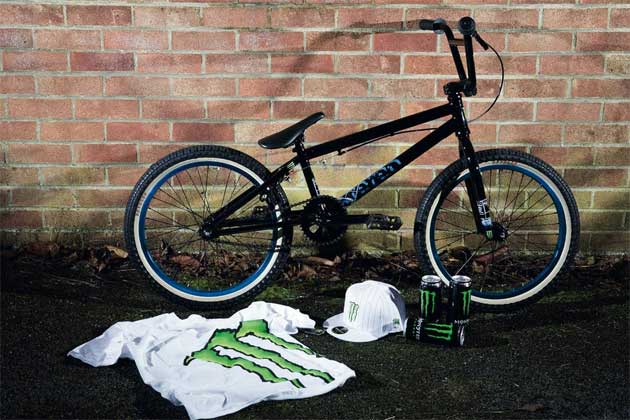 As a treat, we are giving away the Stereo Speaker complete bike that we featured in this competition page! And not just the bike! We are also giving away a full Monster Energy package – [hat, tee and a big crate of the stuff]. Serious!
That's over 300 pounds worth of quality complete bike right there and a load of Monster goodies that we are going to just give away for free!
If you didn't manage to read the competition page this month then we will just give you a quick run down of some of the highlights of this all-round street/park/trails machine:
– 19″ Toptube and 13.75 rear end. Integrated Headset and Mid B/B in the Black/Blue colourway.
– Stereo branded rims, cranks, stem, seat and post.
– Odyssey Twisted plastic pedals and Aitken Tyres.
To get your hands on this Stereo/Monster package you just need to answer one very simple question:
Which one of these riders does NOT ride for Monster Energy?
A. Jamie Bestwick
B. Cameron White
C. Harry Main
D. Ben Shears
E. Mike Spinner
Please post your answer below in the comments and make sure to put your full name and email address so we can contact you afterwards!