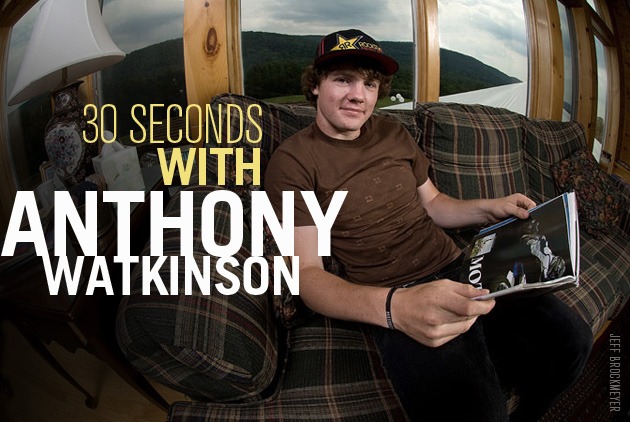 DK Bikes and Rockstar Energy Drink's Anthony Watkinson has spent a lot of time in the UK this year; It's about time we caught up with him to see what he has been up to.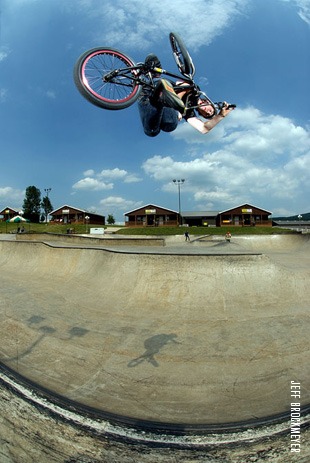 You spent a lot of time in the US during 2007 and 2008, (correct me if I'm wrong) this year you've spent most of your time back here. Have you enjoyed being back here in the UK?
— Yes your right, at the end of 2007 I spent quite a lot of time in the States and even more in 2008, this was pretty much all thanks to Zack Yankush aka Catfish/Grandpa. The first time I met Catfish was at the Simple Session contest in 2007. Later in the year we talked and I told him I'm booking my flight, that was it, from there I spent the rest of 2007 and the majority of 2008 in the States. When I was on my way back to America in 2009, I ran into a lot of trouble with the border for spending too much time out there. I over stayed my 3 month visiting visa by 9 months, they definitely weren't happy with me, for that reason I've been spending most of this year at home, also spending time filing for my P-1 athlete visa. The only thing I don't like about the UK is the silly English winters that we are in right now.
You have been travelling around England quite a bit during the summer, where have you been, also the where have you enjoyed riding the most?
— This summer I spent a lot of my time down in Bournemouth, thanks to Lee, Steve and Jack for giving me somewhere to stay. Bournemouth would be my favourite for sure, there is such a good scene, everyone just having fun and shredding on their bikes. Also you got the gold sandy beaches and the nightlife is awesome! I spent my 21st birthday that year and there was about 30 of us trekking from bar to bar taking over the dance floor. Hopefully I get to spend more time there next summer.
During your stay in America you attended events such as the Dew tour. Being back in Europe have you attended any of such?
— Since I've been back, I rode at the Nokia Fise event in France and also the Worlds, but for me the Nike 6.0 Tunnel Jam was the highlight, that was awesome! Contests in Europe are definitely more fun and more relaxed. I've also been to a lot of local jams in the UK such as King's park in Bournemouth, The Front skatepark in Weymouth, Salisbury's local skatepark, The opening of Dorchester and the Southsea jam.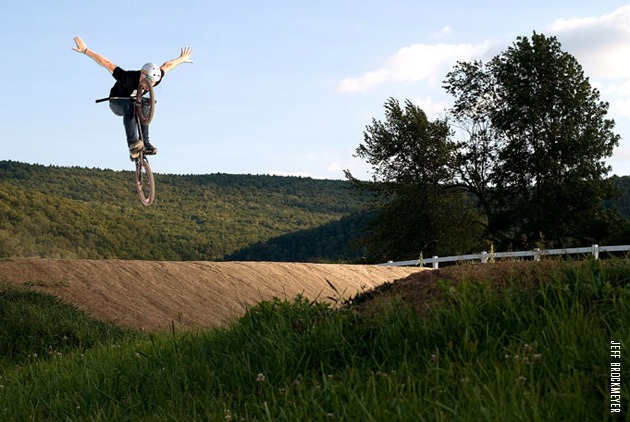 Are you going spend more time in the UK next year, or are you going back to the US. What's in store for you in 2010?
— 2010 will start off with Simpel Session in Estonia and then the other Europe events such as Fise, Nass and the Worlds. Hopefully I will spend more time in the states with my new visa, so more than likely be back at the Dew Tour and other events. Right now nothing is in stone but I'm sure things will pop up. During my lengthy visit in 2008 I spent 4 weeks in Austin Texas where I broke my leg, it would good to spend some time out there again. Big thanks to Hunter and his mum for again giving me somewhere to stay and looking after me while I was broken.
What are you doing today?
— Right now I'm playing Xbox showing Bowie how to play Modern Warfare 2, then I'm going to eat some breakfast before the skatepark opens later on for the Rampworx Christmas jam should be cold but real fun.
Thanks to Jeff Brockmeyer for the photos, who shot the photos for the Woodward article in the current issue of Ride UK (135).
Share this post:
Useful links