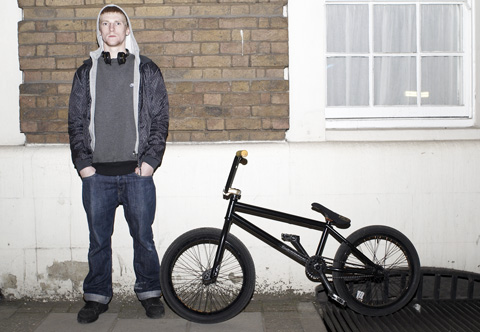 Federal Bikes rider Dan Lacey is a self confessed poor role model. He's always said that he isn't someone for kids to look up to but has an enormous following around the world. This isn't because of the way he chooses to live his life, but the way he rides his bike. I mean, how many other riders have crazed fans graffiti walls with their heroes name? (Check that here)
Dan's a busy guy, going on all of the Federal roadtrips and touring the country with common riding partner and Federal Team Manager, Sebastian Keep. Towards the end of last week, he and Sebastian came up to London for a street session. We caught up with him to find out what he's been up to, and what he's got planned for the near future…
Where are you living?
I haven't really got a permanent place I'm livin in… I'm sort of back and forth from my gaff in Rye and my girl's place in Hastings.
What are you riding?
FEDERAL NOTORIOUS 21″, Primo Parts. Fuckin bad boy!
Where are you riding?
Mainly Hastings but I busted it to LDN for couple days with Baz and Charles and met up with Robin and Benson. Good times.
Who are you riding with?
Leigh Standivan, Baz, Charles when he aint festerin' and Mouseface when he aint a jar
Are you working?
I hate when people ask me this, because it aint like I'm not tryin to get a job. It's just impossible with the whole resession thing.
What's the best bit of news you've heard recently?
Ty Morrow on FEDERAL! Bad man! Oh and the next FEDERAL trip!
What do you want to do in the next few months?
Go back to Amsterdam, film loads, film for a short NEW ERA edit, go hang out with Mag (Mark Love) a bit more, see if Dez still rides, wanna hang out with Ty, and see Dan 'n Joe Cox ride.
Who do you want to do it with?
Baz, Stan, all my crew that I'm usually with and whoever else is about.
How's things going with Federal?
Bruv, I really couldn't express in words how fuckin' good things are with Federal. It's more than i could ever ask for in a bike company…
What did you do this weekend?
Thursday I came up to London with Baz and Charles, saw Kat, Robbie and co at Red Bull, then on Friday we minced about in London the whole day Baz broke my new headfones, shot some photo's with Benson and you, Charlie moaned the whole time about ridin' everywhere, then i made a move back to Hastings leaving them in london. Saturday didnt do much, just went for blaze with Standivan and chilled with the Mrs and had roast dinner. Sickenening.
What are you going to do today?
Get the tea's on, skin up, walk the dog, breakfast, go round Stan's, skin up, play Call of Duty, skin up, go skatepark, ride street, chill.
This is part one of Dan's street assault on London. Toothy hang into the famous One Eversholt St bank at Euston trains station.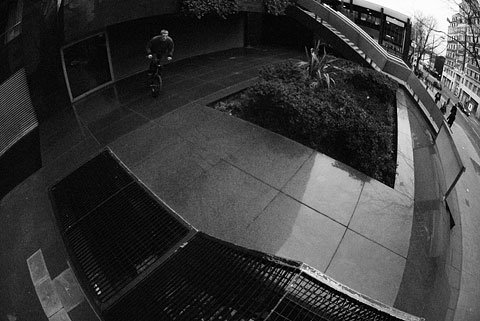 Open Gallery
17 Images