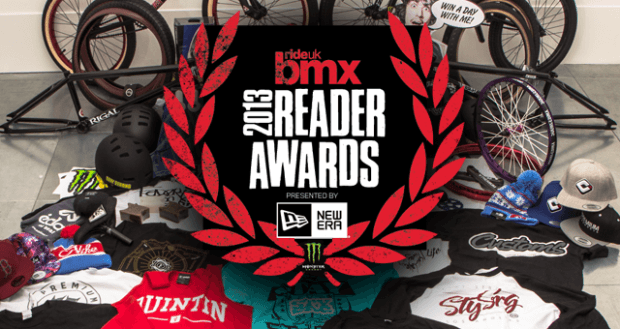 We love this part of our job here at RideUKBMX. It's time to make 3 lucky people, really happy!
This years RideUKBMX Reader Awards survey winners have been drawn and they are as follows:
First place – Jack Newton from Norwich
Second place – Liam Kidd from Branston
Third place – Jake Hodge from Coalville
Well done you guys, you have been contacted by us directly and we hope all this stuff keeps you busy over xmas.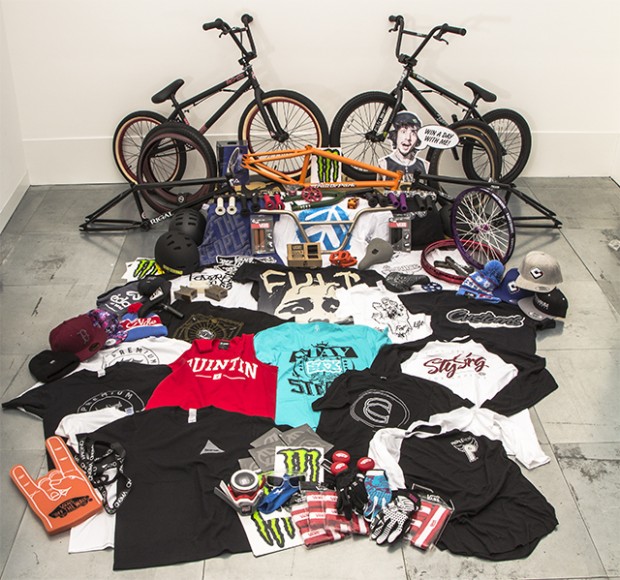 A day with Harry Main at his private 'Hammerhouse' skatepark. (Lunch and hotel included for you and a friend)
Failure x Monster – Mainiac Complete bike x 2 (one for you, one for your friend)
New Era – Logo caps
New Era – Logo beanies/bobble hats
The Source – Custom front wheel (Cinema rim, BSD hub),
The Source – Logo tee
BSD – TrailorPark frame
United – Rigal frame
Vocal – Logo seat
Vocal – Sunglasses
TSG – Stay Strong Helmet x 2
Rad BMX – Nike beanie, Federal wax, Quintin vest, Cult grips
Odessa – Pair of shoes
Shitluck – Logo tee
ODI – Longneck grips x 2
ODI – Stay Strong grips x 3
ODI – Vans grips x 2
ODI – Logo caps x 2
Jet BMX – Ltd Edition colourway complete bike
The Fold – Logo tee
Custom Riders – Logo tee
Eclat – Logo tee
Eclat – Oz seat
WeThePeople – Logo tee
WeThePeople – Clash frame
DUO – Stunner tyres x 2
Cinema – Logo tee
Horizon – Watch and straps
Stay Strong – Logo tees x 2
Lifer BMX – Logo tee
Halo – Priest rims x 2
Verde – Sprocket
Lazer – Helmet
Monster Cables – DNA Headphones
Cult – Vans grips
Cult – Logo tee
Shadow – Solus seat/post
Federal – Black album DVD x 4
Federal – Logo tee
Federal – Wax x 2
Kink – Wolf bars
King Kong – Gloves x 2
Vans – Accessories
Profile – Logo tee
Profile – Logo beanie
Fist – Gloves x 2
Premium – FYB Forks
Premium – 1948 Cranks
Premium – Gnarstar sprocket
Premium – CK tyres x 2
Premium – Logo seat
Premium – Grips
Premium – Headset
Premium – Logo cap
Premium – Logo tee x 2
Social – Logo tee x 2
Social – Plastic pedals
Social – Freeloader stem
Social – Logo seat