The lead up to the Reader Awards is always nuts. We were rushing about sorting travel, booking train tickets and hotel rooms. I was going from Sunderland so you know it's a mission.
I've ended up having a right do with a shitty conductor prior to boarding my train. It was like something from a movie, I got there and the train was just about to pull away, I asked if I could quickly jump on. "YOU CAN'T GET ON THIS ONE LUV, YOU'LL HAVE TO GET THE NEXT ONE!" – Great no a happy ending to this flick.
I'm not sure I've ever been to The House of Vans LDN sober so it made an interesting jaunt trying to find the venue, again! Because I'm Northern, we ask other humans before getting our phones out or using any kind of Sat Nav. And because this is London I may as well have been pissing in the wind.
That was until Hideout's Gaz Docker and his mates rode past me over the road. As soon as I spotted them I started shouting and balling. I probably sounded like Paul Gascoigne looking for the nearest boozer. Either way they were on it and I was en route to the venue.
Walks in, set my stall out and immediately saw Eric Sans. Eric is a cool and lives in Barca normally but travels to the UK quite a lot. We had a natter and things escalated quickly when Sunday rider: Danny Stanzl & his friend Jelle Harnisfeger joined the party.
I'd never met these two but right away they let me know that my hotel was miles out. So i was kipping at theirs. Spot on! The great thing about BMX is you have a bed anywhere on the planet. Jelle & Danny are top lads, thanks for the hospitality.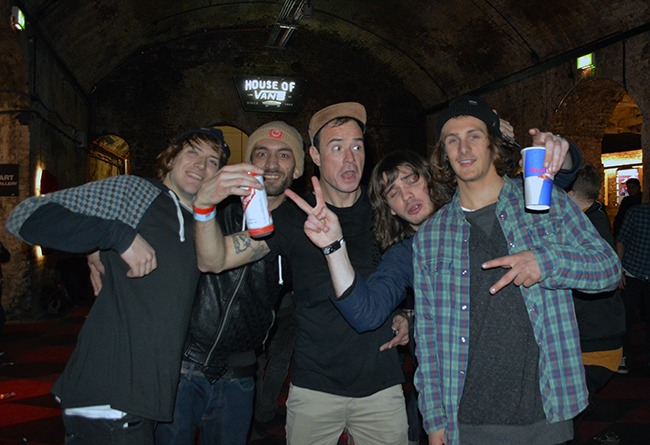 Open Gallery
9 Images
The Reader Awards was getting busy so we set up the #WHP14 Premier. It seemed like everyone really enjoyed it.
FOR THE READER AWARDS 2014 RESULTS CLICK HERE
Ride UK Editor Seb was on-form all night. He's used to being on the big stage so it flowed well. He killed it with a Garrett Reynolds impression after his taped speech backfired. Absolute quality I was in tears.
The dancefloor went mental after the awards and people were knocking out all sorts of premium moves, Jordan Aleppo had all 3 of the barmaid's numbers within minutes of turning up, Grant Smith was enjoying his big win for BSD with the boys, Lacey had more awards than he could carry and Jon Taylor was actually speechless after receiving his award too!
Some wild scenes outside the venue, I seem to remember a few people doing sliders whilst going mach-10 into a crowd of people which resulted in knocking 3 of them over. So funny, and really glad no one took it bad either! It gave me some good ideas for Ride UK events in 2015, but I guess finding a sponsor for BMX skittles would be a tough gig.
We had a solid sesh in London and at about 6 I headed back up north. Big shout out to everyone who came to the event, all the winners and everyone who voted. It can't happen without you guys. Thanks to Danny and Jelle for sorting me a place to kip.
UNTIL NEXT TIME…
Fraser.