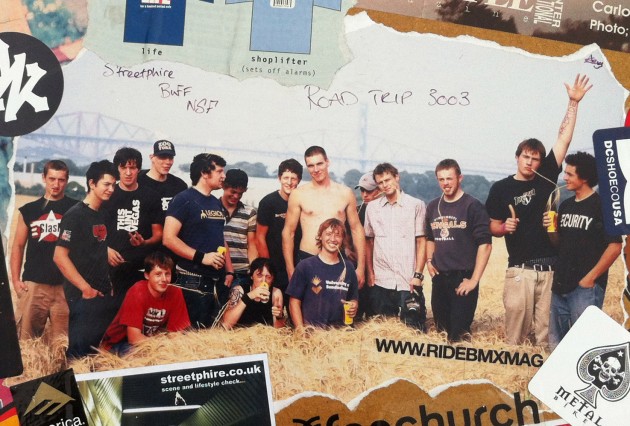 NSF Trip, circa 03! H-Man Photo.
Fathead told me recently how important the hit VHS NSF2 was to him when he was growing up. For the younger generations who may not have heard of the video, NSF stands for North East Street Foundation, a group of friends who completely smashed the UK street riding scene for a number of years. Their notorious antics made them a fan favourite, always doing their own thing and always in the media spotlight. NSF produced three videos, the first one I guess went down as a scene video, it wasn't until NSF2 hit the shelfs did we understand exactly what was going down up in Newcastle and the North East. It's been exactly ten years since NSF2 was released. The video was important to me at the time. Mainly because they sent me a bunch of copies down to Leeds to sell, I guess this was before I'd met Chris Souter and he looked like a total meathead, but also because it gave me a whole new appreciation of the city that I'm from. I wanted to know why it inspired Fathead and perhaps everyone else who started riding around this time, so we sat down to watch it and he told me about his key area's of inspiration. Most notably Jim Newrick, the Benny L/Bowlhead/Ernie split section and of course Joe Cox's ender. His thoughts are jotted down under each section. Reading it in the style of Alan Partridge on crack is advantageous.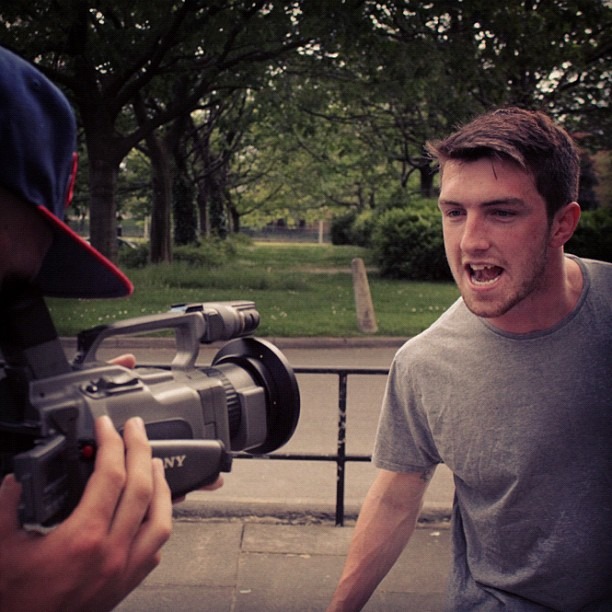 S&M's Fathead gives us his "thoughts"!
This is simply scratching the surface of how important all those guys in the North East were for UK street riding at that time. No doubt we'll continue to post up other random content from that era, so stay tuned for it. Until then enjoy NSF2 in all it's glory.
Thanks to H-man and Streetphire for uploading the sections and letting us post them up here.
Intro and Paul Buckley.
Music: Flicklife – Cylob and Girl you want – Devo
Strongy and Marc Bell.
Music: Epic Problem – Fugazi
Olly Olsen.
Music: Human Abstract – Kovenant
Mix Section.
Music: 100mph – This Aint Vegas
James Newrick.
Music: Shadowplay – Joy Division
Fathead:
"Ridiculous hop. For the time most people were aiming on a foot and happy, where as James went balls out of the bath with a large traffic cone.
Backwards smith full cab. Wowzers I literally ran around the room when I saw this trick and I still haven't mastered it to this day. Talk about years ahead.
Music/Mood. The whole feel to James's section is perfectly fitting to his demeanour and attitude. The night time footage and music make it a pleasure to watch and understand the ultimate champion which is James Newrick"
Craig Carlin.
Music: Mutha Fucker From Hell – The Datsuns
Ben Lewis, Bowlhead and Ernie.
Music: Penelope – Pinback
Fathead:
"Ben Lewis. Back here the kid was an urban myth we didn't have internets or i pod phones we had word of mouth and every word was about Ben from Liverpool's riding, Nough said.
Bowlhead. In a world of pegs and tiny bars came through with original pedal grinds and slam bars and a very relaxed style. Originality against adversity.
Ernie. This kid, I was obsessed. Mad pop. No one small had pop like Ernie, only big dudes hopped big, no Ernie took a dump on the norm and with a whop like his there was no questioning why he was every young emo girls favourite LOL"
Chris Souter.
Music: Back To Britain – N.E.A
Rob Hutchinson "Rupert".
Music: Twenty Four Past Eight PM – This Aint vegas
Mike "Jersey" Taylor.
Music: I Want It All – Trans Am
Mix Section.
Music: The N.E.A – N.E.A
Joe Cox and Credits.
Music: Karma Payment – Modest Mouse and Heroin – Velvet Underground
Fathead:
"Rail Montage. All tricks one rail, personal favourite, the over smith.
Xup ride 180 bars. What! That's still not possible. I ruined the tape rewinding that one haha!
Barspins. It was very rare to see a barspin so smooth in the UK a coined phrase of the time was "landen catch" where you would land before catching the bars, not Joe, slung correctly caught perfectly. Best barspins in the game."