Yesterday Nike 6.0 announced the winner of the 2009 Nike 6.0 Media Apprentice competition. As a judge I got to see everybodies work and help with the final decision. It was pretty close, but Richard Forne Wilson was the eventual winner.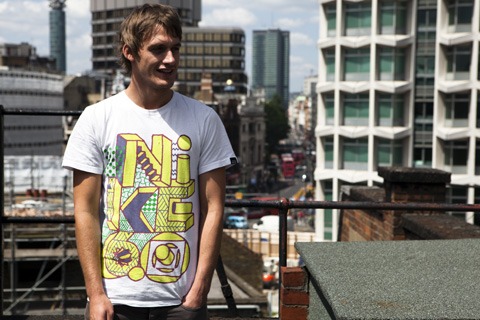 Richard Wilson atop the Nike offices in Soho.
From my point of view, I think video definitely had the edge over the photography, and I'd be surprised if it could be won by a photographer in the new media style of action sports. Here is Richard's winning video featuring Alex Kennedy, all shot in Rampworx skatepark. Have you ever seen an indoor park look so good?
And here is a video detailing what the Nike 6.0 Media Apprentice is all about, plus an interview with Richard…
Massive credit also needs to goto finalists Mark Westlake (who runs the Pijin blog), Robin Pearson and also Craig Tull. All photographers who had the challenge of shooting ten useable photos at Rampworx and outdoors in Liverpool. Check out a few samples of their photos below…