Day 4
Woke up in Macclesfield and the weather was looking pretty dog so we all decided to get some food in town and see what challenges we could possibly cross off. Owain had a little hunt around the charity shops and found a quite fitting football kit to wear all day. See the pic below…
After filling up the decision was made by the team to head out over towards Liverpool's Rampworx to get some skatepark action as it was the only place we knew of near by where it wouldn't be raining. After a couple of hours of trying to get a run in without getting snakes by some of the locals with scooters the weather was looking rather promising so after a quick Micky D's pit stop we hit the streets of Liverpool for a evening session which ended up us all being out till around 1am.
Tomorrow we are going to head across country towards Leeds and Hull to see whats on offer, the weather doesn't look promising but fingers crossed.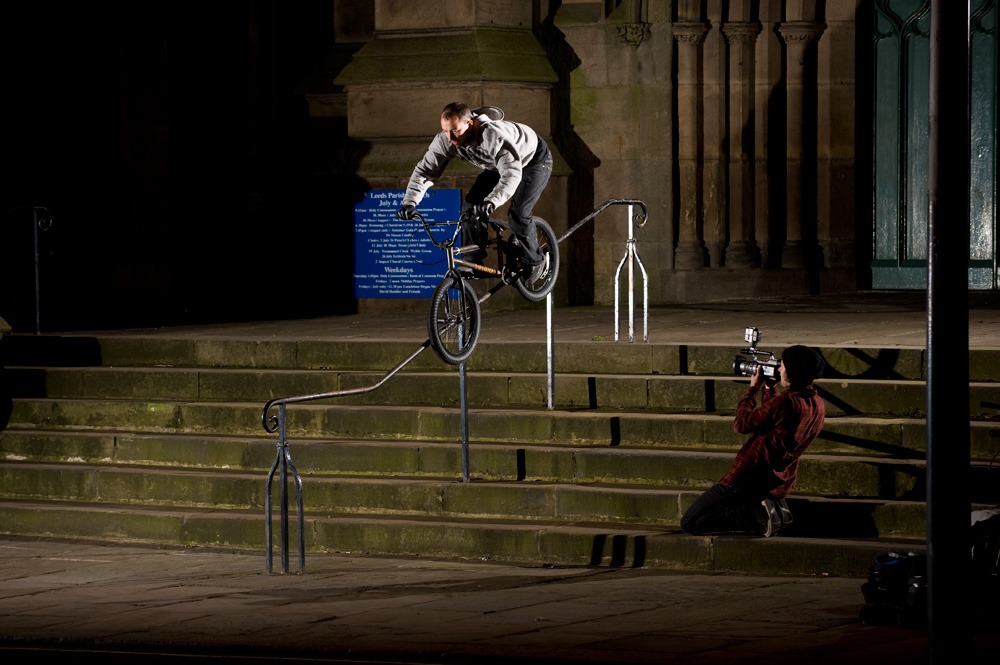 Open Gallery
7 Images
Day 5

We're in Rochdale today and TM Daryl Charles got us up early in hope of getting a bit of sunny riding in. We turned up at this school with flat banks round every corner, a pretty heavy session got underway with Paul Ryan, Niki Croft and Ricky Bates all carving a piece for them selves. A quick round of football soon got called off as the weather turned for the worse. Non the less Paul Ryan kept going for this line which ended up in him on his arse in the rain.
We moved on out to get some food in nearby Huddersfield were we sessioned the delights on offer by the local noodle bar/sainsburys/kebab shop then checked out a couple of the local spots only to find that they were a shut down during the day so we packed up and headed for Leeds. It turned out to be a good choice in the end as the weather stayed good the whole evening and long into the night. While half the team hit up the watering holes the other half went out for the midnight sesh. Mad clippage!
We are going to hit up Leeds again for a bit tomorrow but lets hope the rain stays where we left it.