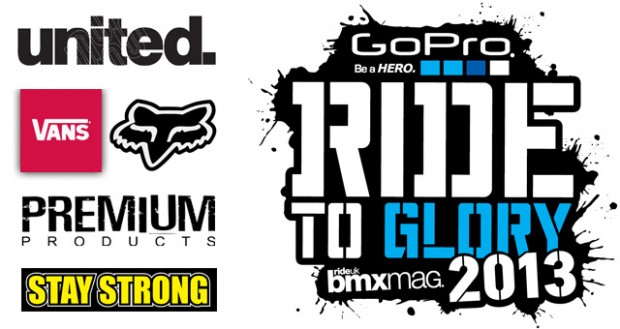 Not long to go now! Who will be attending the launch of Ride To Glory 2013? or will you hit us up at the finish line? Here's the deets..
START – Friday 3rd May at Flo Skatepark in Nottingham
FINISH – Saturday 11th May at Crucial BMX Shop in Bristol
Also BREAKING NEWS for you today on this sunny afternoon. We have the FULL team lists for you to take a look at!
United
Dan Boiski
Luke Peeters
Tom Sanders
Jimmy Rushmore
Nathan Williams
James Cox
Walter Pieringer
Fox
Matt Priest
Lima
Leo Forte
Greg Illingworth
Russell Barone
Fraser Byrne
Dunk Smith
Vans
Vince Mayne
Phil Aller
Pete Sawyer
Alex Donnachie
Gary Young
Justin Kosman
Robin Pearson
Stay Strong
Ben Wallace
Anthony Watkinson
Bob Manchester
Jordan Aleppo
Dan Bob
Mike King
Vincent Perraud
Premium
Jordan Waters
Chris 'Mole' Smith
Brad McNicol
Leigh 'Sketch' James
Conner Lodes
Nick Armstrong
Joe Bailey