We had some pretty fresh new frames in the last issue. We thought we'd post them out on the site. Check them out below…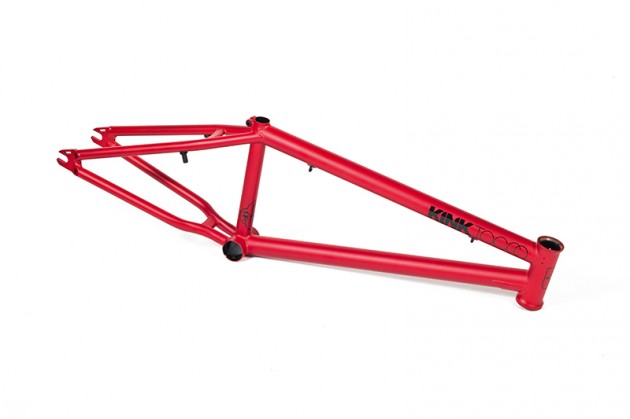 Kink
Tocco
Here's Darryl Tocco's clean looking signature frame
from Kink. This has all the added extras at a really good
price. 100% seamless Sanko 4130 tubing, spanish BB, internal headset, integrated seat clamp, investment cast hollow dropouts, and integrated chain tensioners. The Tocco has everything, and only weighs in at 4lbs 14oz too. Kink have been producing some of the best products in BMX for a generation, so they clearly know how to get the best, for a great price. The colour choice is great too, we had this Limited Edition Matte Fire Red with the all new graphics, which looks particularly epic.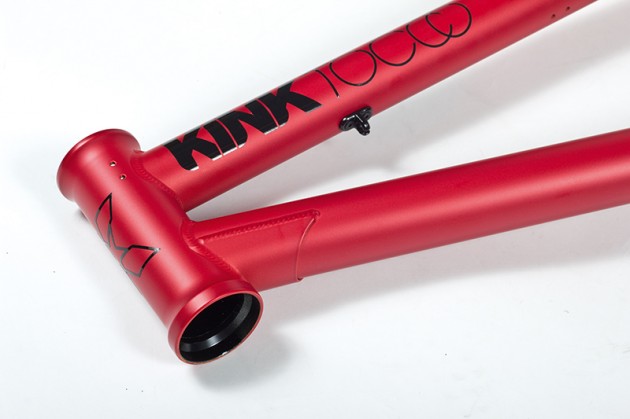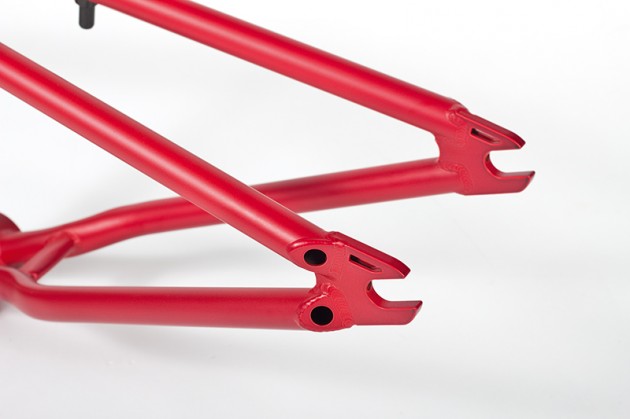 Specs
Top Tube: 20.5", 20.75", 21"
Chain Stay Length: 13.5"
Angles: 71 degree seatube,
75 degree head angle
Bottom Bracket: 11.75"
Weight: 4.14 lbs
Colours: ED Black, Ltd Ed Fire Red,
Metallic Black, Matte Blue.
RRP: £269.99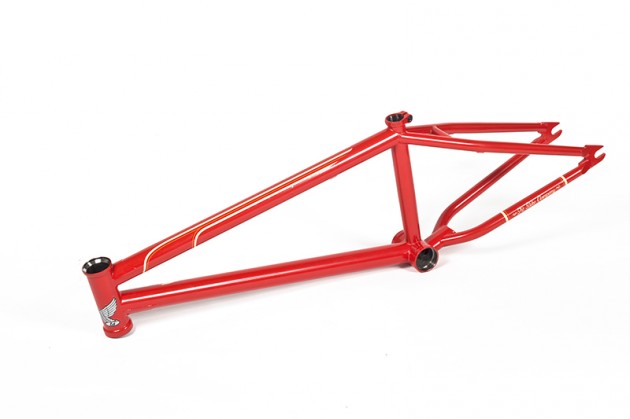 Fit
TD350
When Tom Dugan rides he goes to the moon, and here's the frame he does it on. The TD350 from Fit Bike Co looks immense, with the graphics alone worthy of a museum piece. As you would expect from the Fit factory this frame is built to a very high standard. The usual spec for a frame built in 2012, with an internal headset, mid BB, and Fit embossed gussets in all the right places. Tom wanted this frame to be strong, and looking at the construction he's nailed it. We've got a butted top tube, straight gauge down tube, tapered seat and chain stays and the head tube is engraved with TD350F to give it that extra touch of quality. Ours came through in Red but I've seen the Gloss Clear version online and that has to be the best looking one.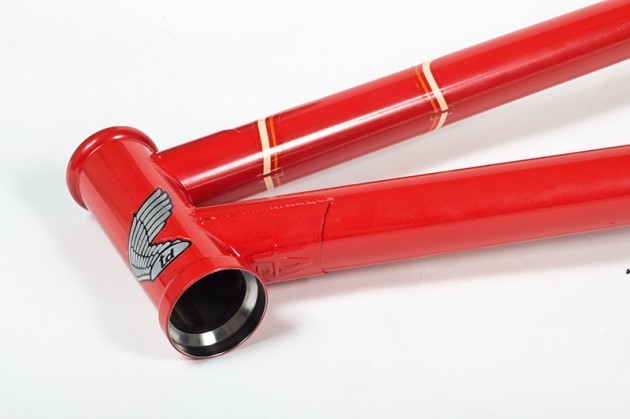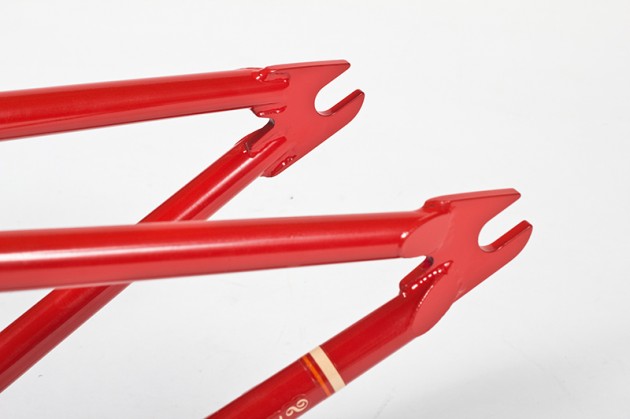 Specs
Top Tube: 20.5", 20.75", 21", 21.25"
Chain Stay Length: 13.6"
Angles: 71 degree seatube,
74.5 degree head angle
Bottom Bracket: 11.75"
Weight: 4.71 lbs
Colours: Matte Black,
Red, Gloss Clear.
RRP: £399.99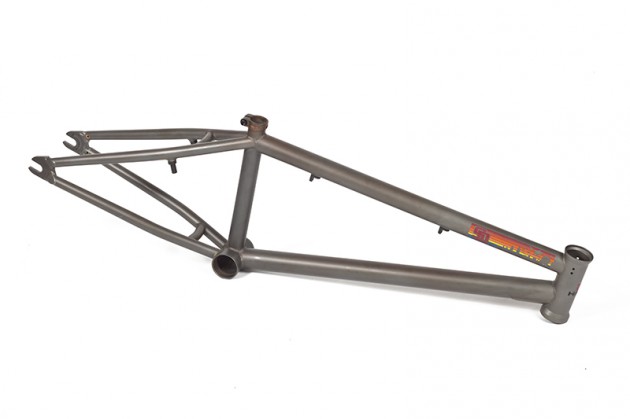 Haro
SD Downtown
Great to see Haro fire over a signature frame, and what
better one than Dennis Enarson's SD Downtown. Dennis has
to be one of the most progressive BMX riders ever to grace the scene, the guy is a machine. Full heat treated 4130 tubing, integrated seat clamp, removable brake mounts and gyro tabs,
CNC machined dropouts, mid BB and an integrated headset.
All the mod cons as expected from one of the first BMX brands, ever. The build quality is right up there with great attention to detail. The SD Downtime looks clean, tidy and strong. Get one.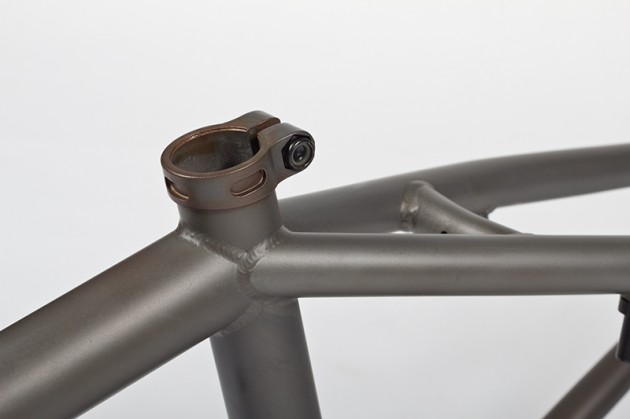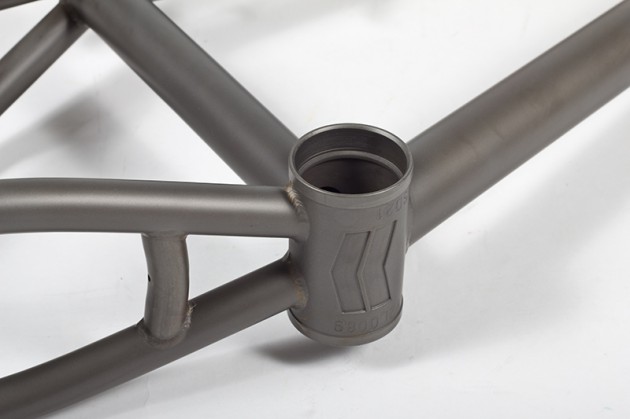 Specs
Top Tube: 20.5", 20.8", 21", 21.5"
Chain Stay Length: 13.75"
Angles: 71 degree seatube,
75 degree head angle
Bottom Bracket: 11.5"
Weight: 4.8 lbs
Colours: Acid Bath.
RRP: £299.99