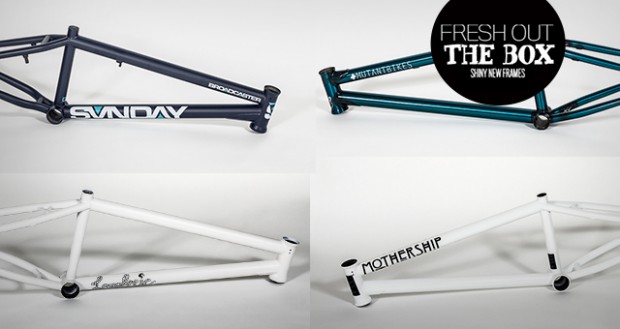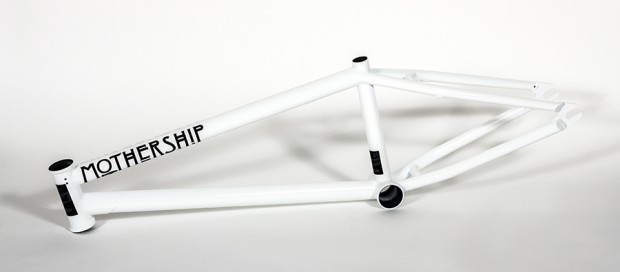 United
Mothership v2
The first United Mothership frame from Nathan Williams was a treat. Super popular, an amazing price and strong as an ox. Here's the V2 in this awesome Gloss White colourway, and the changes include a perfectly round downtube where it meets the headtube, which is proven to be way stronger at the weld. It then ovalizes as it goes down to help prevent dents in key area's. The whole tube set has generally been beefed up. Nathan rides like a man on a mission, so he needs strength and reliability in his components. Invest cast seat clamp and better still seat stay brace, this is designed to give the best clearance for all tyres. 100% seamless Japanese 4130 cromo construction and still at a great price for a signature frame.
Specs
Top Tube: 20.5", 20.8", 21", 21.25"
Chain Stay Length: 13.3" – 13.6"
Angles: 71 degree seatube, 75 degree head angle
Bottom Bracket: 11.8"
Weight: 4.9 lbs
Colours: Gloss White, Flat Black, Dark Burgundy, Purple Black
RRP: £269.99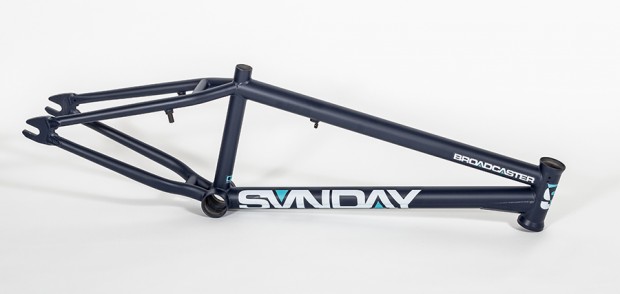 Sunday
Broadcaster
This has been in the testing stage with Jake Seeley for a while now, and I've been keeping an eye on progress because, for me this is the best Sunday frame to date! It looks way more refined than their Forecaster. The head tube is a touch steeper and the back end shorter giving the frame a real responsive feel. It's got all the usual Sunday quality running right through the frame. The gusset stays and the general attention to detail is right up there. Ours came through in this Mid Blue, which along with the graphics is spot on.
Specs
Top Tube: 20.75", 21", 21.25"
Chain Stay Length: 13" – 13.25"
Angles: 71 degree seatube, 75.5 degree head angle
Bottom Bracket: 11.5"
Weight: 5.25 lbs
Colours: Midnight Blue
RRP: £279.99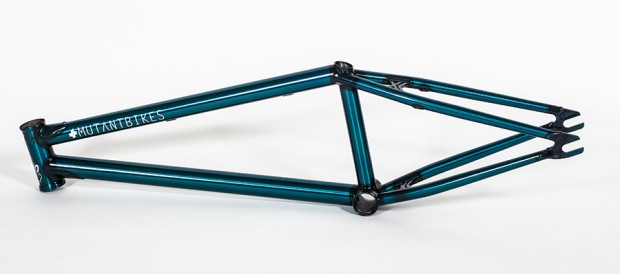 Mutant
Corvo
Mutant are really coming through with some awesome produce for 2013, and this is no different.
The Corvo frame looks bang on, and retails at £279.99. Spec versus price, you're getting a fully loaded frame at such a
good deal here. Double butted sanko tubing throughout, double gusset in the top and down tubes, huge variety of TT lengths, Spanish BB, removable everything, CNC'd logo's, awesome colourways and Mutant's secret weapon, the SSC System. You get your pivotal post, which is drilled to 6 positions to adjust, already in the box and it works a treat. I've not even touched on half of the features with this beast, needless to say we're super impressed with this.
Specs
Top Tube: 20.59", 20.79", 21.06", 21.38" 
Chain Stay Length: 13.35" – 13.75"
Angles: 72 degree seatube, 75.4 degree head angle
Bottom Bracket: 11.80"
Weight: 5.00 lbs
Colours: Gloss Trans Black, Gloss Trans Raw, Gloss Trans Blue
RRP: £279.99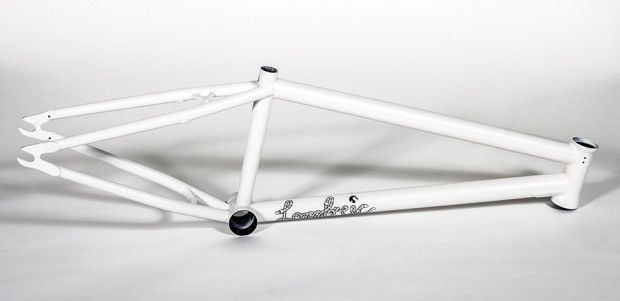 Simple
Lombric
Simple's Jeremy Muller signature frame is in the house.
If you're into your trails then this frame is well worth a look, as Muller kills it! Heat treated 4130 sanko tubing, double butted top tube and down tube, tapered seat and chain stays. The Lombric comes in 21" and 21.5" and if I'm honest,
it looks like it'd take some hammer riding anything! If you're tall and need some space this is a great option! Comes in
Matt White and Trans Black. Perfect.
Specs
Top Tube: 21", 21.5"
Chain Stay Length: 14.09"
Angles: 71 degree seatube,
75 degree head angle
Bottom Bracket: 11.5"
Weight: 2.0KG
Colours: Trans Black, Matt White
RRP: £279.99