FlyBikes have just emailed over their new Sergio Layos signature Pantera frame. You might recall a video of Sergio testing the new SBS brake system they have introduced, a function that you can remove your brake and put it back on within seconds (Click here for the video). Check out the flat red frame below.
Version 4 of the Classic Pantera frame: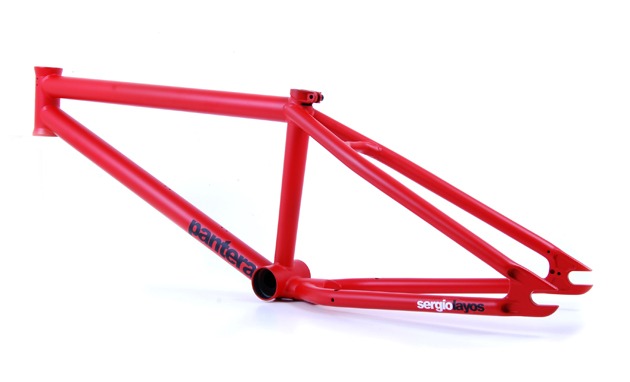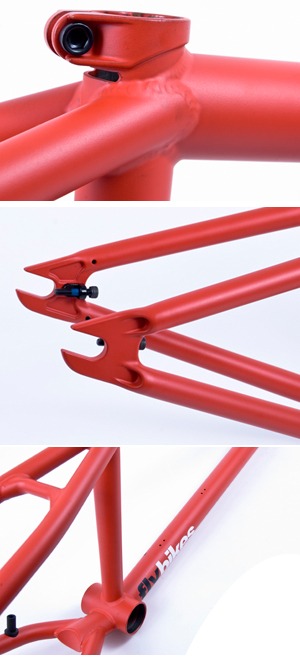 INTEGRATED DROPOUTS
Like on all our new 2010 frames, it comes with the integrated dropouts. These have a different design than the Tierra that we showed you days ago. Still small but a bit bigger than the Tierra ones and with removable chain tensioners.
SBS BRAKE MOUNTS
The new brake system to put your brakes and remove them in seconds…
TAPED TOP AND DOWN TUBES
With more diameter where you need it. On the head tube junction. And less where you don't need it, on the bb and seat tube. Also seat tube is slightly taped to save some weight.
HORIZONTAL CUT SEAT CLAMP
Just tight the bolt a bit and it's on place. No more broken bolts.
NEW SEATSTAYS BRIDGE
New invest casting bridge with a personal shape.
NEW BARS
The new Pantera bars are now bigger. 8.35" high and 28.5" wide and comes with straight crossbar.
The weight on frame is 2.195 grs. / 4.83 lb. and 706 gr. / 1.55 lb. on bars . You have both in black and flat red.