This is a new feature we're doing with a few specially selected members of the Ride front cover club.
To kick it off, Fit Bike Co and Shadow Conspiracy rider Owain Clegg tells the story of his cover back in March 2004. Gunning a rather large rail in Flint, North Wales. (The same rail that inspired Scott Ditchburn in this interview).
Lard shot the photo, Owain did the rail, twice. Here is his story.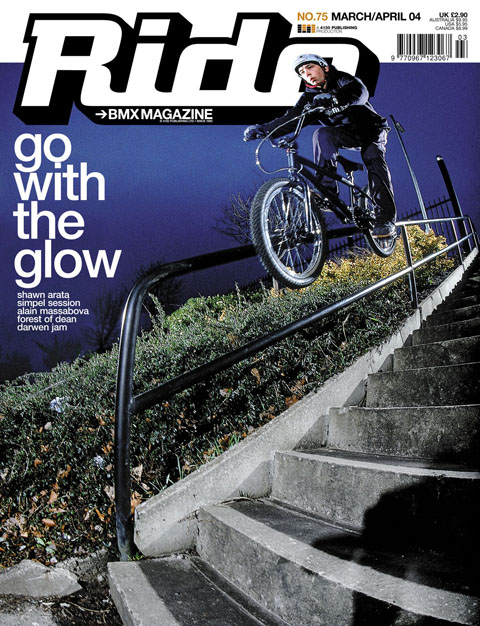 I was coming up from Plymouth, no pressure but it's a fair few miles if you bottle it! That's how I remember how this photo came about. I'd mentioned the rail to Lard in passing and before I knew it he called me from half way up the M6 (during which time I was just finishing up work for the day) so pretty sharpish I had to get down there with my rail head on, not ideal situation in hindsight.
The thing that really stands out from this picture for me is how much I must have fallen hook line and sinker for the trendy products of the time, I got my Bucky helmet, my over-priced brake cable and the relevant Etnies shoe of the month, what a trend setter…
Now the actual pulling the trick was one of those where your hands would be diagnosed as those of someone with Parkinsons Disease! But in fact for once it turned out mint on both tries (timing was never Lards forte).
Lard literally packed up and headed off down South again not before promising me it was cover material, heard that one before I thought to myself, only to be pleasantly surprised to visit my local WHSmiths the following month and find my gormless looking mug staring back at me, I was the talk of my family that month and I am sure my mum still has a copy somewhere in her house, laying between a book about the Archers and a LP of music from her day. The rest, like my hairline, is history…
-Owain Clegg