The BMX Life annual Easter Bunny Hop charity ride in London got canceled this year due to Coronavirus.  But we found a way to have still a Bunny Hop event and raise money for charity!
'Go big and stay home'
When the Corona virus lockdown cancelled the 6th Annual BMX Life 'Easter Bunny Hop' charity ride out (& bunny hop competition) in London, the organisers had to find another way to raise vital funds for the ECHO charity (helping kids with heart conditions).
So as a last minute solution the BMX Life team got riders to do bunny hops at home instead.  The riders were asked to film their bunny hops, upload them to the BMX Life Facebook community page with the hashtag  #moneyhops and donate money to ECHO via this link: https://uk.virginmoneygiving.com/Team/BMXlife
There were also online raffles including prizes from Source BMX.
In just over a week more than a 100 BMXers uploaded Bunny Hops and over £2k was raised for the ECHO charity.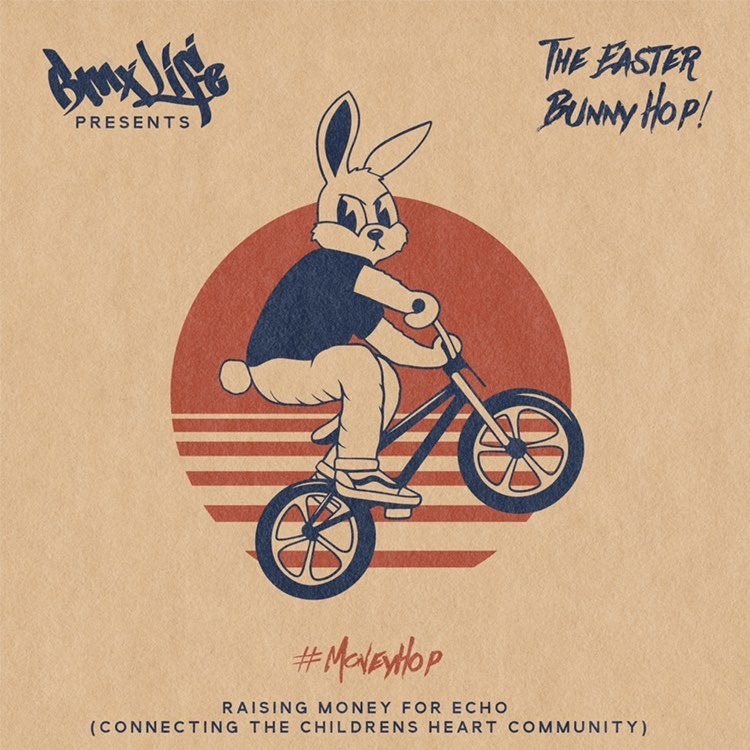 ---
This new BMX Life event initiative was developed on a zero budget by Michael Stead with bespoke event artwork donated by Pat Thompson from Sea Salt Design. Therefore 100% of the money raised went to the charity.
BMX Life are now planning their 4th July 'Independence Day' charity ride & hope it will be safe to take place in London (fingers crossed). The ride after party would be hosted by House of Vans again and BMX Life are in talks with other brand sponsors/ supporters to help them raise money and publicise the event.
About BMX Life 
BMX Life, founded by Stephane Wright supports grass roots BMX and also creates events to raise money for charities. Their annual Bunny Hop and Santa Cruise rides in London attract over 600 BMXers each event and have already raised nearly £90k for good causes.
About ECHO Charity
ECHO supports children who are born with heart conditions and their families, and are there for them at every stage of their heart journey – when often little other support is available. They receive no government or NHS (health service) funding and so rely on charity donations. ​