From August 17th to 19th, BMX meets the biggest gaming convention in the world: the gamescom in Cologne. None other than Razer, the world's leading gaming hardware manufacturer is sponsoring the BMX Spine Battle, which will go down on a huge indoor spine mini. Some of the best riders have already signed up, Catfish is announcing the gig and as a special treat the organizers have come up with a unique format for the finals.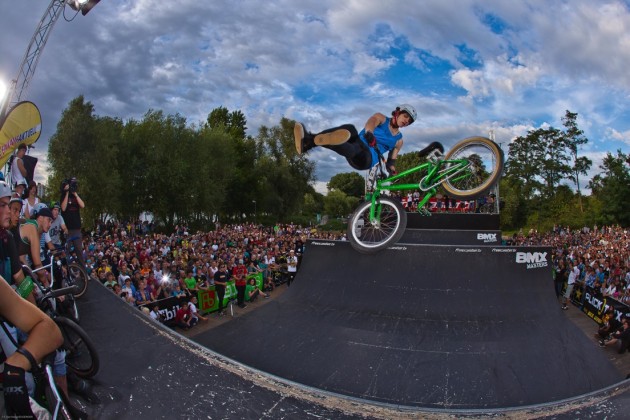 The prelims will have traditional runs, with 12 riders proceeding to the finals. These 12 riders will then compete in one-on-one battles in a total of 11 rounds. For each round a riders name is drawn, who gets to pick his opponent from the remaining finalists. Those two will then have one run each, plus an additional chance to pull their best trick. They will be scored by the other riders in the finals (1 vote), the audience (1 vote), and three judges (1 vote each). The loser is eliminated, while the winner proceeds to the next round and also gets a € 500 cheque for each won battle. For the final battle between the last two riders on the deck, this amount is increased to € 1000. In the end there are likely to be two winners: the King Of The Battles (the very last rider on the ramp), and the King Of Money (the rider, who has won the most battles and hence the most cheques).
Practice for the Razer "BMX Spine Battle" goes down from August 15th to 17th, with time slots for an amateur Jam on both days. The Pro contest will be held on August 17th to 19th. The following riders are already signed up for the event:
AJ Anaya (USA)
Chris Anton (GER)
Alessandro Barbero (ITA)
Spencer Bass (USA)
Ondra Belohoubek(CZ)
Michael Beran (CZ)
Markus Braumann (GER)
Alex Coleborn (UK)
Jack Clark (UK)
Tobias Freigang (GER)
Sergej Geier (GER)
Danny Josa (HUN/USA)
Felix Kirch (GER)
Maarten Knipp (GER)
Mark König (GER)
Chris Mahoney (UK)
Harry Main (UK)
Zdenda Pesek (CZ)
Jean Baptiste Peytavit (FR)
Felix Prangenberg (GER)
Nicholi Rogatkin (USA)
Glenn Salyers (USA)
Ondra Slez (CZ)
Ryan Taylor (UK)
David Theissen (GER)
Daniel Tünte (GER)
Vilibald Vitek (CZ)
Jack Watts (UK)
Luke Warren (UK)
Daniel Wedemejier (NL)
Adam Wilhelm (GER)
Mike Würzinger (GER)
Think you've got what it takes to hang with these huys? Registration is still open until August 8th, so sign up now free of charge at info@bmx-spine-battle.com.
For further info visit www.facebook.com/BmxSpineBattle.
See you in Cologne!