Dale Armstrong built up a Wethepeople Trust complete fresh out of the box and took it for a session. Dale is not shy when it comes to putting a bike through it's paces and the Trust held up perfectly.
We managed to grab some close up images of the Trust and run it through a Nice Set Up feature for you guys. This thing retails at like £569.99 which is amazing value, bearing in mind what you can achieve on it.
See the specs below the gallery.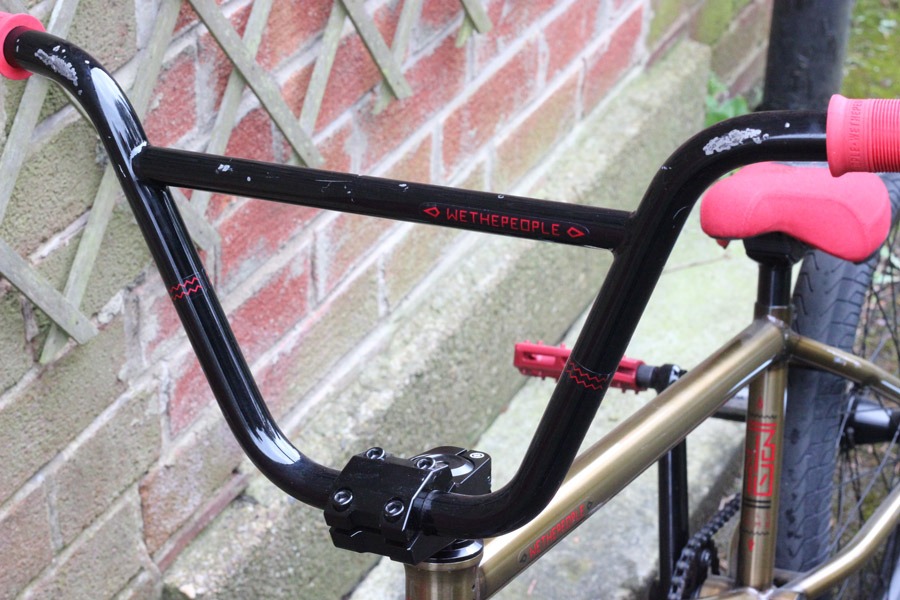 Open Gallery
25 Images
Frame: 4130 full crmo, removable pivots & guides, intg. chain tensioner
Fork: SaltPlus HQ fork, full 4130 crmo , 1pc formed crmo steerer
Cranks: SaltPlus PRO48-V2 (L&R) tubular 3pc crank crmo 170mm, 48 spline
Sprocket: SaltPlus Center 6061 T6 alloy, cnc, 25t sprocket
Bottom Bracket: Salt Mid Size , press fit, sealed bearing
Driver: 9t, 1pc cassette driver, L&R switch drive, sealed bearing
Chain: Salt AM chain, 510h type
Pedals: Eclat Slash nylon/fibreglass pedals
Brakes: SaltPlus Geo-V2 u-brake rear, incl. Saltplus "Propeller" brake pads
Levers: SaltPlus Geo hinged alloy brake lever
Bars: Full 4130 crmo bar
Stem: SaltPlus Field cnc alloy top loading stem, 50mm reach
Headset: SaltPlus Echo int. headset, sealed bearing
Gyro: Holes for removable gyro tabs
Grips: WTP Hilt grips
Front Rim: Eclat Trippin straight double wall rim, 36h
Rear Rim: Eclat Trippin straight double wall rim, 36h
Front Hub: Salt Expert hub, sb, 3/8″s female bolts, 36h
Rear Hub: SaltPlus Trapez cass., sb hub, 9t L&R switch drive, 36h
Front Tyre: Salt Pitch Slick 2.35″
Rear Tyre: Salt Pitch Slick 2.2″
Seat: WTP Trust thick padded pivotal seat
Seat post: Salt AM pivotal seat post, alloy, 150mm
Seat Clamp: Integrated seat clamp
Pegs: Salt AM steel pegs (1 pair)
Weight: 11.58 kg (25.5 lbs) w/o pegs