Garrett Reynolds Remix 2017. Hot damn…
Garrett can do whatever he wants on a bike. Case in point, above. Some of the most mind-melting street moves ever done are thanks to this guy. The unstoppable street lord.
This Garrett Reynolds Remix video is a tidy montage of his best footage from last year, cut together into an absolutely savage edit just shy of three minutes.
After watching it a few times, we caught up with Cinema BMX filmer / team manager Will Stroud about filming with Garrett.
---
– How much footage did you stack with Garrett last year?
WS: "Garrett went on two Cinema trips in 2017, District of Cinema & Cinema is Fiending SoCal tour. He managed to stack a pretty absurd amount clips on both trips. I lost count of exactly how many tricks, but it's a lot. Especially if you count all the skatepark clips he got on the SoCal tour. We hit 5 skateparks on that trip and he was always excited to ride with kids, throw out product and grab the mic to hype up the crowd.
"He's one of the most unreal bike riders on the planet and one of the most innovative riders of all time."
It also helped that Tony Ennis came on the SoCal trip as a filmer so we had solid double angles on some of Garrett's best stuff which makes a big difference. And on the DC trip both Nathan, Dak and Harley Haskett were helping film 2nd & 3rd camera as well. Those guys are all great at filming so it helps a ton."
– Do you have a favourite clip?
"That's a hard question. I don't think I have a favorite particular clip of Garrett to be honest. I enjoy all of his riding pretty much equally. I know that sounds a bit cliche but he's one of the most unreal bike riders on the planet and one of the most innovative riders of all time."
---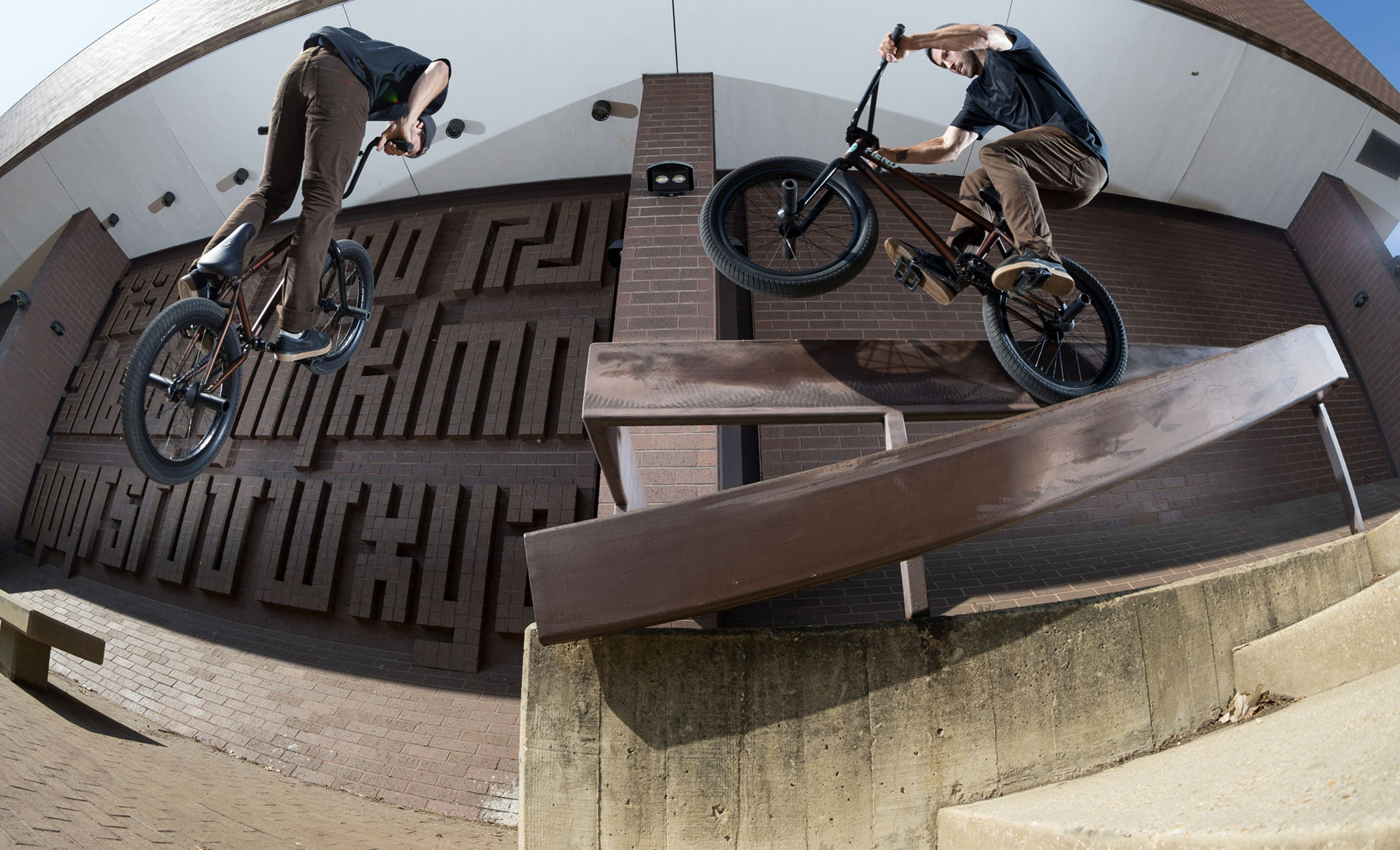 ---
– What's it like filming with Garrett?
"Filming with Garrett is always fun, he's super motivated to ride, spot hunt or pick up a camera and film 2nd angle when he's not riding and overall a positive guy to have on trips. Garrett has loved riding and filming for so long and always motivating the crew to go check out some spot he knows about down the street and around the corner. I've been filming with Garrett a long time now. At spots he's always calm, collected and patient even before he's about to try an insane NBD or a line full of really hard tricks. He's been working with filmers and photographers for a long time and knows the drill with being patient, handling security guards, getting his trick then moving on and not looking for a fight. Most importantly, he's a respectful and humble human being and doesn't take himself too seriously.
We went on some rad overseas Nike trips back in the day before he was on Cinema and that's when we got to know each other pretty well. Garrett was still in high school and I actually filmed his graduation for that reality show him and Dennis had on MTV. Before that in early 2000s I passed through Toms River & Lakewood, New Jersey on trips and Garrett was the scrawny little 13 year old grom shredding at the Incline Club and growing into his bike. Around that time Garrett & his dad would drive to comps all around the east coast and midwest and he was progressing and starting to win the AM comps. I remember he rode really well at a contest at the Flow in Columbus, Ohio summer of 2004. That was the Jamie Bestwick Good Times comp at the first Flow skatepark location that was huge and awesome. I'm pretty sure Garrett won the AM comp that year. Fast forward to 2010 when Cinema first became a brand, Garrett was one the original roster of team dudes and I've gotten to be his TM and filmer for Cinema ever since and we've gotten to do some awesome trips together.
"Most importantly, he's a respectful and humble human being and doesn't take himself too seriously."
He's one of the best to ever do it but one of the most down to earth people you'll ever meet. Garrett doesn't like trophies either. All of his NORA Cups and X-Games medals are in his closet or his mom's attic somewhere. While most people would love to flaunt all their glory to the world Garrett likes living a quiet life with Nicole and his dogs when he's not riding, traveling or helping run Fiend which is awesome to see too."
– Which clip/s did he have to work the hardest for?
"I'd honestly have to think really hard about that one. Most of the time Garrett will pull his tricks within 1-3 tries. If it takes more than 3 tries then Garrett will usually get his trick by the 5th try. He's one of the most consistent riders in the world and knows what he's capable of. There are very few times that I remember Garrett giving up on a trick over the years of filming with him."
– Which clips came easier?
"Again, Garrett's consistency proves that he can normally land some of the hardest NBDs within a few tries. I hate to not give specific examples but sometimes Garrett pulls really hard tricks first try and often times it's hard for filmers and photographers to document properly without knowing how a trick is going to look. I've definitely messed up a few important shots of Garrett when he pulls something gnarly first try and I had my speed or framing wrong. Usually when this happens, I hang my head down for a few seconds then politely tell Garrett I fucked up the filming and ask if he can maybe try again… Garrett never gets mad when this happens, he just shrugs it off and does it again like a boss."
– The District of Cinema video was one of the best edits of 2017. You got any big team trips coming up this year?
"Wow, thank you! The DC trip was really fun and it was the first time we got the whole Cinema team together on a trip in about 7 years so it was long overdue. We are aiming to so several Cinema trips this year, the first one being Denver in late May with the whole team. Then we have a few smaller east coast trips planned for the summer with a few of the team guys.
"We have a lot of signature parts coming out for the Cinema team guys in 2018 so we'll be filming product promos throughout the year…"
We are planning to host a Cinema AM contest at Le Taz in Montreal later this year too and still working out details. We have a lot of signature parts coming out for the team guys in 2018 so we'll be doing several product promos throughout the year as well. Filming trips with the Cinema squad is the best. They're all amazing individuals on and off the bikes."
– What other plans do you have this year? Any other projects?
"Along with managing and filming the Cinema team, I'm helping edit some leftover bonus content from etnies Chapters that will be dropping throughout 2018. I'm also partnering with Worm App to create some original content that will be dropping soon too."
---