South west England has some fine riders, with healthy BMX scenes dotted around and a few great shops supporting them.  In Exeter, the OTG Crew and The Boarding House tick those boxes respectively!
Josh Andrews got in touch and sent this photo gallery from the crew's recent escape to Alicante, featuring Harry Mills Wakley, Jamie Skinner and some more good humans.  Check it!
---
Q&A with Josh Andrews
– Tell us about the trip, where did you stay, how long, who was there, what was the weather like?
We booked a random trip to Alicante with just a few of us.  Myself, Tom Butland, Jamie Skinner, Harry Mills Wakely, Connor Danzelman and Elliot Folland, they met us out there a few days later.  We booked a small apartment for a week and got surprisingly lucky with the weather in March, only one small shower and brilliant sunny days.  So the riding buzz was at a high all trip.
– Did you find many good spots in Alicante?
There are a lot of good spots in Alicante, some days we didn't get much luck but there were a few spots that we rode a few times, especially a triple ledge spot and death ledge down on the sea front.  Surprisingly the only bust of the whole trip was the death ledge.  The carnival guys were not too happy with that one.
– What were the highlights of the trip?
The whole trip was amazing for me as it was my first overseas riding trip and my first trip with my camera.  But I think for me the steep bank and roof spot were just perfect spots right on the seafront with the sunset.  Just surreal.
---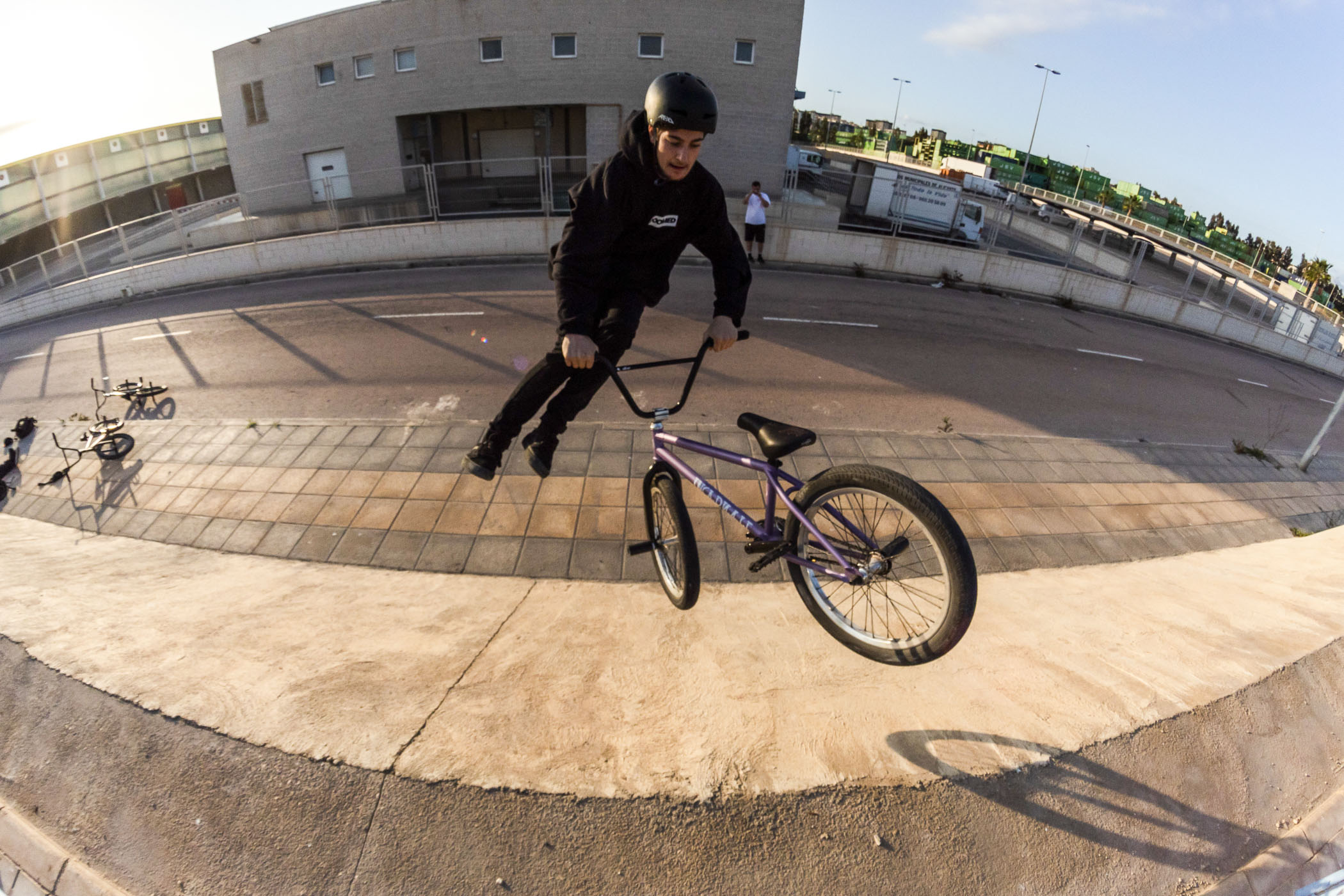 ---
– What were the low points?
One of the only low points of the trip was Elliot being shut down by security at the death ledge spot being so close to landing an absolute banger.  But we cant forget the day we rode into the hotel/holiday area and found nothing but tower block hotels for miles…
"The riding buzz was at a high all trip"
– Which is your favourite photo?
I really like the shot of Jamie's barspin fakie, but that's personal to me as the timing was good (especially for me) and the location was just one of my favourite riding spots to date.
– Are you planning any more trips?
Yes, definitely! After the release of the OTG DVD last June, we have been taking a break from filming due to the past 3 years being so hectic. I was out for half of that due to injury anyway.  So right now I am driven and ready to film.  A lot more trips will be coming our way I am sure of it. 
We just need to get Cookie Jam 2019 out of the way first as its the 10th anniversary this year, so it's gonna be a big one!
---