This months amazing prize is a KHE Machete Lt complete bike, and with a retail value of £500 the lucky winner could indeed list the item on eBay and get a nice big Cash Roll.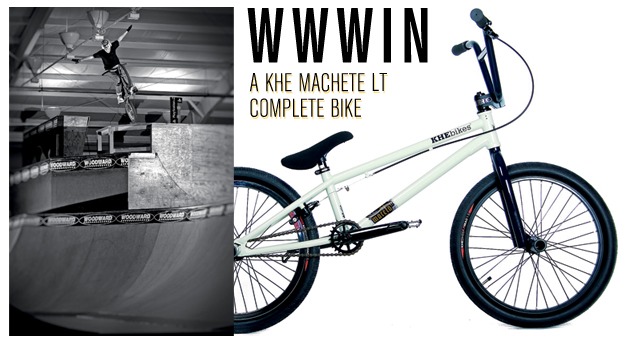 MACHETE LT SPEC: Frame Full CrMo, Part Geo., 20.5 top tube Fork CrMo double butted Bars CrMo, 2 peice, multi butted, 8″ rise Grips x2, both very hard Stem KHE Affix Cranks Prism light, 3-pc, CrMo, Affix Bush BB Pedals Wellgo PVC Sprocket 25t Seat & Post KHE Pluma combo Seat clamp Small Hubs 36h seadled front, 36h KHE Radio rear, 9t Rims KHE Easy-V front, KHE Easy-O rear, 36h Tyres MAC 1.5 Street Brakes 2 Pegs KH Alcemy (Plastic) Weight 10.8kg / 23.8lbs SRP £499.99
To WWWIN this amazing prize, all you have to do is answer the simple question below. When posting your answer in the comments, make sure to put your full name and email address so we can contact you afterwards.
Q. Last year Daniel Dhers pulled the first ever 360 frontflip. What name did he give the trick?
A: Sausage Roll
B: Death Roll
C: Cash Roll
D: Rock n Roll