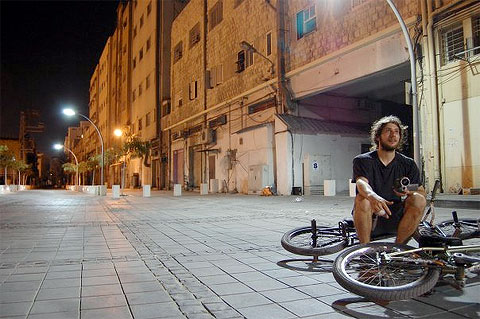 Israel isn't a name you'd associate with BMX riding, nor is it a place you've probably ever thought about going unless you're either Jewish or have an interest in ancient history. But right now, BMX in Israel is thriving. The street spots are epic, the weather is perfect and it's not nearly as treacherous as the media will lead you to believe. We spoke to Itamar Bavli, and Israeli rider who's very active in the riding scene, riding, filming videos and working part time at the BMX shop in Tel Aviv; Night Rider. Here is what he had to say…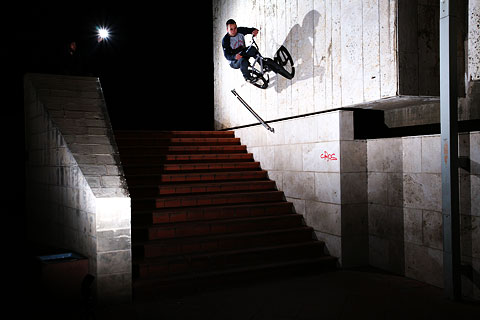 Open Gallery
10 Images
Who are you and where do you live?
Itamar Bavli, 26 years old. I live in Holon, Israel. About 15 minutes bike ride from Tel-Aviv.
How big is BMX in Israel?
BMX in Israel is pretty small but it growing. It started getting bgigger in the past 5 years. In Tel-Aviv area you always find some kids riding the local spots…
Do you have a local BMX shop?
We got local BMX shop, its my friend's Tal shop. (www.israelbmx.co.il) it's also called Night Rider. but everybody call it Tal's shop. I work there part time. It started five years ago, really small. but now we carry S&M, PRIMO, Odyssey, Tree, Fit, ANIMAL, We The People, Sunday…etc..
What is there to ride?
Israel = street riding! Bunch of street spots everywhere. I ride Tel-Aviv everyday. and I keep finding stuff, same for other big cities, there is alot to ride! There is a nice concrete skatepark in Tel-aviv as well. It's rideable during the day but in the afternoon a guard will come and wont let you ride because its skateboarding only thing. But in the mornings you can ride as much as you want. If you like riding through heavy traffic and lots of people while hanging out in the streets you should come to Tel-Aviv.
Do many foreigners come to ride?
Not many foreigners are coming to ride here, I think this is for 2 main reasons…
1. All the Palastines-Israel conflict scares people.
2. Nobody thinks about Israel as a riding place.
About a year ago the Animal guys, Tom White, Nigel Sylvester and Dave Belcher along with Chester Blacksmith and Rob Dolecki came here. It was great!
We've all heard alot about Israel and Gaza on the news recently, what's the deal?
The deal in Gaza its that there are two different kinds of people living in this area and everybody thinks they own the land…(something like this) Hamas fires rockets to the near by cities near Gaza, then the Israeli army takes action… It goes on like that. Last month it was massive attacks from both sides…now it's over. To tell you the truth, I didnt feel it while I was riding in Tel-Aviv but it was all over the news all day.
Does the 'boycott Israel' propaganda bother you?
The "boycott" Israel little bit bothers me, but not really. I guess people needs to deal with something, and now they are dealing with Israel. When they find something else they will deal with that. The only thing that bothers me is that people see whats going on all over the news, and think bad things abouit what's going on here… Riders will not want to come to ride Israel beacuse all the media is showing bad stuff…
How accessible is Israel to visit for foreigners?
Israel is prettey easy for foreigners, if some riders come to visit we will try to hook them up with place to stay, but, in Tel-Aviv there are some hostels, not very expensive. Food is not very expensive either. no public transportation needed if you coming with your bike. Jerusalem you will need a car to cruise around as the city and spots are more spread out there.
Who do you ride shoot photos and film with?
I ride with my friends: Refal "Bamba" Sayag (21), Guy "Punko" Penkenski(21), Tal Naon(23), Tal Maza(29)r. The guy that took the photos is Ran Ladin(19). It was the first time we were taking pictures with better equipment. For filming we just filim each other with some simple camcorder. I really want to get a better camera. Some 3CCD like the Sony VX-2100.
Where can we see footage of your crew/spots?
some links –
http://www.vimeo.com/2269001
http://www.vimeo.com/2521467
http://www.vimeo.com/2333294
http://www.vimeo.com/2141427