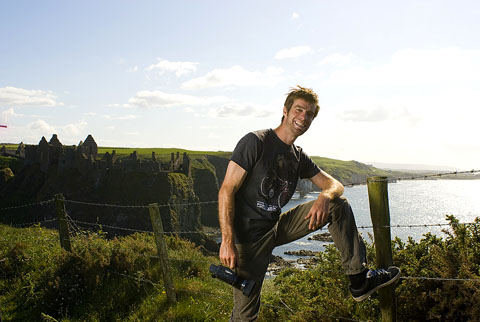 Photo by Nathan Beddows
Peter Adam is a name most people will recognize from the Federal team many moons ago. These days Peter spends his time working on and off for long periods of time to enable him to go traveling. He's spent the last couple of years filming for his first DVD release,  The Emerald BMX video. It covers Northern and the Republic of Ireland. Peter has always done his best to promote his homeland and this is his biggest prject to date. We asked him a few questions and this is what he said…
Peter, what have you been up to for the past couple of years?
It's always quite hard to sum up two years of your life in a few sentences…..I've been working part time as a postman to pay the bills, spent a lovely three months in Hawaii, (you can check out the video at mpora) Went on another wee trip to Mexico the end of last year and obviously riding loads and working hard on getting this video done!
Why Ireland?
Do you mean why do I live here?  Well I was born here and although it's pretty easy to slag off where you live it's really what you make of it.  I've loads of good friends here, my familys here and as far as riding goes there's tons of street spots hidden away in estates and small towns, there's two indoor parks in Belfast and there seems to be new concrete parks popping up all over the south!  Ireland really doesn't get any exposure and I hope this video highlights some of the terrain and talent here.
Which riders are in the video?
This is just going to be a random list of names to anyone reading this but they've all been riding for years and know how to shred!!  There's me (Peter Adam), John McVea, Matt Gillispie, Andrew Ryder, Derek Johnson, Michael/Chris Sharpe, Luke Godson and John Wells.  In the friends section there's a few names that feature pretty heavily that you might have heard of like Donnacha Carroll and Jason Phelan.
What sort of riding is it?
It's all street!  Well there's a few park clips in Dereks section, but he did help design the park, so yeah 99% street from all around Ireland and a sprinkling of street clips from some of the riders travels….
Have you been filming in the North and the Republic?
Yeah, I mean to be honest a lot of the video was filmed in Northern Ireland because that's where I live and with work it was difficult to get time off work to travel all round the country, I mean Irelands a little bigger than people think.  I did take quite a few trips down to Dublin and to some of the bigger towns around there and also took trips round the north most weekends.
Have you got yourself into any bad situations?
Nothing out of the ordinary, I mean some of the estates round Belfast are rough as f@*k and most of them have the added element of whether your protestant or catholic mixed in. More than a few times rocks and bottles where thrown at us but I grew up here and you learn where to set your bag, how to talk to the locals and most importantly when to get out of there!  In most of the small towns it's like stepping back in time, people don't know what BMX is and it's always pretty cool riding virgin spots, putting the first marks on an old wall or rail.
How long has it taken to edit up and what sort of tunes will you be using?
It's pretty crazy to think that I've been filming for two years, but I wasn't going to put out a video I wasn't happy with so I kept filming until there was enough good footage.  It took quite a while to edit too, maybe around three months.  I'd think I'd finished a section then I'd get a tape of footage sent and have to re-shuffle the whole section again, but it all worked out in the end, some of the clips where filmed less than a week before I sent it off to the duplicators.  The titles are a little special too, don't worry I didn't get too arty farty, there all quick and snappy.  They where all done in real life, not on the computer I think they add character to the video. As far as music goes I picked whatever song fitted the riders style, I went back to some sections and edited them over and over again until I got the right song, some of the artists include, The Undertones, Rory Gallagher, Devo, Tears for Fears, Neil Young, Moving units and Belle and Sebestian
Now what?!
Sit back and let the money roll in!!  No I'm not stupid, web videos killed dvd's but I've always wanted to produce a dvd.  I still think there's something special about dvd's that disposable web sections will never have.  You can watch it anytime before a sesh with the boys on the TV in your living room and it won't disappear into cyber space.  I love watching old videos from my collection and I know I'll still love watching this video ten years down the line…..Other than that I'm going to work hard over summer, maybe work on doing an "Emerald" trip round Ireland and hopefully have enough money saved to get away a bit next winter…
Check out the trailer.
This is the cover to look out for, Paypal link to buy is below and it is also being distributed through 4Down.