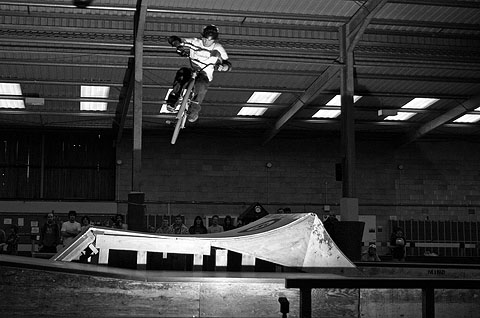 We were only out for 20 mins or so but they where amazing, I felt so cool just to be able to ride down the street. I wanted to hop some curbs but didn't want to push it so we decided to wait abit for stunts but I was making progress.
A couple of months had passed since my accident and I went for my first ride at Stratford Skatepark, I began to think I could make the Relax Jam. I still had no license but I could get a lift.
Then I lost a close friend, he took his own life that set me back again.
The Relax Jam came round and I was sitting on the deck when I heard my name called out… this was it, everything I had been working towards, I knew my run like the back of my hand and it all went according to plan, I had done it! The whirlwind of emotions I went through that day and then to cap it all off when the results where announced I had won! I was so ecstatic, I shed a few private tears in the arms of Fi. It was like a movie and this was my Hollywood ending!
I had deferred my university place for a year and after my accident it motivated me to go and do it. The accident changed me and now I expected more of myself. You see I had been given a second chance at life and I wanted to make the most it.
I had to do a fields of vision test to get my driving license back and have an accompanying letter from my consultant declaring he believed I was safe to return behind the wheel. I had to sit with my head in a big dome looking forwards and buzz a buzzer when I saw lights appear. I passed that and was back on the road!
All this and we are still only in 2003 – what year.
2004 and I'm still taking over 20 tablets a day but I'm at uni in Falmouth, Cornwall. Living on my own is defiantly helping regain my independence. I wasn't able to drink due to the medication so I missed a lot of the freshers parties but I was alive! All good!
2005 and after successfully weaning myself off my medication. I was still at uni and riding harder than ever. I got invited to ride at Urban Games and was stoked to be the only rider to hit up the big rail and placed 14th. Awesome. However Christmas and the New Year period always seemed to bring some drama. I was at a party with the guys and one of my mates got punched in the face so me I being me stepped in to sort it out and proceeded to be beaten around the head with a cast iron kettle. Another Christmas and back in hospital. I had to have my head glued back together and some cosmetic work at the dentist but once again I had survived!
2006 and im in my final year at Uni. Since my accident I have had to rely on so many people for so much and I have an overwhelming need to give and to do good things for others, its my way of saying thanks and enjoying life. So for my final project I single handily organised a bmx event for the whole community called the Love Metal Jam. The jam was a huge success and the accompanying documentary saw me shortlisted for the Royal Television Society Student Film Awards. I left uni with a 2.1 (missed a 1st by a few marks, gutted) and went to Australia with fi for over 3 months. I bought a bike out there and got to ride some amazing street and parks, even hooked up with Will Jackson for a couple of session in Melbourne. He's a shredder! Whilst in Oz on bike ride in St Kilda with fi I asked her to marry me and she said yes, could it get any better! We then returned to the uk and its that dreaded Christmas / new year period and true to form cue the drama! I had only been back 2 weeks and it was the Epic tag team bowl Jam and I broke my leg trying to bars back in of a peg stall on top of the vert wall extension. I was then sacked from my job, so with a broken leg I went to the job centre to claim benefits and I was nearly deported! I had to prove I was English, this could only happen to me!
2007 and I'm now the manger of Redditch Skatepark and Redditch Wheels project Co-ordinator. I organised numerous events whilst working there and sourced 5 bikes from Mirra Co so I could teach the local youth groups how to ride a bmx. Still wanting to give more I organised the Redditch Stunt Series, a weekly comp in different parts of the park over the summer holidays for the kids. This was a great success and got a lot youngsters off the street and gave them a focus through cycling. I had been filming throughout uni and this continued when I left and in 2007 I edited, produced, marketed and released a dvd called UNSUNG. I secured 25 stockists nationwide and copies have been dispatched all over the globe. The riders in the dvd have all helped me to get closer to turning my dreams into reality and I just wanted to say thanks to them and show the world how rad they are! As well as give the guys a little something for their memoirs so that when we are old we can look back at the good ol' days. You see I had to rely on photos and videos to help me re learn a lot so things that you can keep like this are important to me.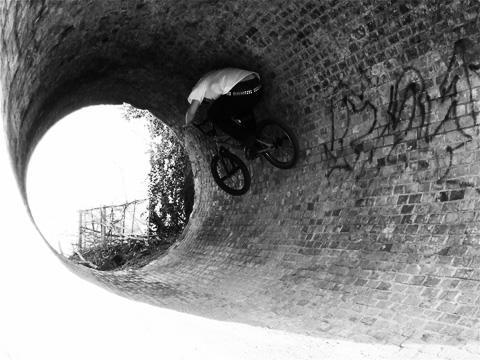 2008 and im still selling unsung as it was only released just before Xmas. To date I have sold over 850. I married Fi over the summer, we had a hand fasting ceremony at Tipi site in Hereford which we hired out for the weekend, good times. I am also currently filming for the next dvd which is going to be called WHAT NEXT ?? It should be out for Halloween 2009. I was  super stoked to get hooked up by Diamondback earlier this year as I always wanted a DB Joker growing up but couldn't afford one!
If the article convinces just one rider to wear a helmet then its totally worth it as I would hate for a fellow rider to have to go through what I have…
-Nik Ford