Continued from 'The Day I Died – Part 1'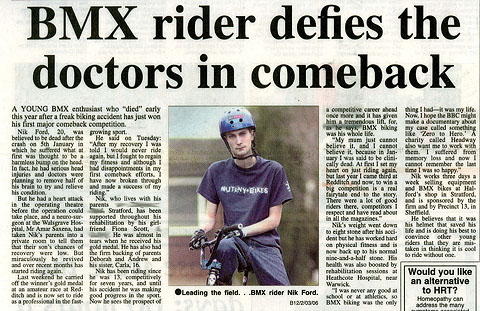 A second newspaper cutting from after Nik's accident
Nik had died for three and half-hours but by some miracle he had been given a second chance at life. The consultants could offer no medical reasons for Nik still being alive.
Nik's family were then called together and the consultant said that Nik had been given a second chance and it was now up to him whether he decided to take it. The consultant also said that it was a slim chance that Nik would survive, it could still go either way. Nik was still very critically ill. The consultant then touched wood and said he would pray for us.
For the rest of that week Nik was given his medication and was monitored very closely. Family and friends visited him daily, talked to him and willed him to pull through.
Saturday 18th January 2003
Nik's consultant said that the only way we would know Nik's state of health and the extent of the damage to his brain was to wake him up. A day or so previous to this Nik had been given a tracheotomy, which was a tube inserted into his windpipe to help him breath with the ventilator. It was not advisable to wake Nik up with the tube in Nik's mouth, as he would most likely panic causing the pressure inside Nik's head to rocket. To wake Nik all of the drugs that were sedating and paralyzing him were removed slowly. As the day progressed Nik began to twitch and have slight movement in the left had side of his body.
The following day Nik began to regain more movement in his body. He was still attached to the ventilator, being intravenously fed and had several drugs continuously being pumped into his veins.
As the week continued it was found that Nik could breath for himself, he only needed the ventilator for back up. Most of his medication was removed although he still needed to be intravenously fed. The next day Nik was taken off his ventilator. He was still given oxygen through a mask to help him breath, but he was breathing totally by himself.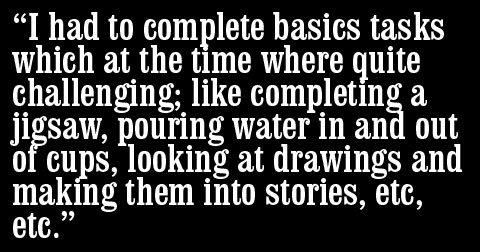 Sunday 26th January 2003
Nik was transferred to HDU, a high dependency unit. Prior to leaving ITU, Nik's family had been told that he would need two to three months in a hospital ward and then he would spend some time at a Rehab Centre before returning home. Whilst in HDU Nik's movements continued to grow in strength and frequency, he was now conscious but could not talk as the tracheotomy prevented him from doing this. We could however communicate through squeezing of hands.
He was then transferred to a larger HDU where Nik continued to improve. Whilst on this ward he pointed at a drink and was then given build up juices to drink. He was able to respond to requests and information, but he was still unable to speak.
From HDU Nik was transferred to step down. He was given a nebulizer to keep his chest clear and at long last the tracheotomy was removed and he slowly started to use his voice again, his speech was normal. Nik continued to have the build up juices and even started to try a little food, this proved a problem though, as everything was tasteless.
Wednesday 29th January 2003
Nik was transferred to a normal neurosurgical ward. Nik's progress on this ward continued to be remarkable. He undertook regular Physio and started to walk around, a little unsteady at first. However Nik's eating was becoming a real problem, everything tasted horrible to him and as his weight had drooped to eight stone there was talk of returning him to his feed tube. Nik was also having problems controlling his language and had frequent outbursts due to his frustration.
However by the Sunday of that week Nik's eating had improved enough and he was started to have a little more energy and concentration. He had learnt how to control his language and was continually asking to be discharged from the hospital. On that evening the ward sister advised Nik's parents that it would be a long tough road ahead.
Nik asked us to tell him all about why he was in hospital and the events that had led up to his admission to the Walsgrave. His Dad started the account and the rest of the family joined in, he was bewildered by what he heard.
On the Monday the hospital staff decided Nik needed to be fitted with a heart monitor, as his heart rate was still high. The twenty-four hour trace would determine what action if any needed to be taken. The following day he had the heart monitor attached, it was a small electronic device worn around the neck with various wires attached to Nik's chest. Throughout the day he had to record anything he did so if the heart rate went up at a certain time the doctors could determine whether it was due to irregularities in the heart or just Nik's activities. By this time Nik could walk to the shop and the smoking room and was very bored at the hospital. The following day the heart monitor was removed and the reading showed that there were no irregularities in Nik's heart, he just has a fast heart rate, which was probably the case before the accident.
Thursday 6th February 2003
Nik had made tremendous progress and it was decided that he could be discharged and sent home. The doctor met with us and answered all of our questions and concerns. He showed us Nik's brain scans from the initial one to the most recent, it was incredible from the severe bruising and bleeding on the first scan the latest one was clear and we were told by the doctor that there was no significant damage to Nik's brain, it was miracle. He had medication to take and would have a check up with the consultant in 6 weeks.
So that evening after collecting Nik's medication and thanking the staff for all of their help and support we took Nik home.
———————————————-
So that's my time in hospital, pretty crazy hey? I had no idea what I had been through but now I was back at home and I could start trying to get my life back on track but this was when for me the hard work really started. I was 19 years old and didn't have clue about anything!
My memory of the events from before my accident is hazy, it took me a long time and much patience from my friends and family to fill in the gaps. I have no sense of smell either and my use of bad language was shocking.
The one thing I did know was that I wasn't a quitter and I wanted to ride again. Having placed 3rd at the Redditch Relax Jam in 2002 I set my recovery date as the next Relax Jam so I could try and improve on my result. This didn't go down to well with the guys at Rehab and my family weren't that keen on the idea either but I needed something to focus on. I think everyone thought I was crazy as there was no way I was going to be well enough to even get there let alone enter. However with Fi's love and support and my new determination I thought there was a chance. This only gave me about 6 months though and I knew in my heart of hearts I was going to be pushing it but as they say he who dares…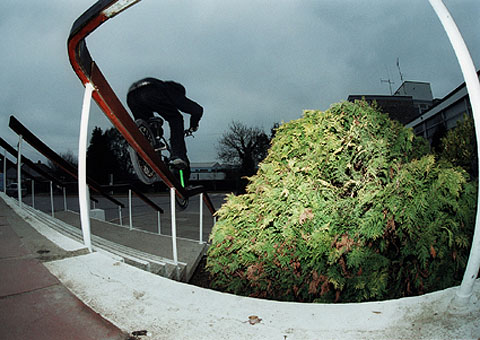 Then my granddad lost his fight against Alzheimers. This was a major set back for me.
My driving license had been taken off me so I was house bound but that was looking back a good thing as I was still really ill and I think the wind would have blown me over if I went outside!
My girlfriend at the time Fiona (who is now my wife) was really supportive of me wanting to ride my bike again even though the doctors had warned me not too. The problem was I was incredibly weak, my weight had dropped below 8 stone and my balance and co-ordination wasn't as it should be.

I began attending sessions at the Heathcote Rehab Centre where I would meet with an occupational therapist. I had to complete basics tasks which at the time where quite challenging like completing a jigsaw, pouring water in and out of cups, looking at drawings and making them into stories, etc, etc. I guess to check I wasn't to disturbed, well no more than before! I even got to make a wire coat hanger as one of my exercises!
Fi devised me an exercise chart so I could work on getting my fitness back. I couldn't even do one press up so we set up as the chart 1 press up, 1 sit up for a week and then gradually increased them. I also started going on short walks with the people that would come and visit, but not to anywhere busy as I still hadn't got my head around the whole crowded environment scenario. As my muscles and co-ordination started to redevelop I was treated to an escorted bike ride round the block by Fi, this was about to be a massive milestone, I was so excited to try as I had sat on my bike a few times in the garage while my folks were out! I fully padded myself up, just in case and the feelings that were running through me where immense. I opened the garage door, steadied myself and rolled down the drive, I was riding my bike again!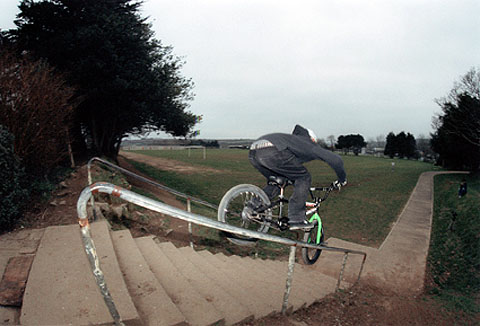 Steep fourteen step rail…