To sum up the last 6 years of my life is gonna take some doing my friend so I suggest you make yourself a drink, get some snacks, settle down and have a read!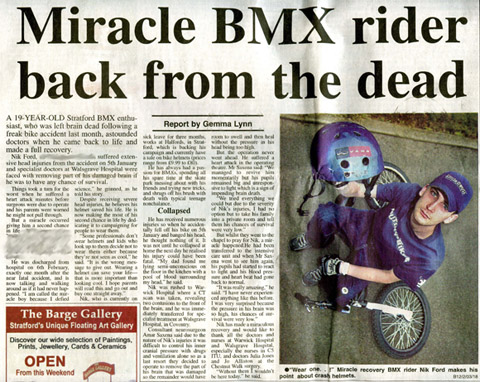 Newspaper cutting from after the accident…
It all starts on a typical Sunday out riding, now bare in my mind its Sunday 5th January so I'm going to be riding indoors. We packed up the cars and headed off to Epic Skatepark, it was a pretty good session. Well I bailed a few times 180 tire grabbing the big spine but shrugged it off as I did pull some dialled ones. It's the next morning when things took a turn for the worse.
I don't actually remember what happened next and below is how my wife and family recall the events of my time in hospital – Nik Ford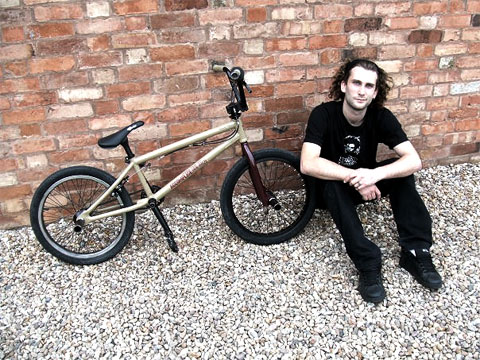 Nik Ford and steed…
Words by my wife and family;
Monday 6th January 2003
After a poor nights sleep Nik came downstairs for a cigarette and a glass of juice. Prior to that he had complained of feeling unwell. The next thing we heard was an enormous crash, we assume Nik had a blackout, as when Nik's Dad came into the kitchen he found Nik lying on the floor semi-unconscious, a pool of blood surrounding his head. His Dad shouted to his Sister to phone for an ambulance. The ambulance crew arrived and after examining Nik decided to take him to Warwick A+E to have his head stitched.
On arrival at the hospital the doctor who examined Nik said his behaviour wasn't normal for a typical nineteen-year-old with a head injury. By this time Nik was very disorientated and confused. The doctor suspected Nik had meningitis and treated him immediately for the bacterial form. As a precaution he suggested Nik have a CT scan of the brain. The scan revealed two contusions to the front of the brain. It was not meningitis but a serious head injury. The scans were faxed over to the specialist's in neuroscience at the Walsgrave Hospital in Coventry for their advice on Nik's condition. Nik continued to deteriorate and was moved into resuscitation and his family were taken to the relative's room. The surgeons at the Walsgrave telephoned the A+E doctors and told them to have Nik sent over in an ambulance as soon as possible.
On arrival at the Walsgrave Nik was examined and admitted to the specialist neuro ward and examined by various doctors. It was decided by these doctors that the fall in the kitchen had nothing to do with the bruising on the front of Nik's brain, the fall was an after effect of the contusions on the brain. The contusions had been caused by a fall off his BMX. Even though Nik always wears a helmet when he rides, it is still possible to do an incredible amount of damage, but wearing that helmet saved his life.
Nik was put on oxygen, an intravenous drip and put in a head collar. He failed to improve that day and the following morning. After another CT scan Nik lost consciousness and was taken into Intensive care (ITU).
The doctors and nurses in ITU spent over five hours attaching Nik to Various tubes, machines, drugs and a ventilator to monitor his progress. He was totally sedated and paralysed so this is why he has no recollection of any events. They also inserted a 'bolt', which is a sensor into Nik's brain to measure the pressure inside his head. In a normal persons head the pressure in between 1 and 10, Nik's peaked at 80! The increased pressure in Nik's head was due to the swelling of Nik's brain from the contusions (bruising). We where allowed to see Nik in ITU and then went home for the night. We continued to visit Nik in ITU daily where the doctors and nurses struggled to control Nik's ICP (inter-cranial pressure), the pressure inside his head.
Over that week Nik's condition failed to improve and as a last resort the consultant decided to operate to remove the part of Nik's brain that was damaged so the remainder would have room to swell and then heal, without the pressure in his head being to high.

Monday 13th January 2003
We received a telephone call early in the morning saying that Nik was being taken down to theatre. About forty minutes later we received another phone call saying that Nik had suffered a cardiac arrest, a heart attack. We were told to get to the hospital as fast as we could. When we arrived at the hospital we were meet by the consultant outside the operating theatre. We were taken into a private room and told that Nik had suffered a heart attack and his pupils had blown, this meant that Nik was brain dead. He was to be transferred back to ITU and as the consultant put it, we had to let nature take its course. Nik would die within a few hours. The consultant also said that he had a difficult question to ask us, he asked about having Nik's organs for donation. We agreed to this as we knew it was what Nik wanted, to help others after he had gone.
After an hour or so we were allowed to see Nik in ITU, he was still on a ventilator which was keeping his body alive but they had removed all other tubes and all his drugs. Later another doctor came to see us and said that it would be cruel to resuscitate Nik in the event of another cardiac arrest, so we agreed to this.
Strangely enough about two weeks prior to 6th January Nik had talked openly about the arrangements he wanted for his funeral. Those attending were to wear white for example. As we sat surrounding Nik saying goodbye we all decided to abide by his wishes. Nik's parents also decided to play David Grays 'Meet Me On The Other Side', as the song was playing on the radio when the consultant had telephoned to say Nik wouldn't make it.
Nik's parents then went to the chapel to pray for Nik. Whilst in the chapel a major event was occurring in ITU. When Nik's nurse was washing him she noticed a reaction in his pupils. Thinking she was seeing what she wanted to believe she called another nurse over to check, she confirmed that there was a reaction. An ITU doctor was bleeped and the consultant was immediately called. They both confirmed that his pupils were reacting and requested that all of his drugs were recommenced and that Nik was monitored closely…
CHECK BACK TOMORROW FOR PART TWO OF THE STORY…