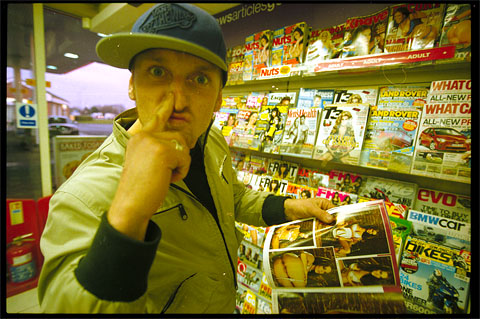 Ben Hennon is easily one of the most controversial riders to come out of the UK. Ben's cockiness in his early years on the contest circuit really got under peoples skin. He was talked about by everyone, usually for the way he conducted himself at a contest, along with some of the ways in which he responded to people.
Ben even had a habit of flipping off the crowd with two fingers after he'd done something amazing on a bike, which obviously pissed them off. Why would he do that? What causes someone to not fit into a scene to such an extent? I was guilty of believing in the Ben Hennon hype as well. Just the same as most of the industry, I just couldn't understand him. He just wasn't a BMXer.
Times changes, and over the past two years I've found myself in Ben's company more than enough times to get to know him. He isn't a regular BMXer, he's a guy who likes to have a good time on his bike. There is a difference. That is the key.  To most of us, the thought of not checking the internet everyday for news is alien, but it's something that Ben's never felt the need to do.
At the end of February, myself and Sebastian Keep drove up to Ben's hometown of Crook in the North East and spent a few days staying with Ben and his Dad.
I never thought I would say this, but Ben Hennon is one of the most inspiring BMX riders involved in BMX today. Before you dismiss that insane statement, just read what he has to say…
Ride: How long have you been riding and when did you start?
I've been riding for about eight, nine years now. I started riding at a little shitty metal park, with my friends.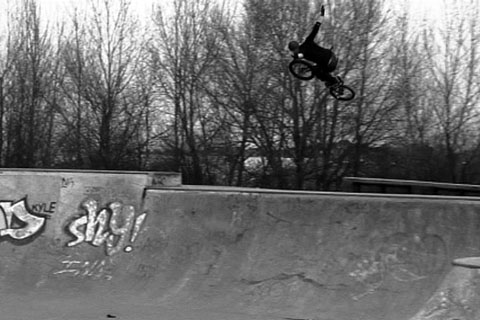 No hander at Silksworth concrete park
How did you start getting involved in contests?
I went to the Urban Games with a friend when I was fifteen. I saw all the guys riding, and there was an amateur contest going on. I thought 'I'll go back next year, and ride the amateur contest'. So I did and there wasn't one, there was only pro, so I entered that and got second. It was a good contest.
So when did you get sponsored by Felt?
I got sponsored by Felt after that contest. A guy just came over and asked us when we were getting in the car.
Was that your first sponsor?
No. I was sponsored by Etnies first, at the backyard jam.
You've been subjected to quite a few rumors haven't you? What's the best rumor you've heard about yourself?
The myth about me and my dad doing a girl together in Portugal, it's not true.
Bas: How many years has it been since that rumor come out, and he's just quashed it, finally.
Ben's Dad: The best thing about it, is the opportunity was there wasn't it? She was lying between the pair of us like.  Yeah, if it had been anybody else but him, she'd have f*cking got the c**t like, but it's just too weird with your kid there you know.
You've ruined that rumor for me now! I was hoping it was true! So you both travel a lot together to contests and stuff, I rarely see you apart.
Ben's Dad: Well all the contests in England, there aren't any these days, but we use to go to them all, like everywhere. I'm going to go to FISE this year and I'll go to Italy as well.
Ben: I'm going to take him to a couple of T-Mobiles as well.
Ben's Dad: It's great. We went over to Prague last year, and that was awesome, the contest over there. We were treated like kings.
You have quite a different relationship than most kids have with their dads.
I dunno, I don't suppose we're hardly any different because I've been with him every day of the year, all my life, no matter what I do; work, seeing friends, going out, he's always been there.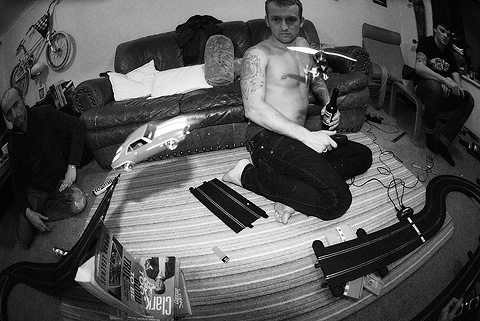 Ben's Dad, Ben and friend Harry messing around at home…
Don't you get sick of each other?
Ben's Dad: No cos, I mean we're not great talkers We don't talk a lot to each other or anything, we just get on.
Ben: We don't open our hearts to each other. We don't need to cos we know what each other thinks.
Bas: I always loved it at the Backyard Jam, in finals you'd always drop in and I'd look over to your dad and he was like, "Go on, go on son!" and you'd be absolutely having it and he'd be like, "Go on son!".
Ben: Aye, he's my main motivation in BMX, it's my dad for definite.
Ben's Dad: I enjoy watching them, I get a real thrill out of it you know, so it's not like going places has ever been a problem for me. I like travelling, and meeting loads of different people. You usually find that they're all really nice people. We're usually the worse among them! [laughter]
When did you start riding for Felt?
Ben: Felt wasn't a good company, I had eight frames and fourteen pairs of forks in one year.
Ben's Dad: The team manager's manager turned up at the Urban Games, the year after he'd signed him up, to find out where all the bike parts had gone. You know, every week we needed a new pair of forks. It just happened to be the same time his interview came out in Ride magazine, so you'd open a page up and there was a picture of Ben doing a turndown, with a Felt cap on, and T-shirt, on his bike, in a twelve page spread, and there was no problem. Then he saw him ride and he was like, I understand what's happening to all the bike parts.
Ben: Hammering them to death, all the time, mincing frames. Then I went to Haro, cos it was a better deal than Felt, it was a better opportunity. I was on the team with some friends as well, with Mario and Pill, so it was good.
What happened to Pill?
Ben's Dad: I think he's more family oriented now you know, he'll be working on his kids now.
Ben: He'll have 15 kids by now! [Laughter]. Little ginger man.
You're lucky you've not had any kids yet…
Definitely haven't got any, I'm too careful. Settling down just isn't an option for me, I've got far too much stuff to do, far too many places to go.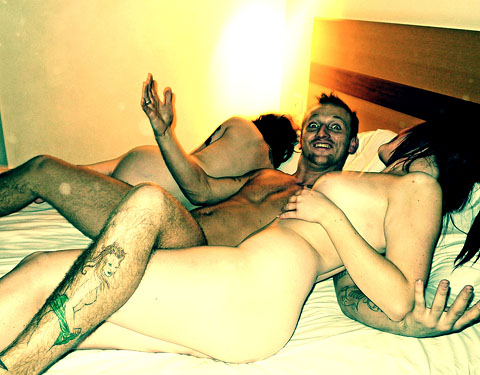 Careful eh?
Something a lot of people probably don't know about you is that you were a dancer in Ibiza [Laughter]. How did that come about?
That was just one opportunity that someone asked us to do. I wish I'd done it, but at the same time I'm glad I didn't. I was just having it, going mental in Pacha in Ibiza, the owner was like, "I'll pay you to do it".
You got paid to dance?
No, he said, "I'll pay you if you want a job dancing here". I was like, 'I can't do it when I'm sober mate'. You need to be stone cold sober when you're doing it.
How often do you ride your bike?
I ride my bike once a week. It's all I can do, it's all I've got time for, and like a lot of other people, I have to work every day. I enjoy working as well. I can't ride my bike every day, I don't like it. I like to look forward to riding my bike, if I ride it every day I start to have bad days and I don't enjoy it.