Continued from The Ben Hennon Interview – Part 1…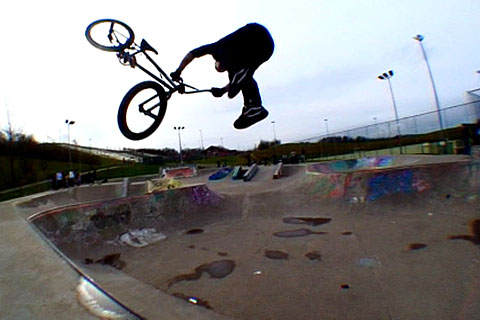 Downside whip air at Silksworth outdoor park. Ben's local.
How many BMX websites do you check on a daily basis? [Laughter]
To me BMX is something I enjoy doing when I'm on my bike, when I'm not on my bike I don't give a shit about anything to be honest.  I don't care about how many tailwhips Mike Spinner can do, how far he can stick his arse out or anything. I just want to ride my bike, I don't care about anybody else.
Do you think you're more of a BMXer, or less of a BMXer than the scene kid down at the skatepark?
I'm no more of a BMXer than anybody at the skatepark. I'm just lucky enough to get a bit of money and travel the world, I'm still a kid on a bike at the end of the day.
Bas: I love the fact you don't know who any [pro] riders are and who they ride for, what they've been doing, what they've been saying in their blogs…
Ben: I don't think it matters…
Ben's Dad: To tell you the truth, if we'd read all the shit that's been written about him over the years, you'd be f*cking done in wouldn't you? You know what I mean. So it's like watching the news, we don't watch the news for the simple reason we don't let shit in our life; the less shit we have in our life, the easier it is. There's shit on the tele that you don't need to know anymore, you know what I mean?
Ben: You get into BMX cos it's fun to do. BMX is a thing that you do to have fun and to be individual. Everybody just tries to pull people apart for being an individual, they follow somebody else's style. There's nothing wrong with just doing your own thing, stop trying to be someone else.
Ben's Dad: Which I think currently the whole ethos is geared towards. As soon as somebody does well at something you try to knock them down.
Bas: It's so true, everyone just tries to pull you back down in this country.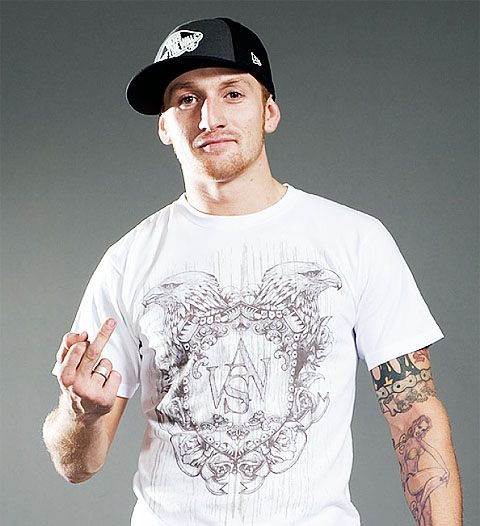 Being a role model at the shoot in Corby.
In the latest issue of the magazine you were considered to be the worse role model by a few people, what do you think to that?
For the same reasons that I don't do the whole internet thing, I just don't care what anybody else thinks.
Do you think they're trying to be a role model and you're not?
People are just constantly trying to impress other people, and when people try to impress other people they aren't themselves, they're trying to be something else to make people happy. I just want to do what I do, and if you like it, it's cool, but if you don't, I don't care. I guess I'm the last of the old school. I don't care what anything looks like. I like being able to not care about anything to do with how many tailwhips or spins or any of that shit and just do my own thing, and still be able to do well at a contest.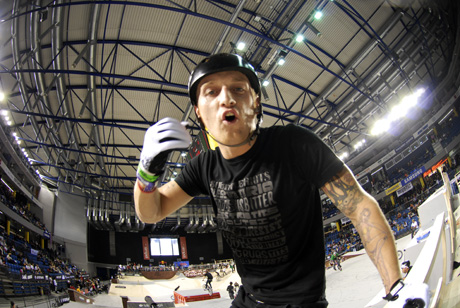 Ben taking things seriously at the Simpel Session…
How did you do in Estonia at the Simpel Session?
Good, I was really happy with Estonia. It was one of the best weekends, I just hung out with good friends, there were good parties. I rode the contest, hated the course and still did pretty good.
You beat Harry Main and Mark Webb…
I dunno, beating Harry and Mark is good but it would have been good beating them on equal terms, instead of Mark being absolutely wasted and Harry just putting too much pressure on himself. Toe to toe, no one can beat Mark Webb in a contest, on a street course.
Do you like competing against other riders and beating other riders?
I love to compete in BMX, definitely. I used to hate it, because it's only in the last two years where I've stopped trying to do all the stupid tricks and just doing everything I know I can do. I love to compete.
Is there was one rider who you'd never like to get beaten by?
Nobody really. Being beaten is not a problem. As long as I did everything I wanted to do and I enjoyed it, I'd be happy. I have to admit, that it is important for me to do well at a contest, personally. I need to make the finals, it's a personal thing.
Bas: It's nice riding finals though.
Ben's Dad: You've never been out of a final
Ben: I think there's one or two that I've missed. It's just a personal thing, I'm competitive, very competitive and it is important for me to get in the finals.
Ben's Dad: But like it's not really important where you finish, as long as you've done your best isn't it.
Ben: I wanna win! I want all the money! I wanna stick me arse out and hump me bars, spin to win, woohoo. Never!
Do you not think that if you trained a bit harder, and you went to Woodward for a few months and really tried to win contests, do you think you'd have a better lifestyle? Do you think you'd have more, is it worth trying to do all that stuff?
I think if I wanted to, I could get all my contest tricks more consistent, and put them all together more, and ride bigger contests. I much prefer just to go on a road trip, and hang out, and go and ride some weird spot and do something cool like that, and then try and incorporate that into a contest.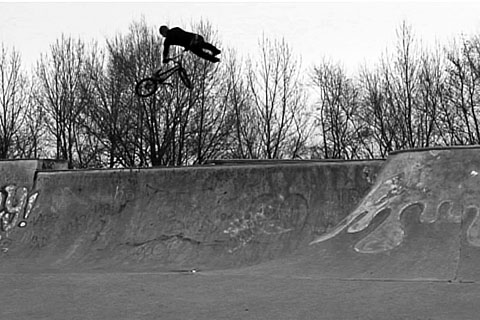 Whip air at Silksworth…
What's the best road trip you've been on?
Probably the Vans trip, both of the Vans trips, the UK one and the European one last year was really good. And the German Vans trip as well, I had a really good time.
Who else helps you out on trips, and helps you out with sponsors and stuff like that?
Eastpak and Vans are my main sponsors. I haven't got a bike sponsor. King Kong always help me out. Flights always to random places in the world where no one else will go, it's still travelling though, so I still live.
Are there any riders that you look up to, because obviously you don't really do BMX videos. I noticed you never read magazines. You might look at the pictures, and definitely don't go on any websites or anything, but you must look at some riders and like what they're doing.
Yeah, I definitely aspire to some riders. I like to be able to watch a rider, for instance on a road trip, and then enter a contest and see them ride good the whole trip, like through trails, street, concrete parks, and then see them do well at the contest. Like anyone that's an all round rider, like Bas, Chase, any good rider like that, with a broad spectrum of styles.
Bas: Chase was amazing on the Vans trip wasn't he!
Ben: He's such a good rider, he can just turn up and destroy the park first run, I've never ever seen anybody do that. He's one of the best riders in the world for sure, completely unique.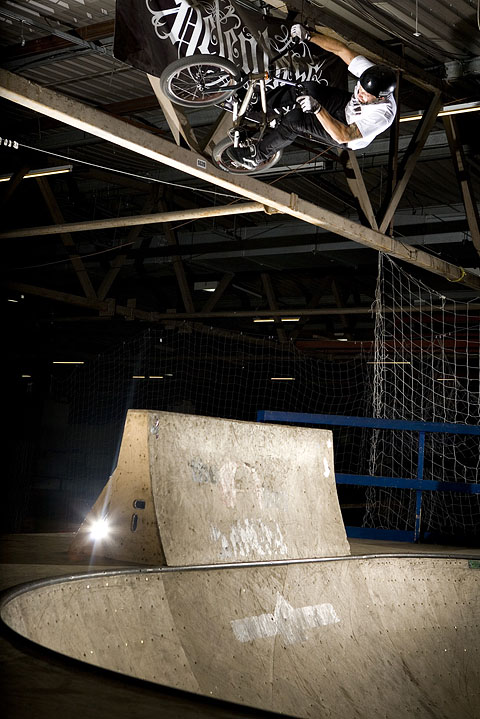 Ben at Corby Skatepark furing the Role Models shoot. Photo by Banners

Who do you look up to outside of BMX?
Just friends really, anybody who's taken opportunities and done well for themselves. They don't have to be making money or getting a nice house, just someone who's content with their life, and done well for themselves. Maybe he's gone a bit out of the box and moved somewhere, or taken a big risk.
How old are you next month?
Twenty-three. Twenty-three and I've been on the scene for seven years.
Ben's Dad: Seems like he's an old veteran now don't it?
Ben: Veteran at 23.
What do you do for work?
We're both self-employed carpet fitters. Dad taught me how to do it when I finished school. I've been doing it my whole life. I've never had the worry that I'm gona live off BMX and it's going to be my whole life, I'm not that naive. I've always thought if you have a business, and a trade to your name, you'll never be out of money, and you'll always have something to fall back onto, and you'll always be able to get by.
Would you like to earn loads of money from BMX?
I would like to be able to earn enough to not have to come home and work every week in between contests, to be able to stay in Europe. Like this year, I'm going to France for the summer, hopefully. I do a lot in Germany or France, so instead of coming home all the time I'm just going to go and learn how to surf, and ride some trails.
You have a plethora of weapons in this house don't you?
We've got a crossbow, a little baby one, it's very dangerous [fires at me unloaded].
Ben's Dad: We've got some arrows upstairs.
Ben: We've got lots of dangerous weapons. There's always a knife lying around. [shows knife] Me and Dad are always buying each other stuff, whether it's motorbikes, knives, or cars, crossbows, or bow and arrows It's kind of what we're into [stabs knife into coffee table]. I've always been into dangerous stuff.
Ben's Dad: But we're not aggressive people, we just like things to play with. We work with sharp knives all day, and I've always had a fascination with them, all the knives are mine, my collection.
Don't use knives to fight, never use knives to fight! Always use your fists…
What's your best memory of BMX?
My best memory of BMX. It's a fresh memory, and it was last year, that last jump at Empire of Dirt. There's nothing like it, best feeling, such an adrenaline rush.
Bas: You're a bit of a nutter on a bike aren't you? There's no farting around, you'll just have it won't you.
Ben's Dad: That's just me egging him on.
Do you miss Ape Skate Park?
I miss having somewhere good to be able to ride whenever cos I live in North of England, the weather's toilet. I do miss it, just because it was a good place to ride. Turbo Tash was an end, I'm not gona swear, I hope he's moved back to wherever he's from.
If you want people to have a lasting memory of Ben Hennon, what would it be?
Empire of Dirt, jumping that thing with my hands up in the air was the best thing I've ever done on my bike.  I didn't feel like I had to do it, but when I saw it, it's like, if I get somewhere and see something, I know I have to do it before I go, I just need to do it. Like the wall tap at Corby, and the roof thing. The Red Bull jump was like, even before I got down the bottom and realised how big it was, I was like, I need to jump the whole thing.
If you had a piece of advice to give to all the kids out there, what would it be?
You'll never make anything of yourself if you try to be somebody else, and you'll get a lot more respect for doing what you want to do, being individual.
Are you happy?
Couldn't be any happier. I'm very content, I've got a good life.